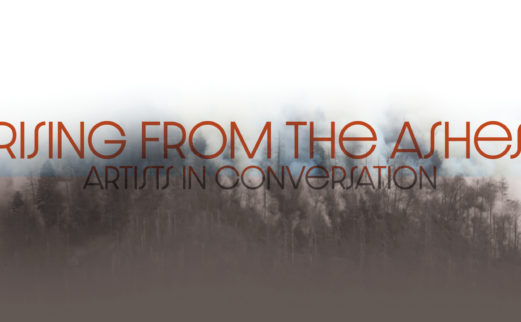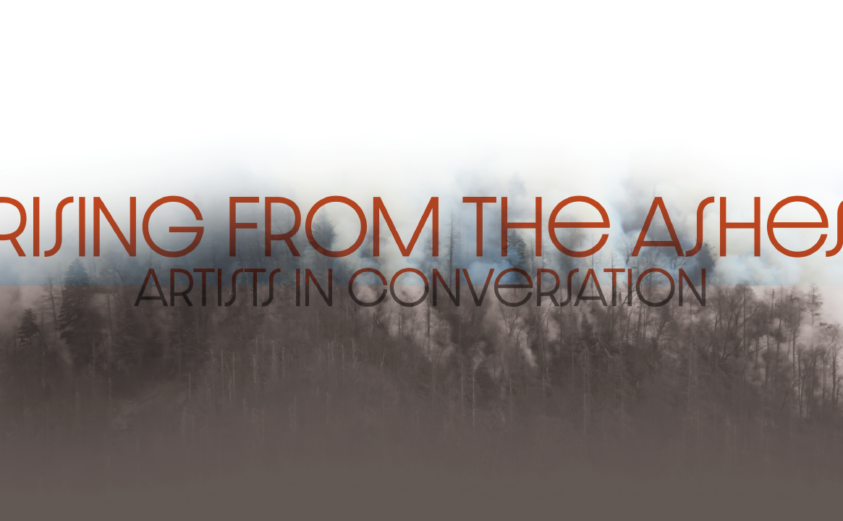 Mountain Strong: Artists Respond to the Chimney Tops 2 Wildfires
Five years ago, catastrophic wildfires destroyed woodlands, wildlife, homes, and businesses in parts of Sevier County and the Great Smoky Mountains National Park. Fourteen people lost their lives. But November 23, 2016, was also full of heroic and compassionate acts. And, as years have passed, the continued recovery of the community and land are worth recording.
"Rising from the Ashes" is an oral history project of the UT Libraries, the City of Gatlinburg, and the Anna Porter Public Library. The project collected around 140 audio and video interviews with individuals who experienced the devastating and tragic wildfires.
Rising from the Ashes: The Chimney Tops 2 Wildfires in Memory and Art, a catalog featuring the creative responses of artists Paige Braddock, Charlie Daniel, Marshall Ramsey, and Danny Wilson, along with text by naturalist and Gatlinburg native Stephen Lyn Bales, is forthcoming from the University of Tennessee Press. Drawing inspiration from the interviews recorded by Rising from the Ashes, these cartoonists used their skills as illustrators to further document the experiences of those who lived through the wildfires. Three of these artists – Braddock, Ramsey, and Wilson – spoke at our Rising from the Ashes Artists Panel Discussion on Thursday, February 10, 2022.
If you would like to read some of the interviews with residents, emergency responders, and volunteers that inspired our guest artists, you can visit the Rising from the Ashes website.
Marshall Ramsey, one of the artists, served as the moderator for the evening. Ramsey is a two-time Pulitzer Prize finalist whose cartoons are syndicated nationally and whose artwork, stories, and posts are frequently shared on social media. (By the way, he got his cartooning start at UT, working at the Daily Beacon.) Marshall is editor-at-large for Mississippi Today, a nonpartisan, nonprofit news and media company. He also hosts a weekly radio program and the television program Conversations on Mississippi Public Broadcasting.
Paige Braddock is an Eisner-nominated artist and writer and the Chief Creative Officer at Charles M. Schulz Creative Associates. She is best known for her Eisner-nominated comic strip, Jane's World, the first gay-themed comic work to receive online distribution by a national media syndicate in the US. Braddock concluded the comic strip after completing its 20-year run in 2018. She has illustrated several Peanuts children's books. Her other graphic novels for children include the Stinky Cecil series. Braddock is publishing a new line of graphic novels for children with Penguin Kids, titled Peanut, Butter, & Crackers. The second book in the series, Fetch!, is out now. She lives with her wife, Evelyn, and their two dogs and a cat in Sebastopol, California.
Danny Wilson is known for quality and versatility in illustration. Formerly based in Atlanta, and now working from his studio in Knoxville, Tennessee, Danny has over 30 years of experience as a professional illustrator. He graduated in 1984, with honors, from the University of Tennessee, Knoxville, with a BFA degree in Graphic Design / Illustration, and since then has developed a nationwide client list, with a wide variety of illustration styles and techniques. One specialty is concept renderings, primarily for event and experiential marketing firms, but also for athletic, commercial, and product development.
The artists came to the project from different angles and with different artistic styles, but all of their pieces tell the story in a beautiful way. All three artists are UT alums who have strong ties to Tennessee and the Smokies. They were deeply impacted by the news that Gatlinburg was burning. Wilson was shocked by how "quickly the fire spread, the scope of it, and the damage and devastation." Braddock was reminded of her experience with fires in the area in which she currently resides in California. Ramsey was glued to social media as he watched for updates on the situation.
For Wilson, the project is a way to keep stories alive beyond the news cycle. "You hear a story on the news, but then you only hear about it for two days. You don't hear about it for the next six months to a year to four years after that. And I felt that these oral histories really helped me understand that that much more."
"The thing that fascinated me about the research," Ramsey noted, was "hearing the voices of resilience and how the community came together, the whole 'mountain strong' concept, how everyone pulled together."
For one of her pieces, Braddock was inspired by the story of a woman who was not able to save her piano from the fire. "It's hard to hear people talk about things that are irreplaceable that they lost, that have high sentimental value but not monetary value." She also felt that the project was initially intimidating. "You're afraid you're not going to do the stories justice or do enough," she said. When viewing recordings, "You feel like you know these people now and are sitting in the living room listening to them talk about their personal experiences and personal stories. You wanted to reach through the camera and give them a hug."
Wilson found the stories "riveting" and "heartbreaking" but also found it "very hopeful to see people's attitudes and their resilience." As far as the purpose of the artistic portion of the project, Wilson said he hopes the "images give people an entry point to then take it a step further and learn about all these oral histories […] It's a great way to make this huge library of interviews feel accessible and approachable."
The artworks as well as the production of a forthcoming digital exhibit were generously supported by a grant from the National Endowment for the Arts' Our Town program, which funds projects that strengthen communities through artistic and creative engagement. The panel is also generously supported through this program, as will be future events and activities.