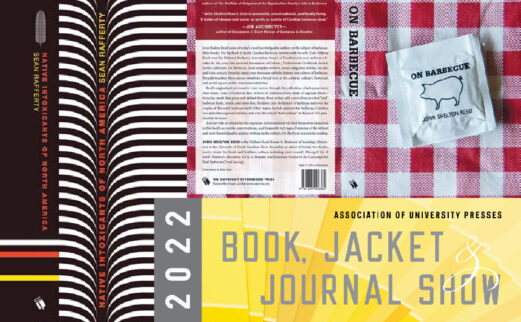 Book Designer Kelly Gray's Winning Ways
The 2022 Association of University Presses Book, Jacket & Journal Show will be on display Thursday, November 3 from 10:00am – 3:00pm in the Peel Galleria of John C. Hodges Library. The University of Tennessee Press has two winning book jackets designed by Senior Designer, Kelly Gray. The title are Native Intoxicants of North America by Sean Rafferty and On Barbecue by John Shelton Reed.
---
---
This year's show features 91 entries as selected by Stephen Coles, Associate Curator and Editorial Director of Letterform Archive, Lisa Hamm, former senior designer for Columbia University Press and Adobe, Tim Green, creative director at Faceout Studio and a co-owner and creative director at Molt Brands, and Lucy Kim, Art Director at Little, Brown & Co, a division of Hachette Book Group North America. Judging for this year's Book, Jacket, and Journal Show took place at the AUPresses Central Office in New York City in January 2022.
You can view the entire catalog of winners here.