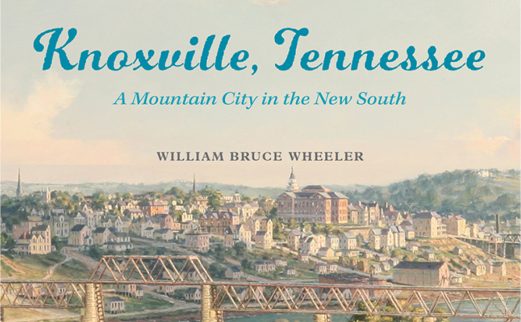 In Conversation: Bruce Wheeler on Knoxville, Tennessee
In his history of Knoxville, Tennessee, Bruce Wheeler calls our hometown a "mountain city in the new South." Can Knoxville still be characterized as a mountain city? That's one of the questions Wheeler discussed with journalist Jesse Fox Mayshark at a virtual event on May 11.
A new edition of Knoxville, Tennessee: A Mountain City in the New South is now available from the University of Tennessee Press, which co-sponsored the Wheeler–Mayshark discussion as part of the UT Libraries' In Conversation series.
When Bruce Wheeler first arrived in Knoxville in 1970 to join the history faculty at the University of Tennessee, former mayor (and local television and radio personality) Cas Walker still had considerable clout in local politics. Early in his Knoxville residency, Wheeler, as a historian studying politics, began writing an occasional column for a small local newspaper for which he interviewed and profiled Knoxville movers and shakers. That included a couple of interviews with rough-and-tumble politician Cas Walker. Apparently, Walker took exception to how Wheeler had portrayed him. Shortly after publication of the piece, the former mayor appeared at a presentation Wheeler was giving to the local historical society. "All of a sudden at the back of the room the doors open, and here comes Mr. Walker," Wheeler told the In Conversation audience. "And he was passing out little scissors–tie clips (I think I still have mine). And then he said that 'Mr. Wheeler must be very good to his mother, but there were lots of things that he got wrong.'" And Walker went on to elaborate on some of the purported errors.
"Later, as the book went along and as Mike and I went along [referring to fellow UT historian Michael McDonald, his coauthor on the first edition of Knoxville, Tennessee], I think we were more right than wrong … more right than Mr. Walker, certainly."
Knoxville, Tennessee: Continuity and Change in an Appalachian City was published in 1982. The 2005 second edition, Knoxville, Tennessee: A Mountain City in the New South, updated Knoxville's story from the 1982 World's Fair to the death of Cas Walker. The newly-published third edition includes a new preface and a valuable new chapter covering the period from the death of Cas Walker to the end of the administration of Madeline Rogero, Knoxville's first female mayor.
"What do you think has changed in Knoxville politics that we don't really see characters like Cas Walker anymore? I mean I think we're in a very different era now," Mayshark posed.
For one thing, Wheeler pointed out, there has been an influx of new residents from across the country, bringing new ideas: "Their idea of what the politics should do and could do was somewhat different …" Economic circumstances also have favored Knoxville. Following the financial crisis of 2007–2008, for instance, Knoxville escaped the worst of the subsequent recession. "According to the Brookings Institute, there were three cities in the country that didn't go through that terrible situation. One of them was Dallas; one of them was Pittsburgh; and the other was Knoxville. … Knoxville employers were not at risk in the recession. Covenant Health, Knox County Schools, UT Medical Center, Oak Ridge, etc. — these were places where the jobs were. … Banking continued in a healthy way. So, Knoxville and the people who lived here were pretty lucky in the years, say, from 2000 to 2012."
An audience member asked, "What time period in history besides now would you say Knoxville was the most vibrant economically, politically, or socially?" "I would say that probably the most vibrant — and in some ways for the same reasons — was the late 1800s," Wheeler replied. "We had factories. We had people to come from all over and bring with them ideas and money." Knoxville was so prosperous, Wheeler recounted, that when a quiet corner of the downtown burned in a fire, people actually bragged that Knoxville had had a "million-dollar fire"! "I think that's probably the next most exciting period in Knoxville history" — second only to the current era.
Compared to the latter decades of the twentieth century, Knoxville is now more progressive and dynamic — witness the rebirth of downtown. Mayshark asked whether Knoxville's non-partisan city government plays a positive role. "I think it does," Bruce Wheeler said. "…If you talk about Bill Haslam and Madeline Rogero — nobody particularly thought of them as Republicans or Democrats. … Haslam and Rogero ran a really good campaign against one another, but … when Haslam needed somebody with Rogero's talents, he went to her to join his government."
"Having written three editions of this book now, are you more optimistic at the end of the third edition than you were the first edition in terms of Knoxville's future, or less optimistic, or just kind of the same?" Mayshark asked. "I'm a lot more optimistic," Wheeler said, "… because of the way that politics have gone and the way the downtown has gone."
And is Knoxville still a mountain city? "I'm not sure that you could say that the city is either Southern or mountain now," Wheeler allowed. "Don't make me cross out the subtitle! … If anything, it would be a new city — a new city and maybe in a new South."
---
William Bruce Wheeler is Professor Emeritus of history at the University of Tennessee. He is the author of, among other titles, TVA and the Tellico Dam, 1936–1979: A Bureaucratic Crisis in Post-Industrial America (with Michael J. McDonald) and Discovering the American Past: A Look at the Evidence (with Susan Becker), for which he has just finished the sixth edition.
Jesse Fox Mayshark worked as a reporter and editor for 20 years before going to work in communications for Knoxville mayor Madeline Rogero in 2011. In 2018, he started the local news website Compass with former Knoxville News Sentinel editor and reporter Scott Barker.