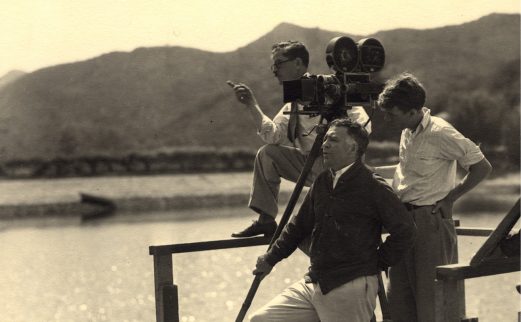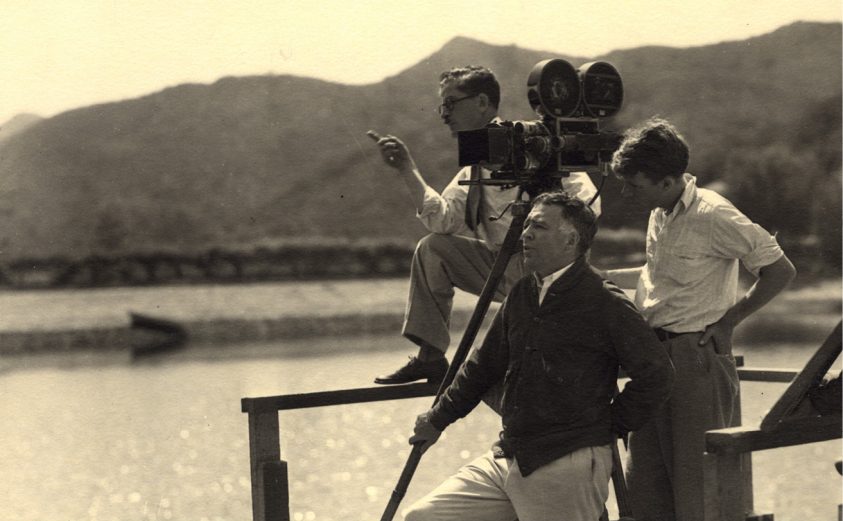 Cinema Treasures in UT Special Collections
The University of Tennessee has a tradition of interest in the history of motion pictures. Our cinema related collections support UT's growing Cinema Studies Program, which currently offers a minor in Cinema Studies. The multidisciplinary program enables students to examine cinema from a variety of perspectives. Recently Special Collections has worked towards building the collection further by focusing on pivotal figures in the motion picture industry with an East Tennessee connection.
Clarence Brown, Film Director
Legendary film director Clarence Brown is perhaps the university's best-known link to the motion picture industry. The Clarence Brown Theatre opened on the UT campus in 1970 and was dedicated to the distinguished director. Brown, whose family had settled in Knoxville in 1902 when he was twelve, graduated from the University of Tennessee at age nineteen with two degrees in engineering. A fascination with cinematography led him to abandon a career in the automobile industry and a successful car dealership to pursue a career in filmmaking.
He moved to New Jersey to study with the French director Maurice Tourneur, launching what would be an illustrious career. Brown directed or produced more than fifty widely acclaimed films, mostly with MGM studios. He received six Academy Award nominations for Best Director, while his films gained 38 Academy Award nominations and earned nine Oscars. He was a generous donor to his alma mater, providing the funding for the creation of his namesake Theatre. The 2014-2015 season marks the 40th anniversary of the theatre. Special Collections holds the papers of Clarence Brown totaling close to 150 linear feet of materials.
Patricia Neal, Theater and Film Actress
Actress Patricia Neal was born in Kentucky in 1926 but grew up in Knoxville. Neal was drawn to the stage at a young age. While still a student at Knoxville High School, she won the Tennessee State Award for dramatic reading. After a brief apprenticeship and two years of drama studies at Northwestern University, she headed to New York City. Gaining experience on Broadway as an understudy, she eventually became a leading lady, receiving a Tony Award for her role in Another Part of the Forest (1946). When Warner Brothers offered Neal a contract in 1948, her film career was launched.
One of her significant early roles was opposite Gary Cooper in The Fountainhead (1949), adapted from Ayn Rand's bestselling 1943 novel. Neal was cast in the role of Cooper's strong willed love interest, replacing Lauren Bacall. The film was unsuccessful with the critics and at the box office but in later years was re-evaluated. Special Collections purchased a collection of ephemera related to the film including makeup charts, photographs from the movie set, press booklets, and promotional movie posters.
Neal continued to perform in both film and theater. Some of her most notable performances were in The Day the Earth Stood Still (1951), A Face in the Crowd (1957) and Breakfast at Tiffany's (1961) on film and The Children's Hour(1961) on stage. She won an Academy Award for Best Actress for her role in the movie Hud (1963) opposite Paul Newman.
While pregnant in 1965, Neal suffered a series of strokes and was in a coma for three weeks. After an arduous and remarkable recovery, she was back on the set for The Subject was Roses (1968) earning an Oscar nomination for her efforts. Neal also became an advocate for paralysis victims and made regular visits to hospital patients. In 1978, Fort Sanders Regional Medical Center in Knoxville dedicated the Patricia Neal Rehabilitation Center in her honor. Neal appeared as the center's spokesperson until her death in 2010.
Quentin Tarantino, Cinema Giant
Quentin Tarantino, award winning writer, director, producer, and actor, also is a native of Knoxville. Born in Knoxville in 1963, Tarantino moved to California as a child where he fostered his love of movies. He made his directorial debut at the Sundance Film Festival with Reservoir Dogs (1992), a film that quickly garnered critical and commercial acclaim. He followed up with Pulp Fiction (1994), which premiered at the Cannes film festival and won the prestigious Palme D'Or Award. Tarantino and co-creator Roger Avary received an Academy Award for best original screenplay.
Special Collections was able to obtain a draft script for Tarantino's 1996 release From Dusk Till Dawn. The draft includes a detail sheet regarding optical and special effects. The script was Tarantino's first screenplay, written while he still worked for a video distribution company. A second copy also acquired is the actual script issued by JD Productions that languished for several years until the film was finally put into production. The odd tale of bank robbers battling vampires represents Tarantino's first collaboration with his longtime colleague Robert Rodriguez. In addition to co-authoring the screenplay with Robert Kurtzman, Tarantino co-starred in the film with George Clooney.
To add to its collection, Special Collections was able to purchase a third Tarantino screenplay for Jackie Brown (1997). An adaptation of Elmore Leonard's novel Rum Punch, the crime drama stars Pam Grier as a flight attendant who becomes involved in a plot to smuggle money for an arms dealer. The project was an homage to the feminist movement and the Blaxploitation films of the 1970s. The film gained an Academy Award nomination for Best Supporting Actor and Golden Globe Award nominations for Best Actor and Actress.
Known for his controversial, stylized, satirical, and unflinchingly brutal films, Tarantino has been cited as one of the most influential directors of his generation.
James Agee, Author and Screenwriter
Of course, it is difficult to discuss local impact on film without including the legacy of James Agee— author, film critic, and screenwriter. His credits included two highly acclaimed films of the 1950s, The African Queen (1951) and The Night of the Hunter (1955). Agee's autobiographical novel, A Death in the Family (1957), was awarded a posthumous 1958 Pulitzer Prize. The novel was adapted for stage by American playwright Tad Mosel in his 1960 play All the Way Home and for Paramount Pictures by Philip Reisman, Jr. in a film of the same title in 1963. One of Special Collections' two copies of the 1962 film script contains handwritten annotations, possibly by a member of the production crew. Special Collections also was able to acquire a copy of Noa Noa, written by Agee in 1953. The script focused on the life of Gaugin and his relationship with fellow artist Vincent Van Gogh. It was nearing production when Lust for Life, MGM's biopic based on Irving Stone's novel was released and the project was abandoned.
Most recently, Special Collections acquired two new Agee pieces including a collection of thirteen reference photos from the 1948 film documentary The Quiet One, for which Agee wrote the commentary and dialogue. The photos, likely taken by cinematographer Helen Levitt, are images of young African American boys in 1940s Harlem. A Tanglewood Story (circa 1954) was co- authored with New York Times music critic Howard Taubman. The screenplay of an aspiring young composer was never produced. It was one of Agee's last projects before he passed away in 1955.
Learn More About Our Cinema Collections
Students, faculty, and researchers wishing to explore these cinema materials are welcome to view them in the Special Collections reading room.
—
Adapted from Jennifer Benedetto Beals, from the Library Development Review 2013–2014