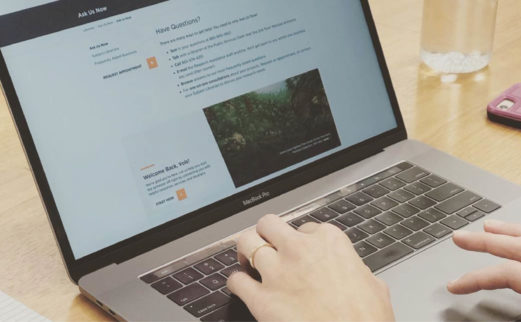 Classes are online, and so are we!
University classes are online and UT Libraries' collections and services are available to help them. Students can access e-books, journal articles, research guides, films, and more from their computers and mobile devices 24 hours a day. They can chat with a librarian to find the resources they need, receive help citing sources, and get answers to questions.
"The library went online decades ago," said Steve Smith, dean of libraries. "So, in terms of services and collections, this is not a difficult shift, because we are already there."
To aid with the transition to online classes, the Libraries launched lib.utk.edu/contingency, which summarizes library services and collections that are available remotely.
In-depth research assistance is available by contacting the librarian who specializes in a particular discipline at lib.utk.edu/askusnow.
"It has been interesting that what I have been doing has not changed since the university has moved classes online," said engineering librarian Jeanine Williamson. "I am staying in touch with students from a civil engineering class that need help this time of year. I will be helping a [Min H. Kao Department of Electrical Engineering and Computer Sciences] graduate student with his literature review. The main differences are that I miss seeing my colleagues in person and that my cat keeps on trying to get my attention!"
More than 80 percent of the Libraries' collections budget is used to acquire online resources. During the COVID-19 emergency, we have been able to temporarily expand our access to some electronic resources while access to campus buildings is restricted. Librarians have been negotiating with the publishers of large e-book and e-journal packages to extend the Libraries' subscriptions to an unlimited number of simultaneous users.
During the current disruption to normal university operations, HathiTrust, a membership-based online collection of digitized books from academic libraries, has granted our users temporary online access to more than 1.5 million books for which we hold a print copy in our collection.
"We know that everyone misses our physical spaces, and we miss the students being here," Smith said. "But it gives me peace of mind to know that we are encouraging safety. Because so many library resources are available online, we can all — students and staff — work remotely and protect the community."