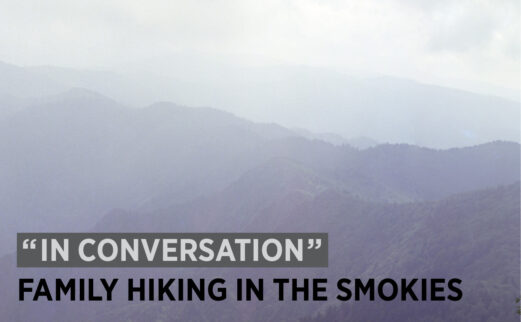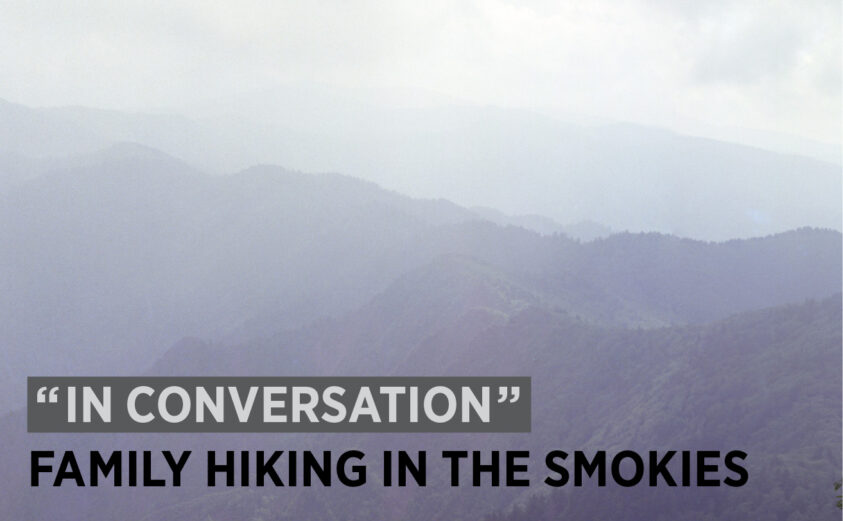 In Conversation: Family Hiking in the Smokies
Want to take your children or grandchildren for a hike in the Smokies? The public is invited to a live online conversation with the authors of Family Hiking in the Smokies to learn about the best destinations for a family excursion. The authors — Hal Hubbs, Charles Maynard, and David Morris — have hiked together and with their families for many years.
Register here to join the livestream at 6 p.m. (EST) on Tuesday, September 21. This In Conversation event, hosted by the University of Tennessee Press, is part of a literary discussion series presented by the UT Libraries. The event is free and will feature an opportunity to participate in a live Q&A session with the authors.
Family Hiking in the Smokies is specifically geared toward taking children on excursions into the Great Smoky Mountains National Park — the most visited national park in the United States. The park offers much to its nearly ten million annual visitors. For families who seek fun along with educational recreation, the park boasts splendid views and enormous biological diversity.

While the guide book concentrates on shorter day hikes, the book also presents longer trails for overnight or weekend camping. Organized by regions of the park, the forty-two concise trail descriptions include many of the most popular destinations, such as Ramsey Cascades, Grotto Falls, and Clingmans Dome Tower, as well as overlooked gems such as Midnight Hole, Lynn Camp Prong, and Juney Whank Falls. The fifth edition (UT Press, 2020) includes new trails not found in the book's previous editions, and all are presented in a user-friendly format.

This delightful volume also includes specific advice regarding safety, trail difficulty, and keeping children's attention. In addition, Family Hiking in the Smokies provides interesting educational sidebars about fauna, folklore, and material culture along the way. This book, based on the experiences of three expert hikers who have walked with their own children and grandchildren in the park, provides parents and grandparents with a perfect guide for establishing an adult/child bond with the natural world.
Hubbs, Maynard, and Morris have worked as volunteers in the Smokies and have hiked in many national parks throughout the country. The three friends formed Panther Press, which originally published Waterfalls and Cascades of the Great Smoky Mountains, along with many other titles on natural history, particularly in the Smokies.
The September 21st event will be moderated by Katie Cate. Cate, from East Tennessee, is a wife, mom, mentor, outdoor enthusiast and is passionate about getting her children exploring outdoors. For over 10 years she has spent the majority of her free time hiking, biking, camping, climbing and kayaking. While life is busy marketing her children's book (Have You Seen a Black Bear?) and working full time with a nonprofit, she has a goal of visiting all of the Tennessee State Parks and attempting to hike every trail in the Smokies.
Family Hiking in the Smokies: Time Well Spent is available for purchase through the UT Press website.
Have You Seen a Black Bear? is available for purchase through Amazon.
__
Author bios:
Hal Hubbs, at home in Seymour, Tennessee, enjoys hiking, photography, and most any outdoor activities. Hal and his wife, Elizabeth, hike and bike. They have a son and grandchild.
Charles Maynard is an author, storyteller, and United Methodist minister. He combines his love of hiking, waterfalls, and the mountains as often as possible. He and his wife, Janice, live in Knoxville and have two daughters and five grandchildren.
David Morris, a former Nurse Anesthetist who practiced in East Tennessee for 40 years, now resides in southern Michigan. Living on a lake, he enjoys retirement there, kayaking and horseback riding with his wife Robin. Returning to the Smokies often to spend time with his three sons and grandchildren, he still finds time to hike with his long-time friends Charles Maynard and Hal Hubbs. In addition to trips to the Smokies, the three continue to explore and plan new adventures to other National Parks.