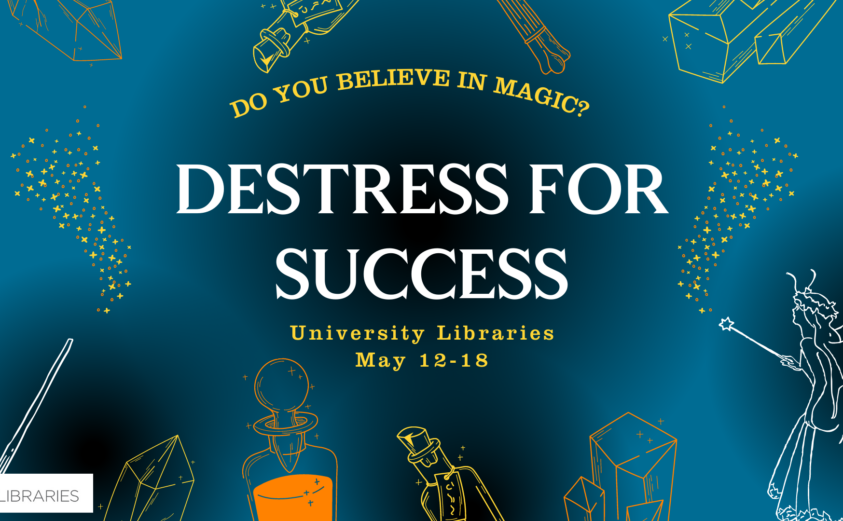 DeStress for Success Magic: An Adventure for All Vols
Do finals have you feeling cursed? Are you in need of a spell to melt away the stress? Hop on your broomstick, enter your TARDIS, or use your other favorite means of fantastical travel to go on a quest through the libraries!
This semester, DeStress for Success is imbued with magic. A variety of relaxing activities from your favorite fantasy novels have mysteriously appeared among the stacks in all three of our branches, and we're passing these crafts along to you. Now, we're not quite sure who did all of this, but we're assuming it was done by the library pixies. You know, the ones that help you find your sources. Only they are capable of this degree of magic and mischief.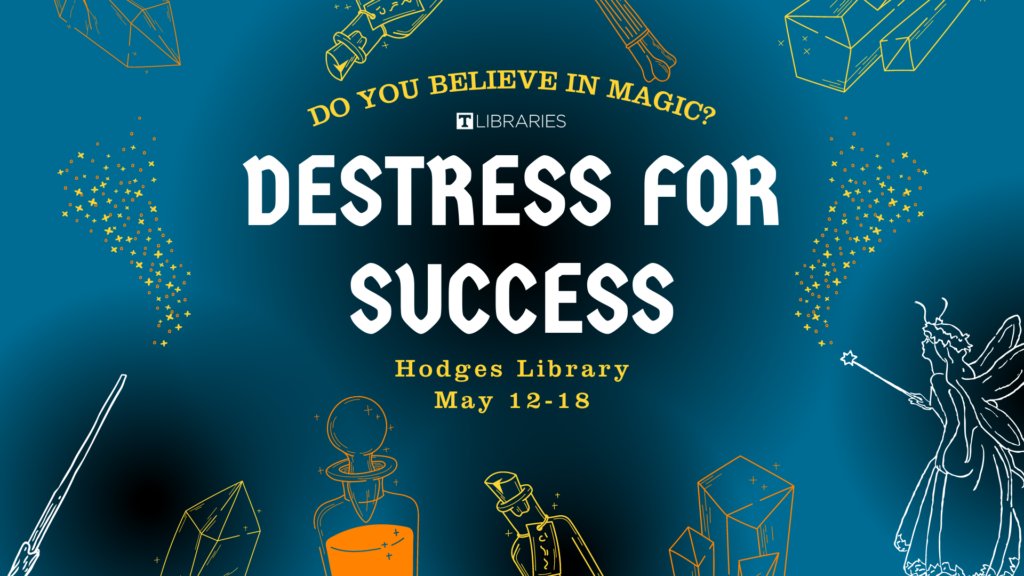 DeVine Music Library found a rare cache of dragon eggs that have to be exposed to water to come to life. These brave librarians discovered that these perfumed eggs incubate perfectly in a bathtub. The pixies did something a bit wicked at DeVine, too. They enchanted all the radios so they will only play scores from fantasy epics! Thankfully, our librarians are resourceful and found out that the themes from Harry Potter and The Lord of the Rings make excellent study music. The librarians here were also gifted a curious box of magical ingredients and want to share their good fortune by cordially inviting you to create your own (surprisingly refreshing) magic potions.
Pendergrass Library will be hosting several fantastic beasts over the course of DeStress, so make sure you come by and find them! In addition to that, their pixies left them a medley of crafts including some charmed paper you can fold to make your own mythical creatures. These tricky pixies have also bewitched the librarians! Now they're compelled to host Dungeons and Dragons sessions. Help them break this spell by taking part—and feel free to grab a snack, play a game, and work on a puzzle while you're there.
Hodges Library has been similarly enchanted with DeStress magic. Seriously, we've found pixie dust all over the place! Thankfully, we've been able to repurpose it and some other magical detritus … You did say you wanted to make a potion to relieve your stress, right? Just in case wands are more your spellcasting style, we've also supplied you with the tools to make one of those instead. The pixies also really want you to work together to make something that looks like an enchanted forest, so they left us mystic building blocks. Feel free to build their fantasy world either with a team or on your own, but try not to destroy what those before you created. If building a world out of blocks isn't your thing, you might appease the pixies in another way. We found a bunch of shadowboxes and instructions to make a fairytale scene, so perhaps that will do the trick! And while we thought the pixies felt slighted by so many people making "fairy gardens," they did leave us everything you need to make your own. On top of that, we found a tiny note telling us that the Mary Greer Room in Hodges is going to become a portal to the Shire starting on May 11th. We're celebrating this feat on May 12th with a Game Night that includes several Dungeons and Dragons campaigns. And throughout the week, you'll find there a veritable feast that would make a hobbit proud and, occasionally, you might spot a fantastic beast there as well …
Like all good spells, the DeStress Magic cannot last. At the stroke of midnight on the last day of finals, the library will go back to normal and our pixies will resume hiding among the stacks. Be sure to visit all three branches before then. If you do, pick up a magical passport at any of these libraries' information desks and have a librarian stamp it. If you get stamps from all three libraries, maybe you'll win one last enchanted gift after the magic has gone. That is, of course, if you think magic is real.
Do you believe in magic?
---
DeStress Events at George F. DeVine Music Library:
Potion making, make your own dragon egg bath bombs, and fantasy music hours
Dates/Times: May 12, 13, and 16 from 11:00 a.m. to 1:00 p.m. and 3:00 p.m. to 5:00 p.m.
Music Hours
DeStress Events at John C. Hodges Library:
Game Night (Room 209): May 11 at 6:00 p.m. Sign up for D&D sessions here.
Daily Events in the Mary Greer Room (209): Daily arts and crafts such as Fairy Garden Making, Potion Making, and Wand Painting
Snacks and refreshments available
HABIT Dogs Visit: Check out the schedule here
DeStress Events at Webster C. Pendergrass Agriculture and Veterinary Medicine Library:
Dungeons and Dragons Game Nights (Room F): May 15 from 7pm-9pm, May 17 from 5pm-7pm, and May 19 from 1pm-5pm. Sign up here
HABIT Dogs Visit: Check out the schedule here
Throughout finals week: Coffee and Tea available; games, puzzles, and origami opportunities
Check out our full list of activities and when they're occurring on UTK's event calendar!