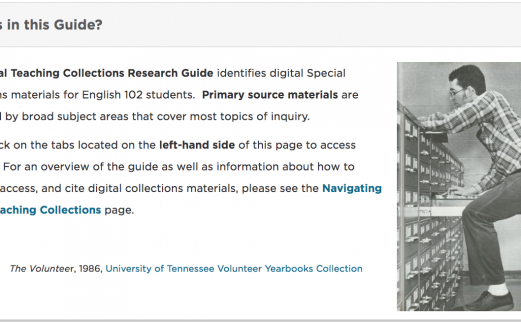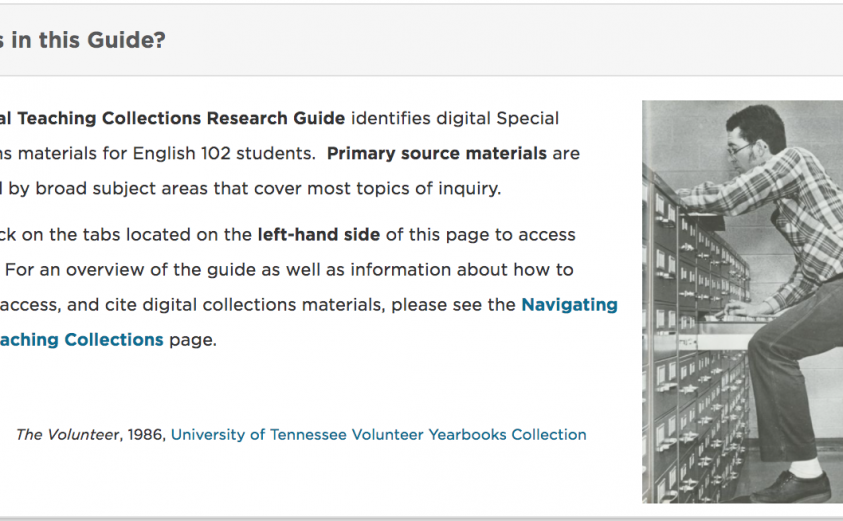 ENG102 Digital Teaching Collections
In response to safety concerns related to COVID-19, Special Collections, like the rest of the library and university, was prompted to re-think instruction beginning in Fall 2020. Over the summer, Kris Bronstad, Chris Caldwell, and I met regularly, researched what other special collections and archives were planning, and brainstormed ideas that took into consideration our own unique circumstances.
Not surprisingly, having enough space to socially distance a class of students was our biggest challenge. And, as a result, we made the decision that all instruction would be done remotely. While we learned that we could do "show and tells" of physical materials using a second camera with Zoom, we realized that we would need to do a bit more preparation for our ENG102 students, who would need support for their archival research projects, a required assignment in all ENG102 classes. Fortunately, the Libraries' digital collections – most of which are Special Collections materials – would provide exactly what those students needed, and we already had a model of how to organize these resources in our teaching collections.
Special Collections has used teaching collections for freshman composition classes for several years now as a way to make the archival research process less daunting for both students and staff. With over two linear miles of manuscript and archives collections kept off-site at the Modern Political Archives (MPA) and at Hoskins Library, the logistics of ferrying over unlimited box requests for several classes of composition students had become unmanageable. Creating collections of materials with broad appeal, which best represent our holdings, and which we could keep on site at the John C. Hodges Library for immediate access, helped to ensure freshman success in their primary source research and relieved staff of an unsustainable workload. With this in mind, we decided to curate collections of digital materials for Fall 2020 and Spring 2021 instruction using the same broad subject areas that we were already using for our teaching collections: Civil War, Comics and Juvenile Delinquency (from the MPA), Food, Great Smoky Mountains/Appalachia, Knoxville/East Tennessee History, Social Movements, Student Life/University Archives, Theatre and Performance, and World Wars. Our only addition, which seemed fitting, was Pandemics, Epidemics and Disease — a category that all new ENG102 instructors were asked to use as their topic of inquiry.
After finalizing a list of digital collections "best bets" for each subject area, student library assistant Alex Sabau (now our graduate research assistant) took on the task of creating a user-friendly research guide. Not only did she include links for the full digital collections that we had identified as having the most material for a particular subject area, she also took it upon herself to include representative images and individual items with descriptions and links for each research topic. "I thought it would be important to have individual items featured," she says, "because I wanted to get students immediately engaged in these archival documents and images. I wanted them to understand that primary sources are not boring, and that they can be extremely relevant to their current understanding of the world." In light of the resurgence of Black Lives Matter protests occurring throughout last summer, Alex also felt that it was particularly important that the research guide illustrate the history of the fight for Civil Rights in the U.S. The result is an appealing and thought-provoking guide of digital items that students can connect with quickly, as well as digital collections that they may use for more in-depth exploration.
Once the guide for the digital teaching collections was completed, then-graduate student library assistant Brooke Dedemon recorded several brief videos for students, providing introductions to the teaching collections and to the research topics, as well as tutorials on how to navigate and search the digital collections, view and download items, and find citation information. The Navigating Digital Teaching Collections webpage also includes information on formatting citations, a practice quiz on navigating the collections, and recommended questions for students to consider when analyzing primary sources.
While we haven't been able to accommodate our usually very full roster of in-person ENG102 classes, we have worked diligently these last two semesters to replicate these sessions virtually as best we can. Students may not have been able to physically handle pieces of history as they normally would, but with the digital collections they've still been able to explore, analyze, and share ideas about our materials with each other over Zoom and in their resulting archival projects. Following her class's Zoom session using the digital teaching collections, Katie Bradshaw, an ENG102 instructor and Department of English graduate student, said that — "since materials were already organized around a 'Pandemics, Epidemics, and Disease' theme" — her students were easily able to locate relevant primary sources and craft their historical narratives for their virtual museum exhibit projects. She added that "Several of them made specific use of the 1918 Spanish Flu Special Collections Lib Guide." Another ENG102 instructor and grad student, Anita Vorhees, shared that many of her students, too, had used the digital collections for their digital museum exhibits and "found the guide a clear, accessible and intuitive tool to help them efficiently navigate through the digital archives."
With almost 4,000 views since its debut in August 2020, the Digital Teaching Collections Research Guide seems to be working well for students and faculty. While it was created for freshman comp classes, we certainly do encourage everyone to use the guide as needed and to view and enjoy these wonderful collections of primary sources.