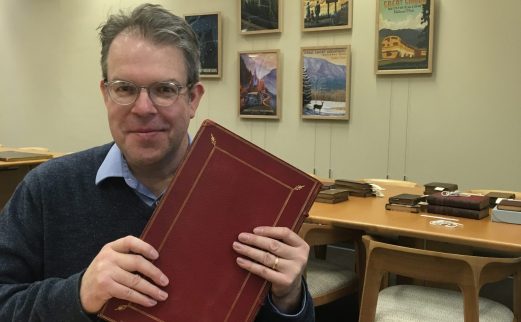 Entering the Vault: an Interview with Chris Caldwell, Rare Books Librarian
What made you decide to pursue librarianship?
As is the case with many in the profession, this was a second or probably third career for me. Previously, I spent some time teaching, doing academic advising, freelance writing, and so on…. So, librarianship was a very natural progression from previous experiences in education and the humanities. I love to help researchers make discoveries, and librarianship is as much about helping people as stewardship of material culture.
Why did you want to work in Special Collections?
I like to credit my grandmother with this one. Working here in UT's Special Collections was an obvious extension of my other humanities liaison responsibilities for English and Theatre at University Libraries, but my grandmother taught me a lot about the specialness of books as objects, and the importance of poetry in particular. My grandmother was legally blind, and one of our activities together for many years was for me to follow along in one of her two books of poetry while she recited from memory. My assignment was to correct her if she got any of the words wrong. If I got lazy and overlooked something she'd correct herself, laugh, and ask me if the words in the book had been recently rewritten. She had a collection of Henry Wadsworth Longfellow, and also the classic popular anthology Best Loved Poems of the American People, from the 1930s. Those two books, a Bible, and the Sears catalog were her only books! Oh, and the phonebook… My mother and I had many, many more books at our place, but grandma's house was kind of like its very own Special Collections.
How did you get from reading with your grandmother into rare books?
As I made my way through high school, college, and my first graduate degree in poetics, I ended up focusing on writing with a concentration on poetry. There's an extremely rich tradition of poetry chapbooks, fine press publications, and quirky ways of getting the written word into the world. A lot of this I was able to encounter first hand while studying poetry in San Francisco. The Bay Area is full of interesting publishing ventures and creative spirits. That's where I first learned a bit about printing and bookbinding. Those hands-on experiences really drove home the value of books as objects, in addition to whatever specialness the meaning of the text might have. Every book is special to someone, somewhere, for some reason. That may sound sentimental and precious, but I really believe it. The trick as a librarian is making the best match of book and researcher, and revealing possibilities! Seems like that's an old library school adage.
Those experiences alone were not enough to make you to make you a rare books librarian, though, right?
No, I decided to pursue Information Sciences at UT to more efficiently break into the super-competitive field of academic librarianship. I already had a rich background in humanities and a broad awareness of resources from experiences as a literature student, but I needed the official credentials to be marketable in the academic librarian business. I filled in along the way with classes at Rare Book School at the University of Virginia, professional conferences and various workshops on special topics like medieval manuscripts and papermaking. Then I was much better poised to be of value to a Special Collections Department. Still, what really makes me most valuable as a Rare Books Librarian is learning more about our collection every day, though working with researchers, classes, and discovering the nuances of our materials.
With your MS in information Science, you were able to start here at UT Libraries?
I was super fortunate to apply for a position as English and Theatre Liaison just as I was completing the information science work. I started as the liaison librarian for English and Theatre, gradually adding in more areas such as the Humanities Center and Writers in the Library. As you might expect, humanities programs at a research university are very interested in handling primary source material, so early on I was supported by our Special Collections department for bringing classes in to look at rare materials. The relationship grew and now I am a permanent member of the Special Collections team, with the official title of Rare Books and Humanities Librarian.
Do you have any favorite rare books in Special Collections?
I'm very lucky to be able to find a new "favorite" every day, depending on my mood and what the day brings me. I especially like happening upon unexpected things in the vaults that many might not expect us to have.
Right now, I am excited about having a full run of the self-published literary magazine Monks Pond, edited by the fascinating poet, author, and Trappist monk Thomas Merton. It was published in extremely limited numbers in 1968. Now I'm planning the opportunity to get these into the hands of researchers or into an exhibit. I hope that people will continue to drop in to Special Collections, even if they do not have a clear research need. It is an enjoyable challenge to find something in the collection to satisfy curiosity and elicit wonder.