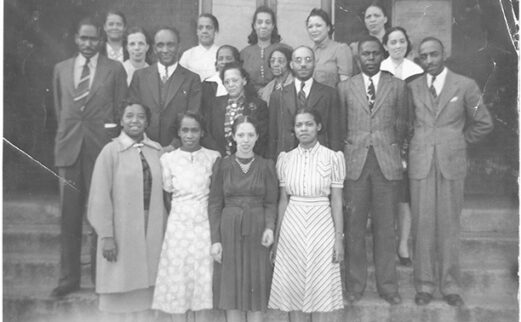 Explore Digital Collections during Black History Month
If you're looking for a fresh approach to engaging with America's story during Black History Month, why not explore some of the digital collections that are freely available online?
Many of America's libraries, museums, archives, and other cultural heritage institutions have made a concerted effort to digitize their unique collections and make them openly accessible to the public. Digital collections typically consist of primary sources — original sources such as documents, photographs, diaries, or recordings — often held at only a single institution.
The UT Libraries shares many of its unique collections through a dedicated website, digital.lib.utk.edu. Several of those digital collections include wonderful historical images documenting the civic, economic, and cultural contributions of Tennessee's African American citizens, including:
The Dr. Charles S. Boyd Photograph Collection contains photographs of African Americans in Knoxville in the early 20th century, including photos of Dr. Charles Stewart Boyd (ca. 1869 – 1922), his dental office, and his family. Dr. Boyd, a graduate of Meharry Medical College, owned a successful dental practice on W. Vine Avenue in downtown Knoxville.
The Catalogues of Walden University is a small collection of catalogs, published between 1900 and 1917, from a historically Black college founded in Nashville following the Civil War.
Tennessee's libraries and cultural heritage institutions began collaborating more than 20 years ago to create a digital collection of the cultural treasures that reside in the state's libraries, museums, historical societies, and archives. That collection, originally known as the Digital Library of Tennessee and now comprising more than 157,000 items, is accessible through the Digital Public Library of America, a free, national digital library.
Institutions contributing to the DPLA include the UT Libraries, of course, as well as Knoxville's Beck Cultural Exchange Center, a primary repository of Black history and culture in East Tennessee. Resources contributed by the Beck include images of Knoxville's prominent African American citizens and successful Black-owned businesses. Unfortunately, many of those businesses were no doubt displaced by the urban renewal projects of the 1960s and '70s that disproportionately affected minority communities.
Many other institutions across the US, including the Library of Congress, make their primary source collections freely available online. Check out this list of open-access primary resources to learn more about the role of African Americans in our nation's story.