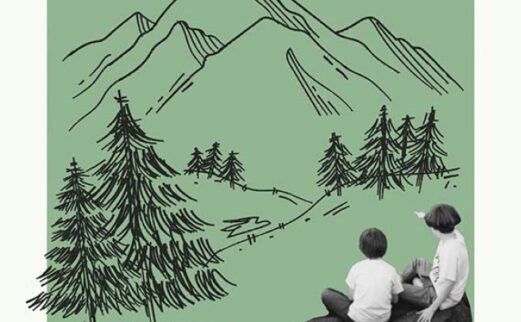 Family Hiking in the Smokies: Time Well Spent
Hal Hubbs, Charles Maynard, and David Morris have been hiking the trails of the Great Smoky Mountains National Park for many decades. They imparted that love of the mountains to their families, taking their children on Smokies hikes long before the little ones could even toddle down the trails.
UT Press recently published the fifth edition of Family Hiking in the Smokies: Time Well Spent, a guidebook that distills their accumulated knowledge of the best Smokies trails for hiking with children. On September 21, the three friends and hiking buddies shared their enthusiasm for family hiking — and some tips on best trails — at a livestream event sponsored by the UT Libraries.
"We began this adventure just hiking with our own children," Maynard said. "The thing that would bother us, when the three of us were hiking, we would run into families and we would see them on the trail and we would think: Why would you bring kids on this trail? And then we'd be out with our families, and we'd think: Why are people with kids not here? We began to think: Gee, somebody ought to write a book."
Morris chimed in: "Part of my issue started when my kids were small and we were looking through the old Sierra Club guide — which was basically what was available then (in the '80s). And you'd pick out a hike that you think might be appropriate to take kids on — a two-mile hike or something in the shorter range — and you get out there only to find that it's so rough that those short little legs can't handle the terrain."
Creating a guidebook for parents who wished to hike with their children became a labor of love.
According to Maynard: "[The hikes] were all kid-tested. We took our kids on every single one of these. … And one of the things I appreciated was that we would listen to what they asked us. So, as they would ask, 'Well, what's this? What's that?' we would pay attention to that and tried to answer those questions in the text, to anticipate the kinds of questions kids would ask. And I think that was part of the fun of it, too … It really was a three-family project."
Katie Cate, the author of a children's book set in the Smokies (Have You Seen a Black Bear) who hikes and camps with her own 2-year-old and 4-year-old, served as moderator for the livestream event. She posed questions submitted by members of the virtual audience and elicited lots of recommendations on the best trails for children.
"Could you share your favorite hiking trails in the Smokies to take the little ones on — maybe 5 and under?" Cate asked.
Morris recommended the Little River Trail. "Little River Trail at Elkmont is very easy, very pleasant. It really has no specific endpoint — unless you want to go to one of the falls. You can just meander up there with the small ones, take a break along the river, get a snack, and then whenever you sense they're ready to turn around, you can just come back."
Maynard added, "The Gatlinburg All Access Trail is right there on the road. It's paved; you can do a stroller. It's got the old chimneys; it's got the rock wall; it's got the river; it's got all these other elements. I think it's a half-mile all the way around it. And that's a fun one. It's real easy to get to. It's close to the museum and to the visitors' center, so you've got other things nearby. That's one of my favorites for real little kids. I think a lot of the nature trails are good. And, if you've got a younger kid and an older kid, a thing that we often did was… You know, you had a brochure that went with the nature trail, so somebody could read out loud. Once our girls got old enough to read, they took turns. It was just a fun thing."
For really small kids, the authors also recommended some of the short hikes to cabins and barns in Cades Cove, such as the Elijah Oliver house. "It's a great walk for little kids," Maynard noted. "You get to go across a log bridge. It's about this far above the water [holding his hands about a foot apart]. I mean, it's not a big deal. But, if you've got little teeny legs, it is a big deal. And that's a fun one. You go in the barn, you go in the house, you go in the shed. It's just a lot of neat little places tucked away."
"What's your favorite camping spot with access to the most kid-friendly trails?" an audience member asked.
"We used to go camping and even backpacking quite often," Morris said. "And probably our favorite place to go for children was Cades Cove Campground. Because there were nature trails around. We could take hikes, and they would bike around the campground. … And, of course, they have ice cream in the store!"
How is the book arranged? "We've arranged it by areas of the park," Maynard replied. "That way, if you're wanting to go somewhere in Cades Cove, all the Cades Cove hikes are together. … In the back there's a chart that rearranges the hikes — by ages, by abilities, by lengths, things like that. So, if you want to see what are the hikes that have waterfalls, you can look on that list."
The first edition of the guidebook — self-published by the authors 30 years ago — contained the authors' 25 favorite family hikes. The new, fifth edition of Family Hiking in the Smokies: Time Well Spent contains 52 hikes. "Really we've expanded it quite a bit — and had to keep it current," Maynard said. "People think of the park as really static. But that is not true. I mean, parking lots have moved, trail heads shift around, things are closed. We've had to adjust over the years because the park changes."
And the family project has now embraced a third generation. Maynard recounted a day spent hiking with his grandson Levi: "I took our grandson to Chestnut Top. And we went up to the top of the ridge. And he really wanted to go further, so we went on around. He was doing great. He was about six years old then. We sat down and we had a snack. And I just said, 'Ah, Levi, I love to hike.' … He was leaning against me, his little head against my chest, and he said, 'Yeah, but it's so much better when you hike with someone you love.' That captures family hiking in the Smokies!"
Morris added, "That's one of the reasons we call it 'Time Well Spent,' right?"