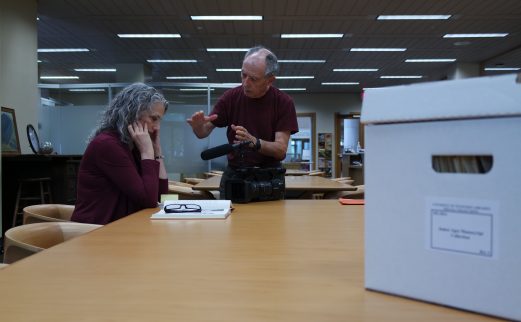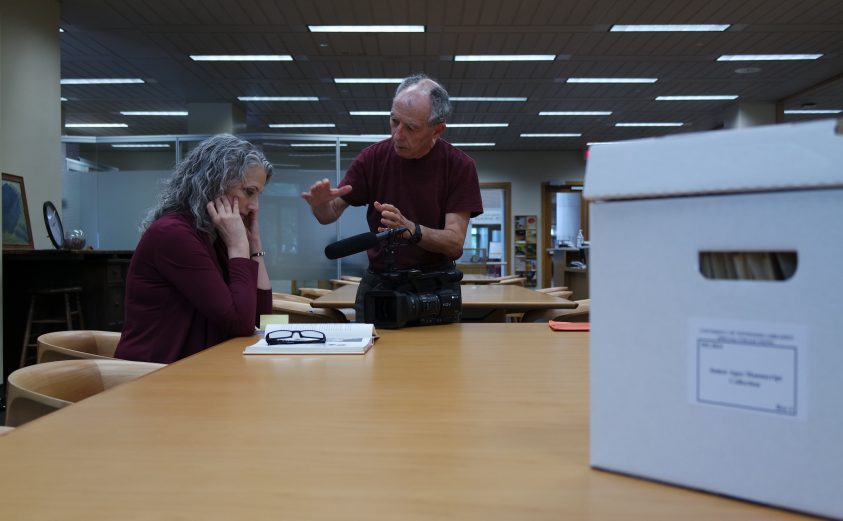 Filmmaker Visits Special Collections for James Agee Docudrama
In late 2018, a Swiss documentarian, Richard Dindo, visited the Betsey B. Creekmore Special Collections and University Archives to film items from our James Agee holdings.
Dindo visited Special Collections while in Knoxville shooting portions of a film on the life and work of writer James Agee. It was part of a new film concept: the camera was to follow an actress-filmmaker through the creation of a fictional film, combining a traditional inquiry with historical fiction.
In the film, Dindo presents primary source artifacts alongside dramatizations of Agee's life — a sort of film-within-a-film.
James Agee was a novelist, journalist, screenwriter, and film critic, but he is best known to 21st-century readers for his autobiographical novel, A Death in the Family. Dindo's film-within-a-film is a poignant reenactment of episodes from that novel. We see the actress-filmmaker directing the actors who portray Rufus (the youthful Agee), his mother, father, aunt, uncle, and sister through scenes that surround the death of Agee's father.
Those dramatizations are interspersed with the actress-filmmaker's research forays. At UT, she consults with Jennifer Beals, director of our Betsey B. Creekmore Special Collections and University Archives. Beals shows the filmmaker some of Agee's correspondence and a typescript for "Knoxville: Summer of 1915," which became a prologue to the first edition of A Death in the Family. (UT holds materials that were found in Agee's office when he passed away).
At the Knox County Public Library, Steve Cotham, manager of the Calvin M. McClung Historical Collection, shows her Agee family photographs preserved in the McClung Collection. With local historian Jack Neely, she tours the site of the father's fatal wreck.
The actress-filmmaker also interviews Agee biographers and scholars who are authorities on the various genres in which Agee wrote. UT film studies professor Chuck Maland tells her about Agee's groundbreaking film criticism. In addition to being a film reviewer, Agee was also a screenwriter. Dindo's film includes clips from two towering Hollywood films for which Agee wrote the screenplays, The African Queen and The Night of the Hunter.
As well as learning about Agee's wide-ranging writing skills, viewers of Dindo's film will gain insight into Agee's character. The early loss of his father haunted Agee's sometimes troubled life (he struggled with alcoholism). But it also instilled in him an empathy and compassion that gave him rapport with the subjects of his journalism. Belinda Rathbone, author of Walker Evans: A Biography, tells about Agee's warm-hearted exchanges with dirt-poor Alabama sharecroppers. Agee wrote the narrative that accompanies Walker Evans's iconic Depression-era photographs, published in the 1941 book Let Us Now Praise Famous Men.
Knoxville singer-songwriter, author, and James Agee fan R. B. Morris also makes an appearance. While Dindo's film was in the planning stage, a friend introduced the two, and Morris helped Dindo make connections around town and select an assistant for the filmmaking process.
Dindo and his crew filmed at sites throughout Knoxville, including a few locales from Agee's childhood in Fort Sanders, as well as visiting the neighborhood's James Agee Park, a community project championed by Morris. Dindo was so pleased with Morris's style and understanding of the subject that he asked Morris to take a role in the film. Morris narrated portions of the film and gave a special performance of his song "Take That Ride":
"I don't want to die like James Agee
in the back of some taxi on the run . . . "
---
NOTE: Knoxville's Central Cinema (1205 N. Central) will host the world premiere of Richard Dindo's A Death in the Family at 7:00 p.m., Wednesday, November 27, 2019.
Central Cinema will also host An Evening with Richard Dindo at 6:30 p.m., Monday, November 25. Dindo will screen and discuss two of his films, Gauguin in Tahiti and the Marquesas​ ​(about the final years of painter Paul Gauguin) and ​Mars Dreamers​ ​(about a colony of scientists and researchers using the Mojave desert as a stand-in for the red planet).