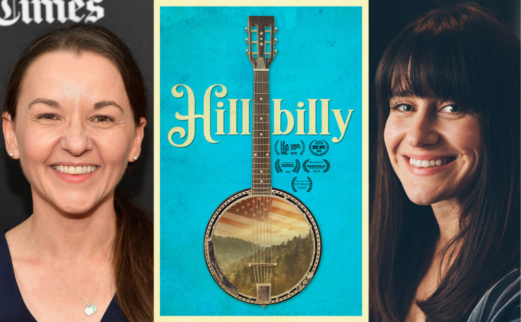 Filmmakers to Discuss "Hillbilly" Documentary, February 28
"Where did the hillbilly archetype come from and why has it endured on-screen for more than a hundred years? How does it relate to the exploitation of the land and people who live there? How do Appalachian and rural people view themselves as a result of these negative portrayals…?" [hillbillymovie.com]
In hillbilly, two documentary filmmakers confront stereotypical depictions of Appalachian people and attempt to introduce their audience to a more nuanced, authentic understanding of the region.
The upcoming Wilma Dykeman Stokely Memorial Lecture* will feature one of the hillbilly directors, Ashley York, in conversation with Elaine McMillion Sheldon, assistant professor of Cinema Studies in UT's School of Art. Sheldon — like York, a native of Appalachian coal country — recently produced a documentary film titled King Coal. Both films have received critical acclaim: hillbilly won the Best Documentary Award at the 2018 Los Angeles Film Festival. King Coal premieres at the 2023 Sundance Film Festival.
We invite you to join us at the Bijou Theatre, 7 p.m., Tuesday, February 28, for what promises to be a fascinating conversation. The event is free and open to the public. Registration is requested but not required.
For more than a hundred years, the media has stigmatized the people of Appalachia as poor, shiftless, and ignorant. From "Li'l Abner" comic strips to President Lyndon Johnson's War on Poverty, negative portrayals of the region have impacted both public perception and Appalachian residents' self-image. By some twisted logic, that stereotype has become a justification for exploitation of the Appalachian land and people.
One hillbilly interviewee explains that "This commitment to characterize the region as poor means that coal companies can come in and exploit the entire region." "It's only a region of trash, so why not trash it?" sociologist Barbara Ellen Smith adds, facetiously.
Join us for a conversation with Ashley York and Elaine McMillion Sheldon on February 28. And join us prior to the lecture to watch hillbilly. UT Libraries will screen the hillbilly film twice:
Thursday, February 23, at 5:30 p.m.
Monday, February 27, at 5:30 p.m.
John C. Hodges Library
Lindsay Young Auditorium, 1st floor
To attend the screening, RSVP to hodgessociety@utk.edu
Watch trailers now for hillbilly and King Coal.
---
* The lecture is hosted by Friends of the Knox County Public Library, the John C. Hodges Society of the University of Tennessee Libraries, and UT's Cinema Studies Program. The lecture honors the late Wilma Dykeman Stokely (1920–2006), writer, speaker, teacher, historian, environmentalist, and long-time friend of the Knox County Public Library. Her papers are part of the Betsey B. Creekmore Special Collections and University Archives at the University of Tennessee Libraries. Speakers at the Wilma Dykeman Stokely Memorial Lecture represent a wide range of backgrounds, experiences, and work, but all have a deep connection to one or more of Stokely's passions: Appalachia, the environment, and racial and gender equity.