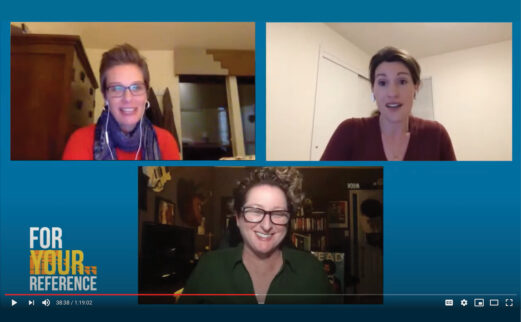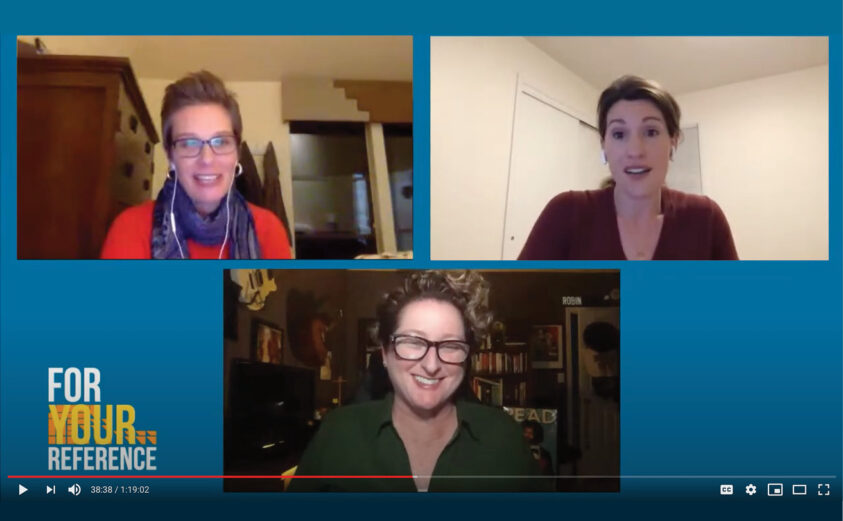 For Your Reference Episode 1: The Power of Stories
The present stay-at-home era proved the perfect moment for the UT Libraries to launch a new livestreamed show on important issues of the day. For the pilot episode of For Your Reference, on November 12, two scholars of political rhetoric, Stephanie Martin and Allison Prasch, examined the narratives that drive the voting behavior of evangelical Christians. Martin's forthcoming book, Decoding the Digital Church: Evangelical Storytelling and the Election of Donald J. Trump (University of Alabama Press, 2021), was the focal point of their exchange.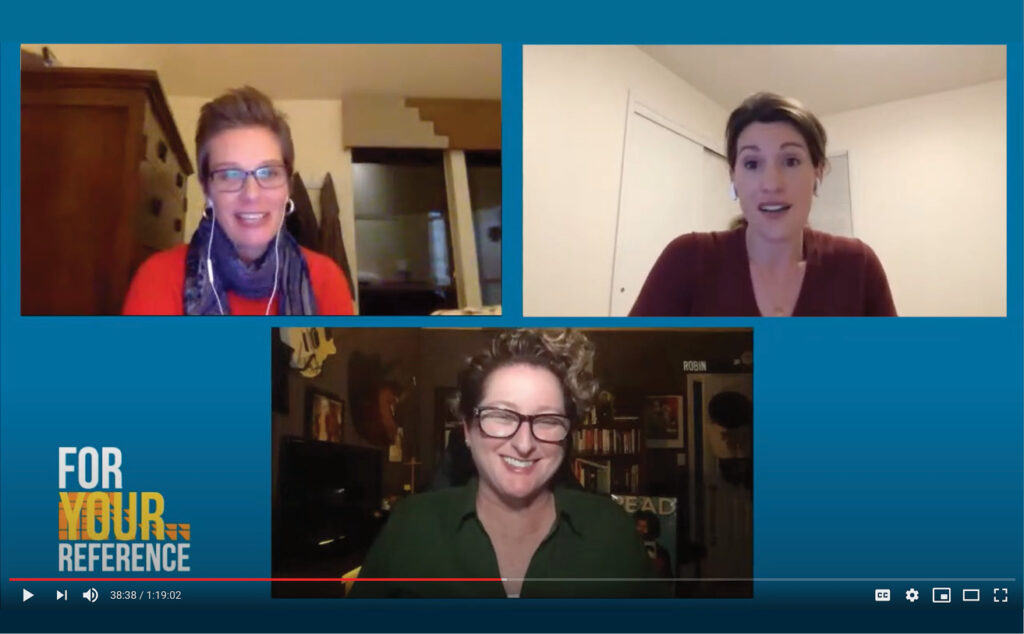 "I study conservative social movements and especially evangelical voters," Martin said. "I'm extremely obsessed with evangelical voters and how they decide their political priorities and develop their political world views."
As a political constituency, evangelicals are often portrayed as an implacable voting bloc animated solely by opposition to a progressivist agenda. According to Martin, "There's a sort of assumption embedded in our culture that evangelicals are a politically-obsessed subgroup in the United States that vote based on abortion, and marriage equality, and wanting to turn back the clock to the 1950s." But her research indicates otherwise.
For Decoding the Digital Church, Martin studied the sermons of evangelical groups, listening to more than 150 online sermons from America's largest evangelical megachurches.
Her analysis drew on the work of narrative theorist Walter Fisher. "Fisher said that people do things for a good reason, and they do things based on the stories that they live by.… And sermons are comprised of stories.… What I have discovered is that inside their churches you hardly ever hear mention of things like abortion or the immorality of marriage equality."
Instead, the political speech she heard in evangelical sermons were stories about the exceptional nature of America's founding and the obligation of all evangelical citizens to participate in the public square. "It's essential for all evangelical citizens to vote. It's their duty. They're called to this — because people have died for this freedom. Because the founders endowed us with this constitution and with this nation, you have to vote."
"Evangelicals have a very high rate of public participation," Martin reported. However, "for the most part I don't find them to be any more interested in politics than people who not members of the church." And "they're not voting against marriage equality so much as they are arguing for a particular kind of citizenship that they find in Republicanism, that says that Christianity and evangelicalism is primary and comes first."
Prasch weighed in: "We're talking the week after a presidential election. I've seen statistics on evangelical voters.… It can appear kind of hypocritical that they are voting for particular policies – at least in this administration – such as family separation. How do you reconcile that? What kind of stories do people tell themselves to reconcile those facts?"
For this episode of For Your Reference, Prasch was assigned the role of "Reviewer 2," which is also what we are calling the opening segment of each broadcast.
Reviewer 2 is one of those inside jokes in academia: a fellow academic who has been asked to review the research paper you submitted for publication — the dreaded reviewer who totally misconstrues your premise or (worse yet) points out the fatal flaw in your theory.
But Prasch — herself a professor of political rhetoric — was instead acting as a supportive fellow scholar.
Martin responded, "There's a rhetoric inside the church that I refer to as the rhetoric of active passivism.… It allows them to say, 'I'm voting for these things I do like. And the things I don't like, well, God's in charge.'… It's actually unfair for people to criticize them for that belief." Nonetheless Martin sees that reasoning as a slippery slope. "The minute you vote, your vote now counts for something. And it's going to join with other votes. Those votes are going to become policies.… You can't say that God is responsible for the things you don't like, and your civic participation accounts for the things you do like.… Where people see hypocrisy, though, I actually say that is people from the outside putting their priorities onto the evangelical voter."
Prasch returned to the central theme of the episode: how stories shape our beliefs and help us figure out our way through the world. "There's nuance. And it makes me think how everyone has a story, and we all walk around in the world with a story. And we can put our stories onto other people without trying to understand the stories in which they live."
Martin and Prasch's discussion of evangelical voters followed many tangents. You can view the entire show on the UT Libraries' YouTube site, or check it out below.
For Your Reference is hosted by UT Libraries faculty and staff members: Robin Bedenbaugh, head of Marketing and Communication, Ingrid Ruffin, head of the Learning Commons, and Casey Fox, director of Advancement.
In addition to presenting a lively conversation between two scholars, each episode of For Your Reference will feature an interlude we call "Check This Out," in which media literacy librarian Paris Whalon helps viewers identify and evaluate credible sources on the topic under discussion.
The final digression of each episode will be "Stories from the Stacks," a detour into the archives. For Episode 1, Ingrid Ruffin and university archivist Alesha Shumar discussed the history of UT's mascot, Smokey. If you want to know about Smokey II's eventful life, which included a dognapping and a halftime clash with a bear, fast-forward to 1:11 on the ticker.
Episode 2 of For Your Reference is coming soon. Stay tuned!
---
Sam (Stephanie A.) Martin is a scholar of public address and political communication at Southern Methodist University, with a particular interest in the public discourses of conservative social movements, especially evangelical voters.
Allison M. Prasch is an assistant professor of rhetoric, politics and culture in the Department of Communication Arts at the University of Wisconsin–Madison. She is currently finishing her first book, tentatively titled The Global Rhetorical Presidency: Cold War Rhetoric on the World Stage.
---
Interested in being a featured guest during an upcoming episode of For Your Reference? Email socialib@utk.edu.
---