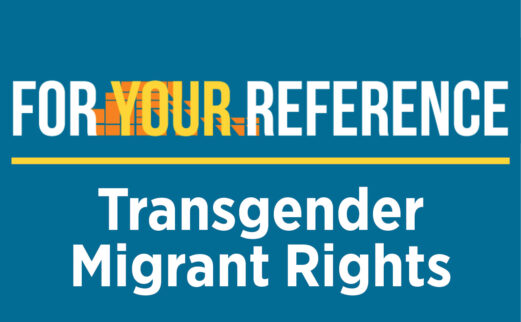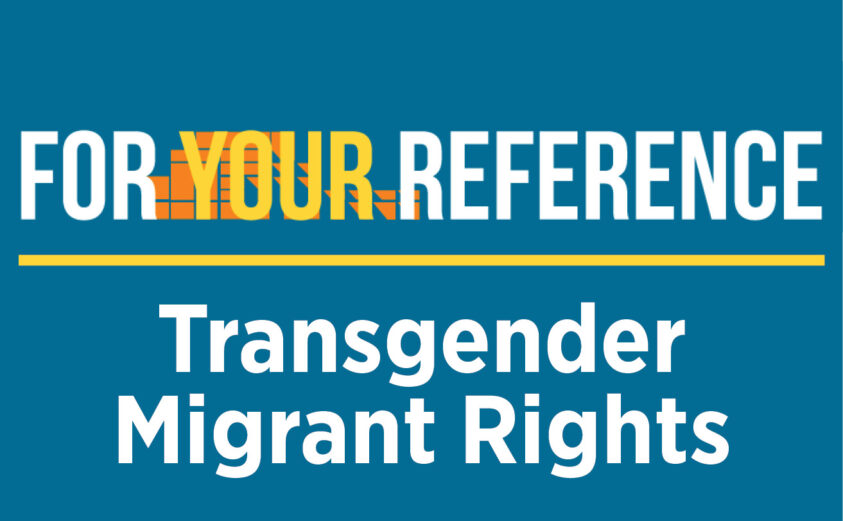 For Your Reference Episode 3: Transgender Migrant Rights
In Episode 3 of For Your Reference, scholars Leandra Hernandez and Sarah De Los Santos Upton will discuss transgender migrant rights at the US–Mexico border. Join us for the next installment of this original UT Libraries livestream series at 7 p.m. (EST) on Wednesday, March 10 on YouTube or Facebook.
Transgender and LGBTQ people are some of the most vulnerable migrants seeking asylum in the US. Often, they flee violence in their countries of origin only to confront systemic abuse in the US immigration detention system.
Hernandez and Upton, who are both professors of communication and scholars of social justice, address this issue in a recent journal article. In "Transgender Migrant Rights, Reproductive Justice, and the Mexico–US Border in the Time of COVID-19," they recount the stories of two migrant transgender women who died in migrant custody after being denied medical care.
In announcing the death of Roxsana Hernandez, a 33-year-old, HIV-positive transgender migrant from Honduras, Immigration and Customs Enforcement officers repeated an all-too-common narrative that "certain individuals" "bring unknown diseases" into the country.
At our politically-charged southern border, the transphobia, racism, and xenophobia that pervade our culture can have tragic consequences. Hernandez and De Los Santos Upton note that "the COVID-19 global health pandemic is making an already precarious situation much more treacherous." They call for a more nuanced discussion of human rights and reproductive justice that includes queer and transgender perspectives.
Join us on March 10 for a lively discussion of transgender migrant rights.
Each episode of For Your Reference uses a conversation between two scholars — and lots of humor — to present information on a timely topic. In addition, this series hosted by the University of Tennessee Libraries aims to instruct viewers on how to identify credible sources on important topics of the day.
—
Hernandez, Leandra Hinojosa, and Sarah De Los Santos Upton. "Transgender Migrant Rights, Reproductive Justice, and the Mexico–US Border in the Time of COVID-19." QED: A Journal in GLBTQ Worldmaking 7, no. 2 (2020): 142–149. muse.jhu.edu/article/781367.
---
Leandra Hernandez, an assistant professor of communication studies at Utah Valley University, enjoys teaching health communication, gender studies, and media studies courses. She utilizes Chicana feminist and qualitative approaches to explore Latina/o/x cultural health experiences, Latina/o/x journalism and media representations, and reproductive justice and gendered violence contexts. Her teaching philosophy is informed by social justice approaches, and she is passionate about mentoring undergraduate students through diverse and inclusive research projects.
Sarah De Los Santos Upton is an assistant professor in the Department of Communication at the University of Texas at El Paso. Her research and teaching explore nepantla identify, borderland pedagogy, and reproductive justice. Her research interests include invitational social change and communication in border contexts. She is also committed to connecting teaching and research through service learning to give students the opportunity to engage with the larger El Paso/Ciudad Juárez community in meaningful ways.