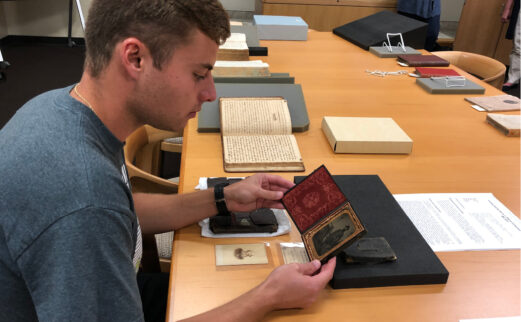 Give Your Students Hands-on Experience with Primary Sources
At the end of each semester, faculty in the Department of History and the Marco Institute for Medieval and Renaissance Studies get a familiar request from me, their librarian. "Please remember to schedule your instruction sessions at the library for next semester. My calendar fills up quickly!" The hope is that the timing of this reminder coincides with the faculty member's review or creation of their syllabus for the following semester.
Many people do not realize that the library is a resource not just for the students but for the faculty as well. Subject liaisons are librarians assigned to a specific discipline. We are specialists in our areas and are trained in facilitating research — on the undergraduate, graduate, and faculty levels. Outside of those responsibilities, we are teachers. We mainly conduct "one-shot" sessions: i.e., a class visits us at the library for a lesson on how to use library resources — such as databases and physical or electronic materials — for research. History and Marco students and faculty have notoriously been heavy users of the library, so I offer a number of different options to my faculty for instruction.
I do offer "one-shot" instruction, and many professors who teach 200-level courses opt for that alternative. That session involves a full class period where I discuss what the Libraries do, what their librarians can help them with, and how to use databases and LibGuides, as well as answering their research questions. This is helpful for students who need a re-introduction to the research process or may never have conducted a research assignment before.
I offer more collaborative versions of my services for higher-level seminar courses (400-level+). In these much smaller classes, I may work with a class to develop their research topics then return later in the semester to assist with research strategies. Throughout the semester, I will additionally reserve open hours to assist students in that class who may be struggling or need additional guidance. This is often helpful to the faculty member, as well — keeping them from being inundated with research questions.
My most popular instruction session is the "show and tell" version. For half the class period, I lecture on how to use databases to find primary sources for research papers or presentations. Then, for the second half of the class, we reconvene in the Betsey B. Creekmore Special Collections and University Archives where students can engage with archives from our collection that are relevant to the overall class. Students and faculty members love this type of class. They appreciate being able to handle documents and other items that are decades or centuries old or that they have only ever read about.
Feedback from these courses indicates that the sessions improve the final research products significantly. Students enjoy the sessions because it makes research less intimidating, and collaborating with your librarian much more accessible. We have to remember that some of the students are undertaking a substantial research project for the first time. It reassures them to know that there is an extra resource for them, readily available. The "show and tell" is exceptionally popular because it offers all the above benefits and also provides the students with an opportunity to see exclusive items and ask questions while their professor and their librarian are in the same room.
All of these classes require a level of collaboration between the librarian and the professor. Prior to drawing up my lesson plans, I need the professor to share two things with me: (1) the syllabus and (2) the learning objectives of that session. Sometimes, if there is an upcoming research assignment, the professor will send me that too so that I can customize my presentation and anticipate questions I will need to address. For the "show and tell" sessions, I work with the Outreach Librarian in Special Collections. I share the syllabus and objectives with her, and she pulls objects from the archives that are relevant. If there are a lot of potential items to pull, we may ask the professor to let us know which ones to include or exclude.
Professor Susan Lawrence of the Department of History took full advantage of my "show and tell" option but also decided to customize how it would work for her class. She reached out to me during summer vacation, in July, to discuss library visits. Professor Lawrence, an expert on Civil War medicine, wanted students in her History 499 capstone course on Civil War Medicine to engage with primary sources on that topic. She was very involved in the selection of items for us to show. She came to Special Collections to take photos of the handwritten correspondence of Civil War soldiers for use in some of her transcription assignments. We then made plans for her students to visit the archives at the end of August. We had pulled from our collection: soldiers' letters, Civil War medical journals — even a Civil War medical kit complete with scalpels, catheters, etc. During that class visit, Professor Lawrence gave significant background information on each of the items. The students just lit up. Many stayed after class to continue to read, flip through pages, and discuss the items. After that visit, Professor Lawrence scheduled a follow-up day for me to lecture on ways to support archival research using other library resources such as databases.
These creative methods of utilizing library resources can inspire your students to produce their best academic work. It allows students to have dedicated time inside of the library during which the research process is explained to them in accessible terms. It also helps to calm the anxiety students may feel regarding how to use the space and its services. On average, about half of the students in the classes I instruct engage with me at some point. The levels of engagement range from a quick question via email to scheduling time to sit with me and go over research strategies.
After the sessions are over, I usually contact the faculty member to discuss whether their expectations were met and to absorb any feedback that they may have for me. After the Civil War Medicine class, I received a lovely card signed by the whole class — letting me know that they really enjoyed it and learned a lot. It really warmed my heart.
The greatest sign of success to me is a request for my services the following semester. As it nears the end of the semester, it is time for me to send my usual email again. I'm really excited for spring semester.
---
Faculty members: To schedule a class visit to the Betsey B. Creekmore Special Collections and University Archives, contact your Subject Librarian or Allison McKittrick, Assistant Librarian for Special Collections Outreach (amckittrick@utk.edu or 865-974-4480).