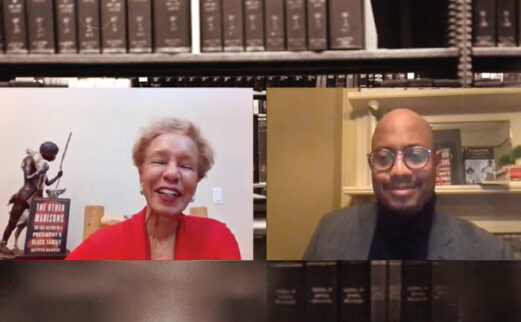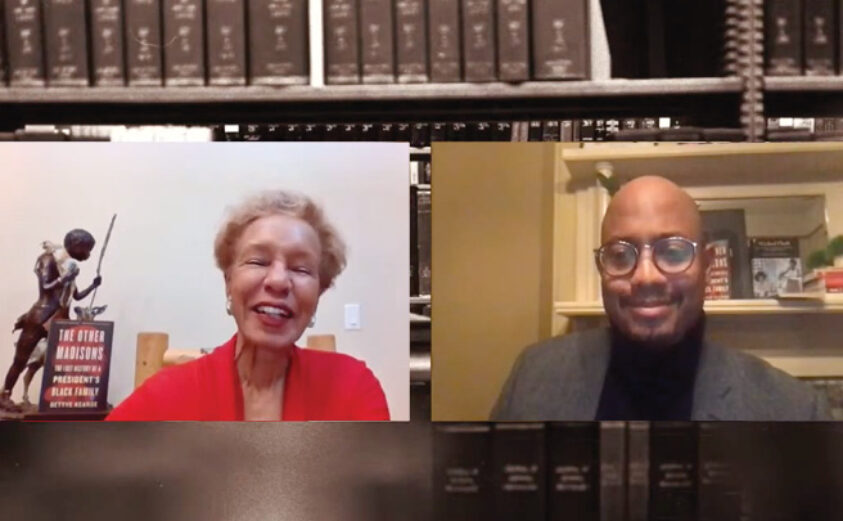 The Difficult Task of Historical Storytelling: "The Other Madisons"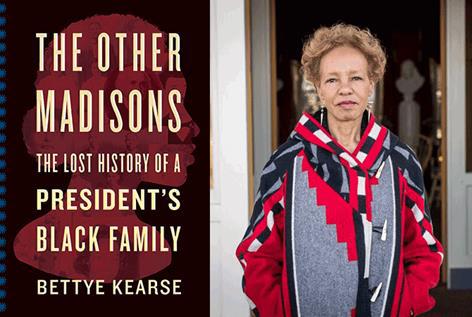 "I learned that wherever African slaves once walked, history had tried to erase their footsteps," author Bettye Kearse told the audience at our "In Conversation" livestreamed literary event focused on historical storytelling on December 8.  
She and Robert D. Bland, an assistant professor of history and Africana studies at UT, were discussing Kearse's book The Other Madisons: The Lost History of a President's Black Family.
According to family legend, Kearse is a descendant of President James Madison and his enslaved cook and half-sister, Coreen. The Other Madisons traces her quest to learn more about her ancestors.
Kearse was a retired pediatric physician and geneticist when she became the eighth griotte, or oral historian, for her family. "I knew that through their words alone, West African griottes, and their male counterparts, griots, have preserved entire cultures for thousands of years," she said. Kearse's mother, who took great pride in their family's descent from one of our nation's Founding Fathers, passed the torch of family pride and history to Kearse in 1990 — including a cardboard box of documents and treasured family memorabilia.
"My family's credo — 'Always remember: You're a Madison. You come from a president and African slaves.' — has been a source of inspiration and pride for more than 200 years. But when I became the griotte, I began to question why the credo should make me proud. For me, it resounded with the abuses of slavery. So, in 1992, I began my journey of discovery — of my ancestors, our country, and myself."
Kearse's family had kept her ancestors' personal histories alive by passing down the stories of their lives. She hoped to add detail to that narrative.
Kearse outlined her odyssey to the cradles of slavery and the wayposts of her ancestors' journey: "I traveled to Lagos, Portugal, where the trans-Atlantic slave trade began. To Ghana, West Africa, where my family's first African ancestor in America was born. To Baltimore, Maryland, where a replica of a slave ship — like the one that carried her away from home — sits in a museum. To Central Texas, where my enslaved ancestors lived at the time of Emancipation. To New York City, where an 18th-century African burial ground had recently been discovered. And to Montpelier, James Madison's former plantation in Virginia."
Bland asked her what it means to be a griotte: "I want to ask you about the question of duty, and the feeling that you received in 1990, receiving the cardboard box. And then recognizing that, at some point, this is going to go from an oral history to a book that you're potentially sharing with younger generations of African Americans, people that are interested in African American history. People are interested in these stories about what the country means and its relationship with enslavement, and the founders' relationship with enslavement."
"Well, you know, it is quite a responsibility," Kearse replied. "The responsibility is not only to keep the stories alive, and to keep the ancestors alive. It's also to pass on the values and beliefs in our family. I mentioned that, in West Africa, it is strictly an oral tradition and requires a tremendous memory. But the training is not as rigorous here in this country as it is in Africa. So, there's a danger of losing some of those stories and some of that information. Well, maybe not losing the values, but having the values get warped a bit by American society and culture. So, my great-grandfather started collecting the memorabilia — birth certificates, and death certificates, and land deeds, and marriage licenses, and so forth.… And this is a way of helping and preserving the family stories — not just orally, but through items. The items have stories themselves. Being able to touch something adds a great deal to knowing fully that our ancestors were real people."
Concerned that some of those stories could be lost, Kearse's mother entrusted her with writing the family history. Kearse realized "that as we were more comfortable with who we are as African Americans and we got farther away from slavery and Jim Crow and, even more recently, the disappointments of the Great Migration, that we could kind of become complacent and just forget."
Bland asked, "What were those eureka moments, when you kind of found a document or found information that you said: This really helps the story! This is what I was looking for!"
Kearse noted a remarkable document found by a cousin: an 1834 contract documenting the purchase of her great-great-grandmother, Elizabeth, as a mate for Emmanuel — grandson of Coreen and James Madison. "And what's so interesting about this document is that Elizabeth and Emmanuel had to be given adequate clothing and food. And their offspring — they call them issues — had to be given adequate clothing and food. Elizabeth and Emmanuel had the choice, after a one-year period, of deciding which enslaver they wanted to end up living with.… But even more interesting is they had the opportunity to decide whether or not they wanted to live with each other.… And the other thing that's important about this document is, because Elizabeth and Emmanuel did choose to stay together, it is tantamount to a marriage license, which is an extremely rare finding."
This is indeed a singular artifact. Marriages among slaves were not recognized by law and thus produced no licenses.
The historical record privileges those in power. The voices of slave owners are enshrined in the archives, while the voices of enslaved individuals have been silenced. Few slaves could read and write and, so, left no letters for posterity. Because they could own no property, there are no wills or deeds to be examined. Even their graves are unmarked. This is why it is so difficult to reconstruct the lived experiences of those who endured racial slavery.
Researching her roots, Kearse felt a deep connection to Mandy, her five-times great-grandmother who was abducted from her home in Ghana, brought to America, and purchased by the Madisons.
Bland inquired about Kearse's artistic methods: "You talk about Mandy in Africa. You talk about the slave ship.… How did you creatively speculate about Mandy's interior life and what she was going through — her hopes, her dreams, her fears, her fantasies? How did you, as a writer … how did you make those decisions?"
"I wanted to get to know Mandy, and that is really why I made those journeys," Kearse said, "because Mandy played a strong role in determining who I am. And I came to love her, and I became very close to her and to the point where I knew what she wanted me to know, and what she wanted me to pass on through the book.… I never heard her voice, but I always was certain I knew that I was saying what she was wanting to say.… Those are my favorite parts of the book. And I don't think of them as fiction, you know. I just think of them as her."
What does Kearse hope to convey to her readers? "I also learned that enslaved people were remarkable individuals who possessed inner strength and extensive hope, by which they survived, and many talents, by which they contributed tremendously to America," Kearse said. "But here's the best part. When enslaved people died, they did not take those qualities with them to the grave. They passed them down to their descendants, including those of us alive today … including me. They gave me my life's purpose. It is my dream that what my book reveals about enslaved people will inspire young African-Americans to embrace their slave ancestry. And to grab onto, and nurture, their own inner strength, their own hopes, and their own talents, so that they, too, can contribute tremendously to America."
"In Conversation: Bettye Kearse and Robert Bland" was sponsored by the John C. Hodges Society of the University of Tennessee Libraries, Union Ave. Books, the UT Black Alumni Council, the UT Division of Diversity and Engagement, and the Office of Multicultural Student Life.
Check out additional In Conversation events on Speaking Volumes, tackling a wide variety of storytelling.