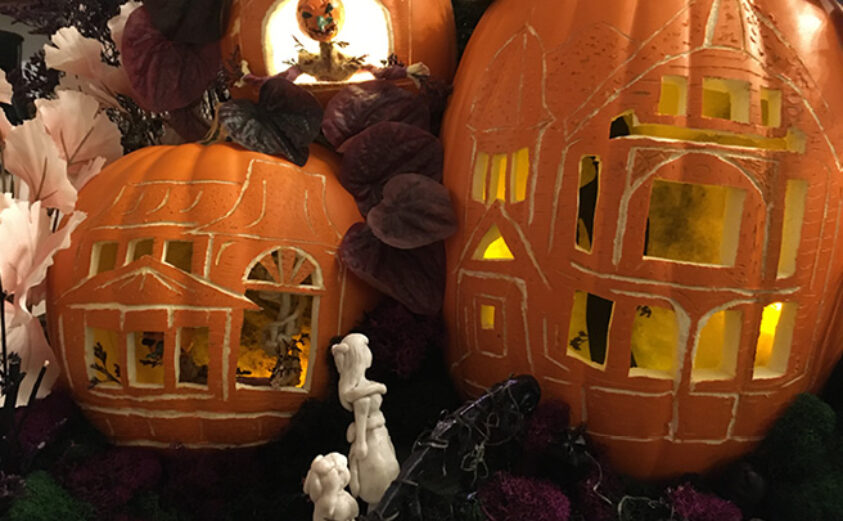 Horror Expert Lisa Morton Talks about Her Favorite Subject
With the ongoing discussion of gender inclusion in our current political climate, we sat down with award-winning author, screenwriter, and horror culture expert Lisa Morton to discuss being a woman in the horror industry.
Morton joined the campus community for a livestream event on October 18 as part of the UT Libraries' month-long celebration of women's contributions to the horror genre. The Women in Horror Month included screenings of horror films directed by women and an exhibit of horror fiction from the libraries' collections.
Lisa Morton's love of horror and her fascination with Halloween started as a young child. Growing up in Southern California, Morton first delved into horror after watching the film The Exorcist, which she claims started her appreciation for the genre. "It's hard now to explain to people who weren't there because there has not been another movie that's had an impact like that on an audience. But when you saw The Exorcist when it was first released in the '70s it was insane." Morton claims she always related to the villain of films versus the princess. Even as a child, she was able to empathize with their humanistic side and questioned what outside experiences shaped who they became.
Originally wanting to be a scientist, her love of horror and Halloween grew, and Morton knew she was suited for a career in the field. She worked under renowned horror author Dennis Atchinson, whose work Morton always admired. He mentored her during her early career and helped shape the award-winning writer she is today. "I am incredibly lucky to have had a mentor who was also my favorite writer." Other authors, including Stephen King, also curated her passion for horror.
As a woman in a male dominated industry, Morton discusses the impact of gender in her field. She states, "It's not any sort of secret that several women who have specifically tried to direct horror movies have found themselves questioned for wanting to go into this genre — if they've even been considered for the position at all."
Being a woman in a field saturated with men can be difficult, but Morton has overcome the challenges and uses this to her advantage. She partnered with the Horror Writers Association to start a scholarship program, the Mary Wollstonecraft Shelley Scholarship for women in horror. "We thought it'd be nice to offer women something, in particular, that could help us grow this part of the genre, that could help the young women who are coming along with their education and create that whole next generation of female writers," Morton says.
Morton is also an expert in all things Halloween. Morton discussed the origins of the holiday, starting with the Celts and referred to as Samhain. Halloween transformed into All Saints Day then converted to All Souls Day, a Catholic day of remembrance for deceased loved ones. The evolution of Halloween has happened over centuries and has included many cultures.
In the 1920s, Halloween evolved into a day on which prankster children wreaked havoc on their town. Locals started using candy to appease the children, which is where we got the concept of Trick or Treating. "At that point the holiday was really about kids playing pranks, and that eventually leads us to trick or treat. And that's a fact that I love — that if you ask people 'How old do you think Trick-or-Treating is,' most people will come up with something like: 'Oh, it goes back thousands of years to the druids or it goes back hundreds of years to the English.' No, it actually really is less than a century old," Morton explains.
Lisa Morton is truly one of a kind in her field and has overcome the obstacle of being a woman in a male dominated vocation. Her expertise in both horror and Halloween makes her a unique asset to the genre we know and love today. We are so honored she took the time out of her busy schedule to sit down with us.
---
Women in Horror Month also included a call for members of the campus community to submit their own creative works in the horror vein. Several of the submitted graphic creations are pictured here. Visit our online exhibition to view submitted paintings, poems, short stories, and even a gruesome silent shriek of laughter.