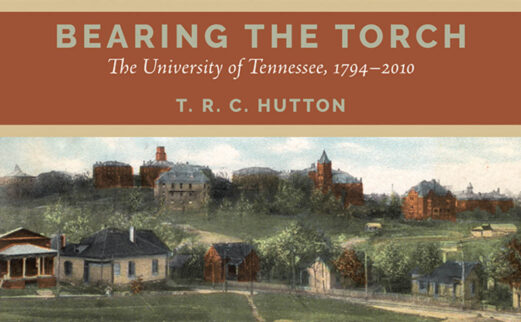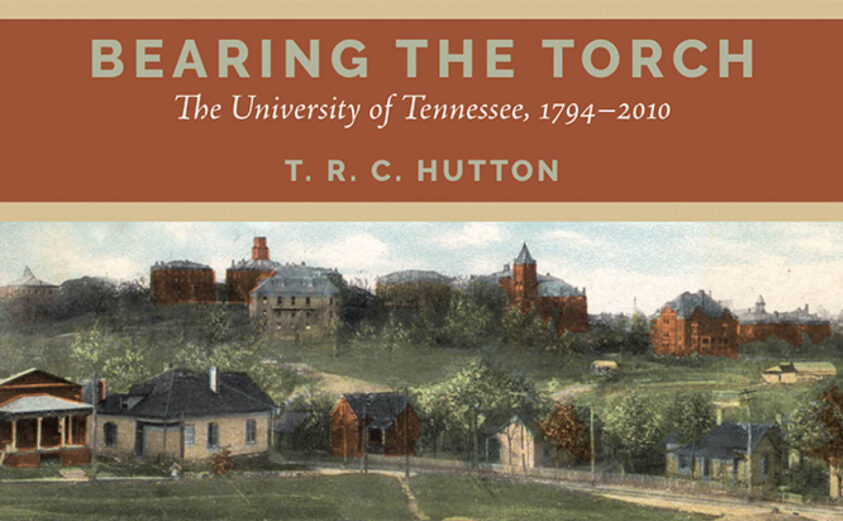 "Bearing the Torch": Bob Hutton and Jack Neely Talk about UT
UT Press recently published a new comprehensive history of the University of Tennessee. Bearing the Torch: The University of Tennessee, 1794–2010, by T. R. C. Hutton, is the first book-length scholarly history of the university to be published in over 30 years.
On October 27, the UT Libraries, the Knoxville History Project, and the East Tennessee Historical Society hosted a conversation between author Bob Hutton and local historian Jack Neely at the East Tennessee History Center. Hutton teaches history, political science, and Appalachian studies at Glenville State University in West Virginia. Neely is the founding executive director of the Knoxville History Project and the author of numerous books on Knoxville history.
Hutton, who taught history at UT before joining Glenville State, credits former UT chancellor Jimmy Cheek and UT's Beaman Professor of History Ernie Freeman for inspiring and (along with many others) supporting the project. Hutton is also full of praise for staff at UT's Betsey B. Creekmore Special Collections and University Archives, where he spent untold hours delving into UT Libraries collections that preserve the history and legacy of the university.
The university celebrated its 225th anniversary in 2019. But there was hardly an unbroken trajectory from its founding in 1794 to its current status as an eminent public research university. At various times the institution was nearly derailed by squabbling among the trustees, by the Civil War, and even by religious sectarianism.
"For a long time, UT was barely there and was having a hard time staying in business," Neely said. "A lot of people coming to Knoxville would assume this is a college town and the town is here because of the college. That looks like it today. But, in the early days, UT was a mysterious place up on the Hill. And you'd read weeks of the newspaper without any mention of UT — especially in the first century or so."
UT began as a small school for the privileged elite, founded by a Presbyterian minister in the late 18th century. "Samuel Carrick … is considered the defacto founder of the school that would eventually become the University of Tennessee. Of course, in his day it was known as Blount College, named after William Blount [governor of the Southwest Territory, of which Knoxville was the capital]," Hutton explained. "Carrick was — like a lot of the early Presbyterians — he was a product of education. And he finds himself in what white settlers of the time would have considered the edge of civilization in the 1780s and '90s.
"It's really funny to call Blount College a college," he continued, "because the impression I get is a kindly old parson who happens to have a copy of Euclid, a copy of Horace, maybe a couple of others — and, of course, a King James Bible — handy in his parlor at the manse. And he invites some of the younger people over from time to time just sort of to read. Because, even for wealthy families like the Blounts, at this stage at about 1790, 1791, or 1794 (the official year of founding) books would have been very hard to come by."
"Seventeen ninety-four maybe needs an asterisk, perhaps?" Neely posed. "I think the year is fairly appropriate," Hutton said. "It's just important to remember that there was no Tennessee in 1794. It was the Southwest Territory." [Tennessee became a state in 1796.] Neely added: "I'd like to emphasize, by the way, if we do use 1794, that makes UT one of the oldest colleges in America. After the Ivy League, this is one of the top 30 colleges as far as the founding date."
"There was a handful of years there where it basically just existed on paper, after he [Carrick] passed away," Hutton said. "The college stopped for a long time.… It was not even there except as a periodic meeting of trustees who got together," Neely added.
The school was rechartered as East Tennessee College in 1807. "East Tennessee College does start attracting students for the next few years … and also attracting educators from all over the country, or at least up and down the Eastern seaboard," Hutton said.
More than once in its 225-year history the college has been roiled by disputes about the role of the academy. The 1820s was one of those times. Tennessee politicians reacted negatively to the influx of New England educators. "It's not so much that they're reacting against Northerners or outsiders. They're sort of reacting against the fact that state money is being used for what they consider a temple of privilege," Hutton said. "And this is the Jacksonian time period … The whole impetus behind Jacksonianism was fighting privilege or at least what people perceived as privilege.… One way or the other, though, it does motivate people like Estabrook [who became president of East Tennessee College in 1834] to try to — I use this term loosely — democratize the school. And so they start, for one thing, an effort to accept young men — it was only men at this point — who were deemed worthy and yet impoverished. I think every county in the state would be able to send two and give them a free education. Tennessee has suffered from anti-education politics many times in its history.… But the first time that it happens there is this — I think a serious — question about: Is this an education that's available to everybody?"
Under Estabrook's administration, the college expanded its curriculum and began conferring degrees. In 1840, it was renamed East Tennessee University. "Very few people who attended were actually conferred with degrees before that," Hutton said. "It was during the Estabrook period. We really can't overestimate the importance of Estabrook.… One real development at that stage was they started training what would have been considered common school teachers. They realized basic-level, primary-level education in Tennessee was lacking. I mean, it barely existed anywhere at that stage in the 19th century. So, they start making a concerted effort to teach things like English for the first time, because it was understood that children would need an education in basic English grammar. Before that, you would be more likely to be studying Latin and Greek than you would English."
From its founding the university was a microcosm of the political and religious conflicts of the day. "I think the university, ETU, was nearly in as much danger of ceasing in the 1850s as it was during the war," Hutton said. "It just seems like one thing after another happened. There was a … cholera outbreak sometime around 1857 or so. There was that ridiculous accusation by the local Methodists and Baptists that there were still too many Presbyterians on the faculty. Sort of a weird sectarian accusation to make." "And that's weird," Neely added, "because when Carrick, a Presbyterian minister, founded the college he said this will be a non-sectarian college. And that was unusual because even the Ivy League colleges at that time were sectarian."
In the lead-up to the Civil War, controversies over slavery and the question of secession played out on the East Tennessee University campus. Some faculty withdrew from the university. "I've had the impression that people left ETU both because there were too many secessionists and too many unionists — both ways.… The college shut down for a bit during the war and actually sustained some damage during the shelling of Knoxville in 1863," Neely said. "I think they ceased classes in the fall of 1862. And a lot of students were just sort of not showing up anyway because they were joining various armies," Hutton added.
During the war, the Hill was occupied, first by the Confederates and then by Union troops, and used for hospitals and barracks. The campus was left in ruins. At war's end, the Episcopal rector Reverend Thomas Humes was named president of East Tennessee University and began to rebuild the war-torn campus. "He literally healed some of the wounds of the war," Neely told the audience. "Today, we love Civil War trenches and things; we preserve them. But he just wanted to put that behind us as fast as we can. And he actually got students … to fill in all the Civil War trenches on the Hill, to make it look like a college again instead of a military base." The university petitioned the federal war department for monetary compensation for the devastation caused by the Union Army. The request for reparations (redefined as a "donation" and finally paid in 1873) undoubtedly received more favorable consideration because of Humes's outspoken Union loyalty throughout the war.
In the meantime, the university had already benefited from a new source of governmental support. The Morrill Act of 1862 — passed during the Civil War to establish land-grant colleges to teach agriculture, engineering, and military tactics — helped rebuild the university. "They created the idea of a land-grant university," Neely explained. "And this was the idea of land from federal lands recently acquired (a lot of them from Native Americans) — but sale of land to provide for higher education." In 1869, with the backing of Governor William "Parson" Brownlow, the Tennessee legislature declared East Tennessee University a land-grant college, the first institution in a former Confederate state to receive that designation. "There are a lot of people who don't really like each other who are teaming up to make this the land-grant institution once this idea gets some sort of currency. And the story they use to Washington is: This was the land of the loyal mountaineer," Hutton said. "Now, they don't mention that there were a few mountaineers who weren't so loyal!"
The new emphasis on the agricultural and mechanical arts is another inflexion point in American higher education. Humes, who favored a more classical education, found himself in conflict with the board of trustees. Hutton recounts: "He's a champion of the humanities. The trade-off for becoming a Morrill or a land-grant school was to focus on the sciences … He ends up fighting that, even though he had been part of the effort to get the funding." In 1883, the trustees asked for his resignation, and Humes complied. "Of course, by that point there's a certain neo-Confederate thing going on in Knoxville," Hutton added. "There's a lot of people who don't like having these Unionists — or this Republican as the president. That has a lot to do with why he got pushed out, too."
The university (renamed the University of Tennessee in 1879) was without a president for several years before appointing Charles Dabney in 1887. "Dabney was a great champion of this scientific and agricultural type of education," Hutton said. "He's a favorite of a lot of former Confederates but also the favorite of everyone who's advocating a sort of 'New South' approach to science and technology. At the same time, he really fumbled the ball when it came to the second Morrill Act stipulation that this be an institution of bi-racial education. He allowed Knoxville College to be sort of part of the system — but always in a very subordinate manner. At the same time, a lot of people on the board of trustees were accusing him of doing too much for African American education — when he actually was a white supremacist of his own sort of paternalist type. So, there's a lot of sort of problematic things going on in the 1890s in Tennessee, and a lot of that is reflected on this campus."
The above excerpt from Hutton's and Neely's conversation leads us through some of the political and social upheaval of the university's first century. There are many more stories in Bearing the Torch that are unique to our university yet reflect the history of our state and nation. As the author says, "I think you can read this book and you can sort of see education in the United States developing. And you can also see people trying to stop education. And that doesn't just happen in Tennessee; that happens all over the United States. And it's also a story about the development of diversity and equality in the United States, let alone on campuses. I think it's a lens for understanding a larger picture."
Bearing the Torch: The University of Tennessee, 1794–2010 is available from the University of Tennessee Press.