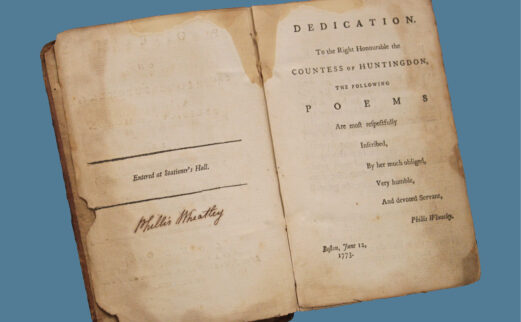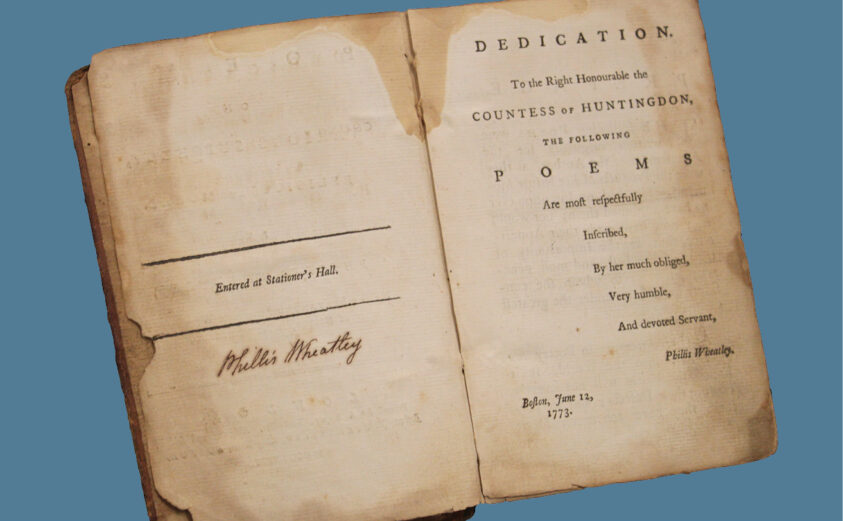 Library Owns Signed Phillis Wheatley First Edition
A historically significant book of poetry is among the rare treasures in the Betsey B. Creekmore Special Collections and University Archives.
Phillis Wheatley was an enslaved person in the household of a prosperous Boston family. Her Poems on Various Subjects, Religious and Moral (published 1773) was the first published book by an African-American woman.
Several years ago, the UT Libraries purchased a particularly noteworthy specimen of Wheatley's Poems: it contains an extremely rare inscription by the poet herself.
Phillis Wheatley (1753-1784) was a child of approximately seven years old when she was captured by slavers in west Africa, transported to America, and sold at auction in the slave market of Boston, Massachusetts, to John and Susanna Wheatley. John Wheatley gave her the name of the slave ship, the Phillis, aboard which she had made the grueling Atlantic crossing.
The Wheatley family began tutoring Phillis in English, Latin, and the Bible, and the young slave quickly displayed a facility for learning.
The verses in Poems on Various Subjects, Religious and Moral are filled with classical allusions. Many are elegies to the great men of the day. Her elegy on the death of the popular preacher George Whitefield, published in Boston, Philadelphia, New York, and London when Wheatley was just 17 years old, gained her considerable notoriety. Susanna Wheatley tried to capitalize on her servant's success to publish the verses but was unable to secure sufficient subscriptions to underwrite the cost of publication in the American colonies.
In the eighteenth century, the intellectual and creative capabilities of Africans were a subject of debate, and the reading public was skeptical of a literary work attributed to a slave. In 1772 Phillis Wheatley was called before a group of Boston's leading citizens to defend the authenticity of her work.
The august body was convinced of her authorship. The Poems were printed in London and widely acclaimed. Wheatley was feted on two continents and met many notables, including George Washington and Benjamin Franklin.
Wheatley was emancipated from slavery in 1773, but her life as a free woman was brief and fraught. She died in childbirth in 1784 at the age of 31.
The 1773 edition of Phillis Wheatley's poems purchased by the UT Libraries, sadly, is missing the original frontispiece, a rare depiction of an individual female slave — a pensive Wheatley at work on a poem.
Wheatley's slender volume of poetry, a signal literary achievement by an enslaved African, influenced the discourse on slavery in America.
Poems on Various Subjects, Religious and Moral is available to scholars of American history and literature in the UT Libraries' Betsey B. Creekmore Special Collections and University Archives.
---
[Excerpted from "Hidden Treasures in Special Collections," by Jennifer Benedetto Beals, in The Library Development Review 2013–2014]