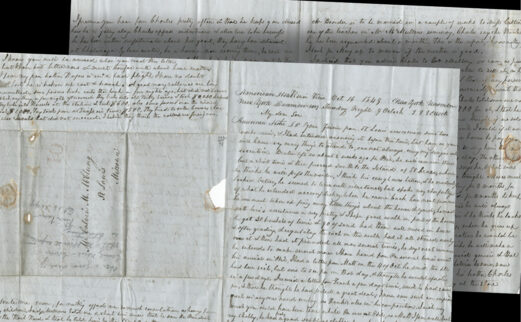 The McClungs: A Noteworthy Knoxville Family
"Believe me my dear Frank there is no one on earth that so much desires your prosperity as I do, but I cannot coincide in opinion with you that that is the course for you to pursue, to accomplish that end," Eliza J. McClung wrote to her son, Frank, when he contemplated joining California's gold rush. "I do not think I could under any circumstances consent for one of my children to make an adventure of that kind. It is true some persons have reached there and found gold, but where one has obtained his object thousands have been disappointed; perfectly horrifying are the accounts I frequently see from that country."
This is but a small excerpt from the numerous letters and other material to be found in the McClung Family Papers, one of Special Collections' more notable acquisitions.
When these papers were added to Special Collections during the 2011-2012 school your, they were not a new donation to UT. In the mid-1900s, Mr. and Mrs. John W. Green made a generous donation to the university to erect a museum in the memory of Mrs. Green's late father, the above-mentioned Frank McClung. Judge Green, a prominent local lawyer and legal historian, had already given the library a sizable collection of his own papers. The papers of his wife's family were kept at the Frank H. McClung Museum, where they were little known to the public and only rarely consulted by scholars.
The late Elaine Evans, a curator at the McClung, believed that placing the papers in the library would make them more accessible. She approached the University Libraries about the possibility of transferring them to Special Collections. Thanks to the generous efforts of Jefferson Chapman, Robert Pennington, and Elaine Evans of the McClung Museum, as well as numerous library staff members, the collection was smoothly transferred to Special Collections.
A Prominent East Tennessee Family
In studying the history of Knoxville and East Tennessee, it is hard to miss the McClung family. In 1788, Charles McClung, a second-generation American of Irish descent, emigrated from Philadelphia to the South, settling at the frontier fort erected by James White on the site of what was to become Knoxville. Along with marrying White's daughter, Margaret, McClung was the man who laid out the initial survey of Knoxville and was the first Knox County clerk. Active in the militia, McClung rose to the rank of major.
Additionally, he was a very successful businessman, establishing several different prosperous partnerships. McClung was also involved in education, as one of the charter trustees of Blount College, which eventually became the University of Tennessee. His daughter, Polly, along with Barbara Blount, Kitty Kain, Mattie Kain, and Jenny Armstrong helped make Blount College America's first co-ed college. Two of his descendants were also to be trustees of the university, and many more were important figures in the legal and business life of East Tennessee.
There are several interesting aspects to the McClung Family Papers Collection. First, a sizable portion of the collection consists of nineteenth-century letters to and from women. Whether the subject was birth, death, or the time in between, these women wrote lengthy and highly articulate letters. Below is an example from September 6, 1862, in a letter written to Eliza McClung by her sister Matilda (Tilly):
[W]ell do I know how very anxious you have been to hear from me. I was confined on the 23rd of April. But it was the will of my Heavenly Father that my darling babe, a little Girl, should not remain with me, just before her birth she died. I had Cassie and Mrs. Dennis with me. They did everything in their power for my comfort….I had a rather young and inexperienced physician & Mrs Dennis still says if I had only had proper assistance my little Babe would now have been with me, our best doctor was absent. My babe was just like its Father, just as plump and a very large child, must have weighed they all say over fourteen pounds. You as a fond mother, my dear sister, can only sympathize with me in my loss.
The Forgotten McClung, the Greens, and More
Another important highlight of the collection is the documentation of the life of Thomas Lee McClung, who could be considered the "Forgotten McClung." A graduate of Yale, where he was a star athlete and scholar, McClung had a highly successful business career and later served as treasurer of his alma mater. His fellow Yalie, President William H. Taft, appointed him in 1909 to serve as treasurer of the United States. Three years later, Thomas Lee McClung died at the age of forty-five. Perhaps the early age of his death accounts for the sad neglect of his achievements.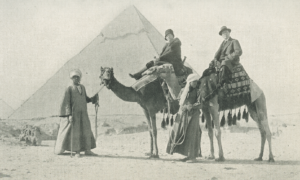 The collection also dramatically increases the amount of material detailing the life of Judge Green and his wife. Of particular interest is a small group of letters dealing with the death of Judge Green's father, Colonel Francis Marion Green, at the battle of Spotsylvania Court House. On June 8, 1864, Rev. T. D. Witherspoon wrote the colonel's widow regarding her husband's death:
It was my privilege to be with him during his last hours. The last words he ever spoke were addressed to me, the last expression of intelligence was in the friendly grasp of his hand after his lips were closed forever. He was wounded in the battle May 10th, in the brilliant charge of our Division upon the flanking Column of the Enemy for which it was so highly complimented by Genl. Lee. It was while gallant[ly] leading his men in this charge that his body was pierced by a Minnie ball & he fell mortally wounded….From the first he was of the opinion that his wound was mortal….When I first saw him on the morning of the 11th he was very calm and cheerful, told me of his situation & expressed his entire resignation to the will of God. I asked him if he was enabled to exercise faith in Christ. He replied "I trust so. I have been for months praying for forgiveness & acceptance with God & though the manifestations of God's favor are not as bright as I could wish I believe my prayers have been heard & my sins forgiven." I read and prayed with him & though very weak he seemed to enjoy the services very much. He suffered a great deal of pain all the time but never a murmur or word of complaint escaped his lips. I never saw any one bear suffering with such patience & resignation. He was troubled with constant nausea, so that nothing could remain in his stomach. In this state he continued, resting pretty well at night by the use of opiates until Sabbath when he died.
These few quotes provide a glimpse into this rich collection of materials illuminating the lives of a noteworthy Knoxville family. Thanks to the combined generosity of Judge John W. Green, his wife, Mrs. Ellen McClung Green, and the McClung Museum, this colorful archive is now available at Special Collections for all to share. Find out more here.
—
Adapted from the 2011-2012 Library Development Review