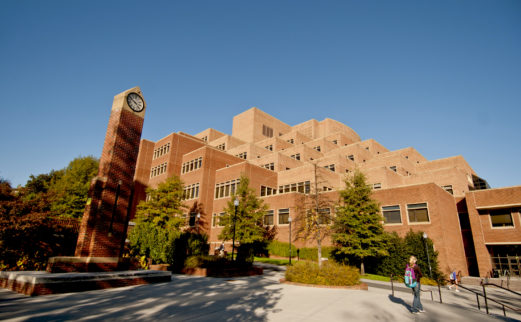 New Leadership for the Hodges Society Advisory Board
The John C. Hodges Society Advisory Board is excited to announce the new board chair and vice chair who will help further the UT Libraries' vision of being an indispensable partner to every member of the Volunteer community as they discover and advance knowledge, engage with society, and strive for excellence.
New advisory board chair Linda Natiello Friedland ('73) and new vice chair Paul James began their terms on November 12, 2021.
Linda Natiello Friedland earned her bachelor's degree in Physical Education, Health and Recreation from Carson-Newman University in 1972. She went on to earn her master's in College Student Personnel from the University of Tennessee, Knoxville, in 1973. Linda served in various academic and student development positions at Carson-Newman, Mansfield State College, and Westminster College before becoming Senior Director of Planned Giving for the University of Tennessee System. She retired from UT in 2018.
Linda is a library lover at heart. At an early age she learned that books can take you to faraway places and introduce you to new friends. Like most undergraduate and graduate students, she spent many hours in the library doing research and working on papers. Linda believes that — although they have grown and expanded their services to more than printed books and reference materials — libraries still offer all people the opportunity to grow, learn, and expand their knowledge of themselves and the world.
Over the years she has been active in Rotary, Chamber of Commerce, Upward Bound, Mortar Board, and the American Association of University Women.
Linda is originally from Canaan, New York. Her hobbies include reading (or listening to "books on tape"), gardening, and genealogy. About eight years ago she and her husband "adopted" five semi-feral cats who now completely rule the house and run their lives.
Paul James has served as the Director of Publishing and Development for the Knoxville History Project since 2017. He manages KHP's fundraising, photographic research, and digital collection and serves as editor and occasional writer for KHP's publications. To date, that includes 12 books co-authored with renowned historian and author Jack Neely. Their signature titles include Historic Knoxville: The Curious Visitor's Guide and Historic Bearden: The 200-year Story of Knoxville's Fourth Creek Valley, plus an ongoing series of local story collections.
Previously, Paul worked for Ijams Nature Center (2000–2016), serving as Executive Director for 12 years. During that time, Ijams expanded from 80 to 300 acres, including the addition of Mead's and Ross Marble Quarries. In 2010 he wrote a visual history book as part of the 100th anniversary celebration of the Ijams family legacy.
Paul has written articles for the Tennessee Conservationist, Smokies Life, and West Knoxville Lifestyle magazines. He is a graduate of Leadership Knoxville (2006) and Introduction Knoxville (2005), and was recognized by the Greater Knoxville Business Journal's 40 Under 40 program in 2009. He was also recognized with a Bruce McCarty Community Impact Award in 2013 by the East Tennessee Community Design Center.
Paul currently serves on the boards of several local organizations including Blount Mansion and the Great Smoky Mountains Conservation Association.
Paul is originally from England but has lived in Knoxville since 1999. He and wife Meredith live in Rocky Hill.