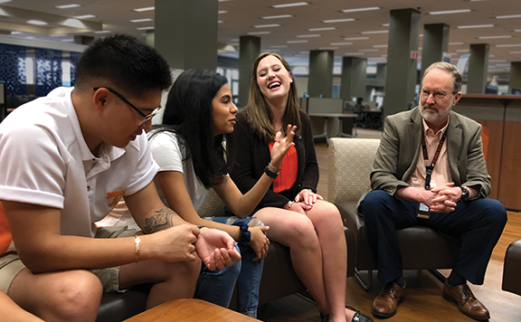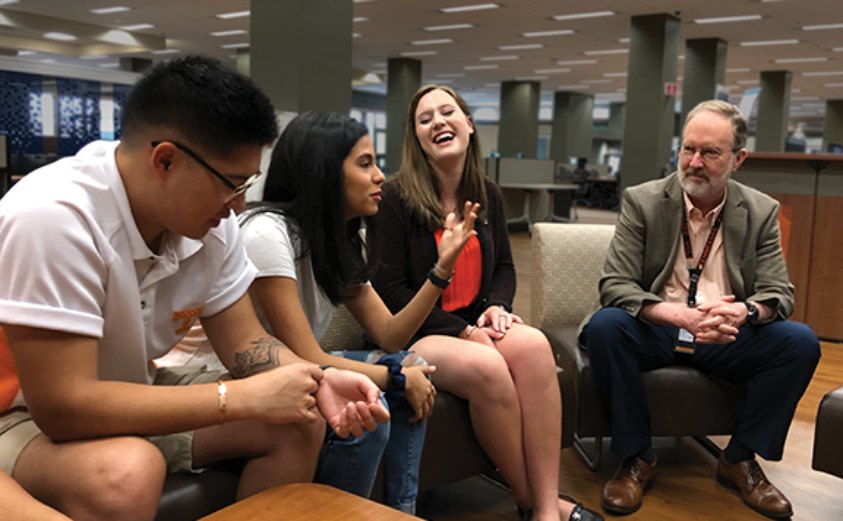 As part of the University of Tennessee Libraries' contribution to National Library Week, I was asked to write something along the lines of an "ode" to the profession of librarianship. I have worked in libraries for more than 30 years, across three academic institutions. My career — still a long way from over — has been more fulfilling than I could ever have expected, giving me a rich set of experiences and a wonderful and large network of colleagues and friends. I am blessed to have a job that not only pays the bills but, more importantly, has given me a sense of purpose. I believe libraries change lives. I know this because they have changed mine.
If you had met me when I was 15 or 16, you would not have picked me for a career in higher education. You may not have expected that I would graduate high school, let alone go to college. In the little town I grew up in, education was not the highest priority. Most of my friends were not interested in college. In fact, in the crowd I ran with, there was peer pressure not to succeed in school. In the summer and after school, I worked unskilled labor jobs; and as far as I could imagine, that was what I would always do. My parents, though supportive and highly intelligent, did not graduate high school. My father eventually earned his GED courtesy of the US Army. My mother, one of the most devoted readers I have ever known, was forced to leave school in the 10th grade due to family circumstances. Both were extremely hardworking. (My mother had part-time jobs in addition to caring for three sons. I don't remember a time when my father had fewer than two and sometimes three jobs.) Despite their hard work, they had no money to pay for college.
What changed my path? A library and a librarian played a major role. During my junior year of high school, in an effort to do the absolute minimum academically, I took a study hall that I thought would amount to little more than hanging out in the school library, where I passed the time reading back issues of Field and Stream, Outdoor Life, Boy's Life, and similar magazines. (Stories about bear attacks — which, on reflection, now seem to have been inordinately numerous given the actual number of such events — were a favorite.) Eventually I exhausted my school's supply of adventure magazines and somehow mustered the courage to ask the librarian for suggestions about related reading material. That librarian's patient help in explaining the card catalog and magazine indexes, and checking in on me as the semester moved along, opened a world, and planted a seed.
A library and a librarian helped change the course of my life for the better. But recently I had another library experience that has impacted me in a different and perhaps even more significant way.
When the decision was made on March 11 to impose social distancing measures on campus and move all instruction online, the UT Libraries enacted a plan it had been contemplating for some weeks. With full support from campus administration, we took immediate steps to restrict access to our buildings, begin sending all staff home to work remotely, and shift to an all-online service mode. As difficult as this transition was for us, it was much easier for us to pull off than much of the rest of the campus because, in truth, academic libraries everywhere had begun the process of going online decades ago. Years of investment in library automation, national and global resource sharing, and sophisticated search, discovery, and delivery technology mean that almost all we do as a library can be done highly effectively in a remote, online environment. When a colleague asked me if closing the library was really the best course of action in this crisis, I answered that we were absolutely NOT closing the library. Our buildings may not be accessible for a time, but we are very much open online!
Since that fateful day in the middle of March, I have had occasion to ponder how things may have gone differently if the library was not already online, if we had not spent years developing collections, systems, and services that can serve our users wherever they are, whatever the day or time of day, and regardless of their need. To avoid an outright catastrophe (which is what the complete loss of library services and collections would mean), more library staff would have had to be on campus for much longer, the buildings would have had to remain open, and students and faculty could not have been served online — and therefore may not have been able to learn or teach online. Not only would such a circumstance have resulted in immeasurably more difficulty for the campus and those we serve, arguably many more lives would have been put at risk.
I don't think anyone in the library community ever thought that building the electronic library was a strategy for fighting a global pandemic, but this is certainly one of the outcomes of our years of work and investment.
I have long felt that libraries changed my life for the better. Today I think there's a good chance they may have saved my life, or at least my health, and the lives and health of countless others on this campus and around the world.