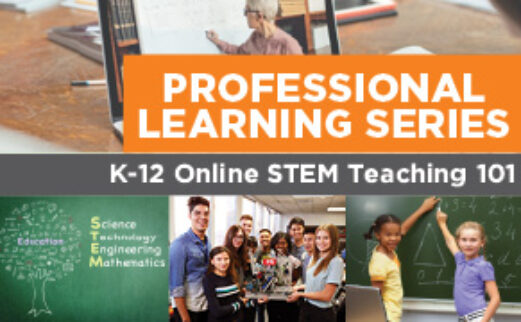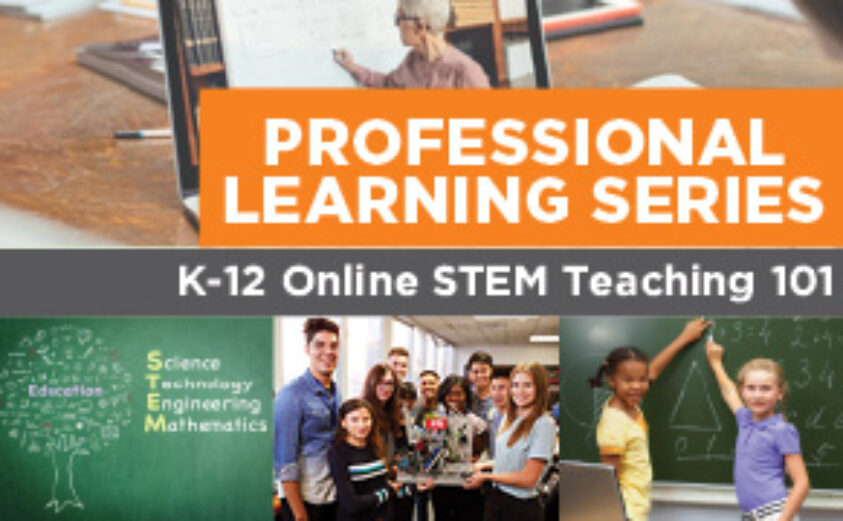 Engaging and holding the interest of young students can be a challenge — especially so, if lessons are being delivered virtually and students are socially distanced from teachers and classmates. Elementary and secondary teachers who are struggling to teach science and math in this unaccustomed online environment recently received some practical tips from STEM educators.
Lynn Hodge, Rebecca Layton, and Nick Kim from the University of Tennessee and Mallory Sterling from Knox County Schools led a professional development program titled "K-12 Online STEM Teaching 101." The virtual session was repeated several times in late July. It was a kick-off event for an online learning series that this year will be offered in place of Big Orange STEM Saturday for Educators, a professional development opportunity normally held each fall at UT's John C. Hodges Library.
Kim, Layton, and Sterling led teachers through several STEM exercises that can work equally well in the classroom or in virtual sessions with young students. Workshop participants tried their hands at a paper cutting and folding task as well as creating an aerodynamic firefly from whatever lightweight materials they had on hand.
Instructions for engaging STEM activities such as the Cut-A-Card Puzzle are freely available at tinyurl.com/STEMspark on the website of the East Tennessee STEM Hub, an organization that promotes and supports high quality STEM education in our region.
The East Tennessee STEM Hub calls these short exercises STEMsparks because they are intended to spark an interest in STEM concepts. When schools shut down in March, the STEM Hub began collecting these resources for use by teachers and parents. The STEM Hub has created brief introductory videos to explain each activity and spark curiosity, as well as wrap-up videos to summarize the key concepts demonstrated by the exercise. Teachers and parents are invited to visit the website to download STEMspark exercises, as well as to share activities they or their students design.
Facilitators asked the attendees what makes an engaging STEM lesson. One of the participants, who teaches STEM subjects to kindergarten through second-grade students, commented, "An engaging stem lesson would be hands-on … and open-ended. I like that STEM is not a craft. … You plan, you imagine, then you create, and then you improve. And even kids in kindergarten can learn just those basic steps to create something in a STEM lesson. … It makes it more meaningful when they have to plan and then create and then go back and reflect on what they could have done differently."
You plan, you imagine, then you create, and then you improve. And even kids in kindergarten can learn just those basic steps to create something in a STEM lesson.
The educators leading the exercise agreed. "This is a great activity to use at the beginning of class — especially at the beginning of the year — to talk about failure. It's a normal part of the learning process to make mistakes and learn from them. It helps to set up an environment in which it's okay to make mistakes, to take risks," Layton said. "It's especially important in a virtual environment."
Kim stressed the importance of creating a safe virtual community: "Creating that safe space for them to make mistakes and have fun doing engaging things is a great way for them to interact."
Building a safe virtual community also means creating community norms for online etiquette and the mechanics of working together in an online environment — particularly for high school classes. Should students mute their audio when not speaking? Is it okay for students to turn off video or use virtual backgrounds? Should students use the chat feature to volunteer their responses? What platform will the teacher and students use to upload assignments? To get buy-in from her college classes, Hodge discusses and sets these norms in consultation with students.
It's important to build community. Build shared experiences; create shared memories. Hodge recommends allotting time at the beginning of class for informal interactions. During the pandemic, it's especially important to have time for students to check in with each other before focusing on class.
Teachers should help students make connections between the skills they are learning and the traits essential to the STEM (and STEAM) professions. Hodge shared a chart outlining "STEAM Roles and Identifies" created by Tech Tales (available here) that can guide those discussions. She also directed teachers and parents to the Community Stories collected on the East Tennessee STEM Hub website. Students are invited to record interviews with STEM professionals in their own families. Even elementary students have contributed family interviews to the Community Stories project!
Hodge told teachers about UT's graduate degree programs in STEM education. The university offers master's, educational specialist, and doctoral degrees in math education, science education, or STEM education — and is presently finalizing two online certificate programs in STEM leadership and educational technology. Teachers are invited to contact Hodge at lhodge4@utk.edu to learn more about UT's degree options.
To summarize: What does effective STEM teaching look like in a virtual setting? Choose engaging tasks. Build community. Make STEM connections.
---
RESOURCES FOR TEACHERS AND FAMILIES:

---
The UT Libraries' office of Community Learning Services and Diversity Programs is a sponsor of this online professional development series, along with Knox County STEM, the East Tennessee STEM Hub, the Tennessee STEM Innovation Network, and UT's Center for Enhancing Education in Mathematics and Sciences.
Lynn Hodge is director of the East Tennessee STEM Hub and at UT she is director of the Center for Enhancing Education in Mathematics and Sciences (CEEMS), co-director of VolsTeach, and a professor in the Department of Theory and Practice in Teacher Education (TPTE). Nick Kim is project coordinator at CEEMS and a doctoral student in mathematics education, TPTE. Rebecca Layton is clinical assistant professor in TPTE and a media specialist for the East Tennessee STEM Hub. Mallory Sterling is a STEM facilitator for the Knox County Schools.