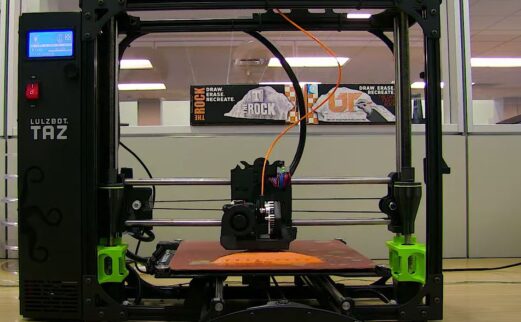 3D Printing at Pendergrass: From Classrooms to Dorm Rooms
The process of making three-dimensional solid objects from a digital file is known as 3D printing. While often thought of as a tool used solely for specialty manufacturing needs, 3D print technology is quickly becoming more mainstream and can be useful in a variety of professional and personal settings. At the Webster C. Pendergrass Agriculture and Veterinary Medicine Library, 3D printing is available to all students, faculty, and staff in our Volunteer community.
---
Check out this video to learn more about 3D printing at Pendergrass Library.
---
At Pendergrass, Volunteers will find two different models of 3D printers, both of which use fused deposition modeling technology (FDM). These types of printers employ a plastic filament that is heated to its melting point and then extruded to produce the desired 3D object.
Pendergrass Library is home to two Lulzbot Taz 6 3D printers. This model is a consumer-grade machine that is regularly used for rapid prototyping and simpler design projects. The Lulzbot Taz 6 is extremely cost effective, as the filament needed for printing projects costs only around 10 cents per gram. To put that in perspective, a simple cell phone case can be produced using the Lulzbot Taz 6 for under $3 in production costs. The third 3D printer that can be found at Pendergrass is the uPrint SE Plus, which is a professional grade 3D printer used for complex or detailed projects. This printer's filament costs $3.50 per cubic inch, meaning a cell phone case produced on it would cost between $10 and $15.
Many university classes regularly integrate our 3D printing technology into their coursework. For the past three years, Construction Science students have used 3D modeling applications to design I‑beams for an in-class competition. The goal is to create the lightest, strongest beam to keep steel production costs low while retaining utility and value. The competition teaches students to balance design and cost when budgeting for construction. Students in the class form teams to collaborate and submit their I‑beam designs to Pendergrass Library for 3D printing. Once the printing is completed and the I‑beams are returned to each team, the beams are placed in a pressure testing device to measure their strength-to-weight properties. The winning beam is the one that takes the most load before breaking, based on its weight.
Three-dimensional printing is also used in professor Joshua Kenna's graduate course, Seminar in Social Studies Education. Students in this class choose from a selection of historically meaningful objects for which 3D printable files are readily available. These items can include buildings, vehicles, busts, maps, and more. The completed object is then used in the student's teaching to convey different concepts about the particular object. As part of this class, the Pendergrass team has collaborated with students to print the Knoxville Sunsphere, a complete set of the Executive, Legislative, and Judicial buildings in Washington DC, World War II relics such as battle tanks and atomic bombs, the Chernobyl nuclear power plant, Mount Rushmore, and many other notable replicas — all in 3D. This assignment exposes graduate students to 3D printing technology as well as encouraging these future teachers to be creative in delivering lessons that are engaging and fun for middle and high school students.
Three-dimensional printing has also assisted in the health and wellness of our campus community during the fall 2020 semester. Pendergrass Library worked with colleagues in the Civil and Environmental Engineering department to develop custom 3D-printed bottle racks used in on-site campus wastewater testing for COVID 19.
"The 3D printing services offered at Pendergrass Library help bridge gaps, making it possible to visualize and prototype new technologies that (in the past) were limited due to barriers such as cost and lack of access to the rapid prototyping technology," states professor John Wilkerson of Biosystems Engineering and Soil Science at the University of Tennessee Institute of Agriculture.
Three-dimensional printing projects are not confined to classroom projects or health driven campus-wide initiatives. Many students, faculty, and staff members have used the 3D printing services at Pendergrass Library for a variety of personal reasons as well. Just recently, a student partnered with the Pendergrass team to print a Yoda ornament to help ring in the holiday season. Students have also printed wall planters, cookie cutters, instruments, and cell phone stands.
Creativity and practicality abound when it comes to 3D printing, and the technology available at Pendergrass Library, coupled with the expertise of the printing team, will surely help ensure your project or idea is successful. 3D printing is not as difficult as you might think! We hope you get an opportunity to take it for a test drive soon. Whether for a personal project, as an opportunity to integrate the technology into an upcoming course, or to create something to supplement an academic project, the 3D printers at Pendergrass are here to serve all Volunteers.
---
Ready to learn more? Have an idea you would like to see come to life through 3D printing? Take a look at our tutorial video above or visit https://www.lib.utk.edu/agvet/3d-print-request/ to submit your request. Please note that due to COVID-19 safety parameters, do-it-yourself print projects are not available at this time. Patrons are welcome to submit jobs for pickup but are not allowed to personally operate equipment.