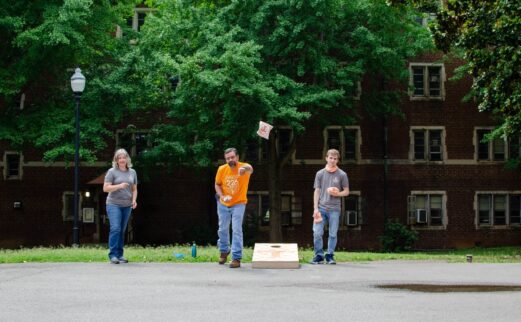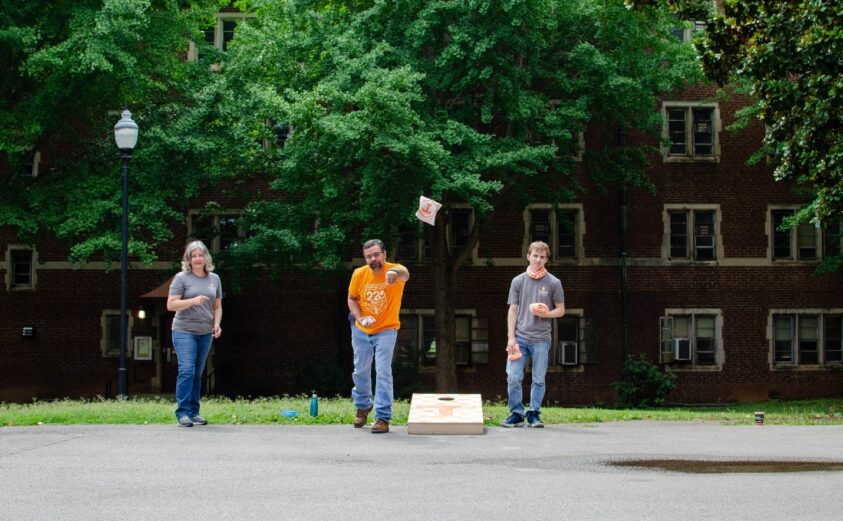 Welcome Back Picnic for Library Staff
A quick walk to the Melrose Hall Courtyard for a picnic lunch, featuring a plate of barbecue, tasty sides, and ice-cold tea. Sitting in the sun and enjoying lively conversation with colleagues. Joining a team for a quick game of cornhole.
To kick off the fall semester, UT Libraries faculty, staff, and student library assistants were invited to a Welcome Back Picnic. It was great to have the entire crew together again after nearly a year and a half of remote work and staggered schedules.
Staff gathered at the Melrose Hall Courtyard on Tuesday, August 10, wearing their new library-branded t-shirts. Dean of Libraries Steven Smith hosted the event and served the barbecue — with help from the Libraries' Human Resources and Administrative team. It was a special event to celebrate UT Libraries faculty and staff and thank them for their service and dedication.
"This event was a way to say thank you to our faculty and staff for all they have done during the past months and their continued dedication. It was wonderful to see so many colleagues in person on such a beautiful day," said Smith.
About 70 library employees joined coworkers at the picnic for raffles, games, good food, good fellowship, and a rousing rendition of "Rocky Top."