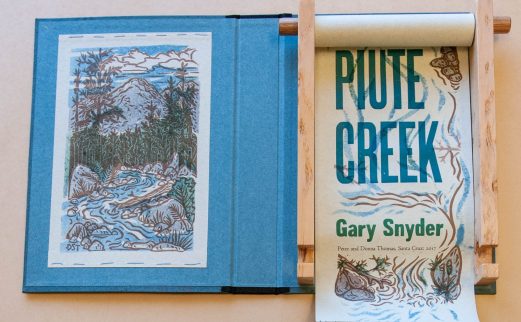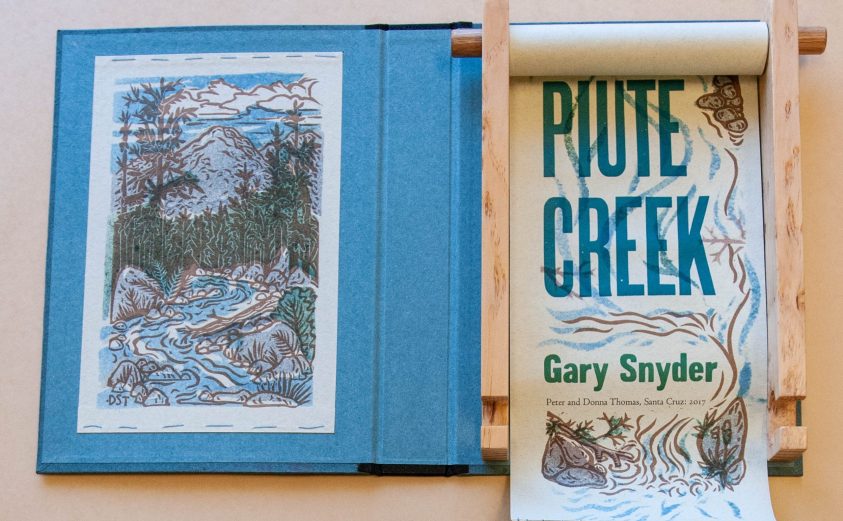 Recent Acquisitions – Fall 2019
In the past year, Special Collections has seen a drastic rise in class visits for hands-on instruction with rare materials. Among our most frequent guests are students from UT's highly-regarded School of Art who are often here to engage with "artists' books." In support of this, Special Collections is steadily acquiring more examples of this important manifestation of creativity, which often blurs the lines between a "traditional" book and an object of visual art. It is difficult to hem in an "artists' book," but the recent acquisitions below might give readers an inkling of the range of materials popular with our researchers. Here is a small sample of recent acquisitions:
BOOM!
John Risseeuw
Tempe, Arizona: Cabbagehead Press.
2011
Copy 23 of 30
Accordion book with leather-bound covers. Letterpress and relief on shaped, variable paper handmade from the clothing of landmine victims, minefield plant fibers, and currency of mine-producing nations. Signed and numbered by the artist.
---
The Concertina Book
Peter & Donna Thomas
Santa Cruz, CA
2014
Copy 1 of 1

A book made out of a concertina with hand colored photographic images of concertina players and a handwritten text of a selection of bawdy limericks.
---
Barracuda Fact and Cookbook
Serey Andree
Scottdale, GA
2015
Copy 1 of 1

The Barracuda Fact And Cookbook displays mixed media techniques including crumpled paper with acrylic washes, crayon rubbing with resist, and collage.
---
Piute Creek
Poem by Gary Snyder
Book created by Peter & Donna Thomas
Santa Cruz, CA
2017
Copy 21 of 30

A scrolling book with a 73" x 6" scroll. Snyder's breakthrough poem is letterpress printed in three colors, using Centaur and wood types. It is illustrated with linocuts featuring stenciled paper pulp background coloring by Donna Thomas. The wood holding the scroll is Ponderosa pine milled near Yosemite. The book has a blue canvas satchel for a slipcase.
---
Messenger Boat
Wade Brickhouse
Chattanooga, TN
2015
Copy 1 of 1

Messenger Boat is an exploration of an unbound book form. The pages/messages are hanging in order on cross bars and bound by the confines of the vessel "much like a conventional book being bound by thread and covers." All construction and concepts by the artist.
---

UNIVERSITY OF TENNESSEE SPOTLIGHT



Capital Arch
Tatiana Potts (Printmaking Technician, UTK School of Art)
Maryville, TN
2018
Copy 1 of 10

The structural base of Capital Arch is an altered booklet fold with silkscreened images. This work relates to space, architecture, sense of place, belonging, experiencing, and languages.
---
INTHEVISIBLE
Jared Sprecher (Professor, UTK School of Art)
2002
Copy 15 of 25

The book is a combination of hand set lead type and photoplates printed by letterpress, and also includes hand drawn elements in graphite. Copies of this book are in the Museum of Modern Art, New York Public Library Special Collections, and several private collections.
---
Elegy for Ira H.
[from Exit from Appalachia]
Poem by Forrest Johnson
Book created by Frank Brannon ('91, '87) and Forrest Johnson
Dillsboro, North Carolina: SpeakEasy Press.
2014
Copy 1 of 10

Book artist Frank Brannon describes the piece as "a collaboration with a Kentucky poet, an excerpt of a much longer poem he wrote about leaving Appalachia. The book is engineered to be set on its 'pages' for a period of time (e.g. short-term presentation), and then on its side for storage. Part of this project was the whole idea of 'safety' of the words and the packaging of them."
---
enduring ephemeral
nguyen duc diem quynh (MFA Candidate in Painting + Drawing, UTK School of Art)
2006/2016
Copy 20 0f 22

This chapbook contains family photographs re-photographed in contemporary locations of origin. Nguyen's overall work "revolves around historical memories through postwar invisible traumas. From my family's migration, my artwork is the combination of conceptual photography, documentary video, and feminism after historical volatility in Vietnamese society."