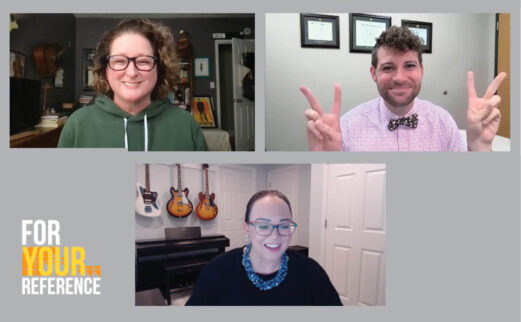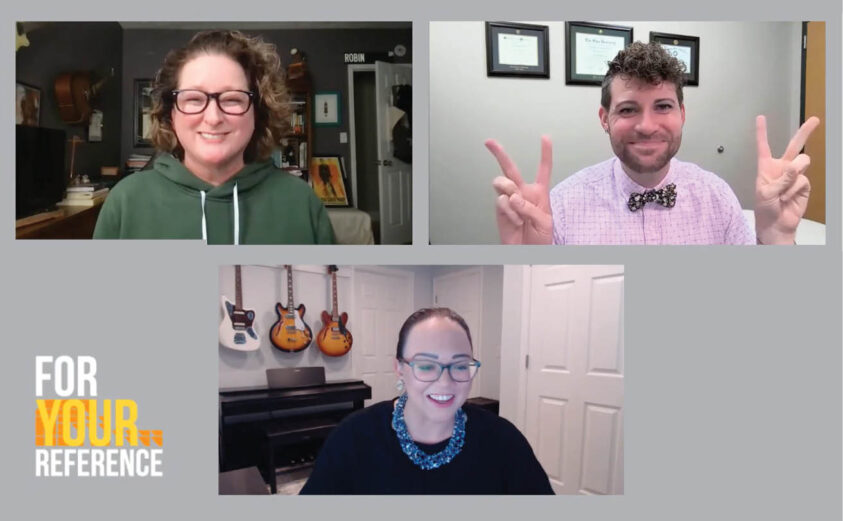 Missing from Research on Marginalized Communities: That Everyday Moment
"What does it mean to research alongside marginalized communities?" we asked our guest scholars on the April 21 episode of For Your Reference, the UT Libraries' livestream show that explores academic scholarship and the library resources that support research.
One theme emerged again and again during the discussion: the difficulty of publishing research that focuses on the everyday experiences of those marginalized communities.
Our guest scholars are both professors of communication. Justin Rudnick is an associate professor at Minnesota State University, Mankato. His teaching and research interests include performance studies and identity, affect and cultural studies, queer theories and LGBTQ identity, ethnography, and qualitative research. Stevie Munz is an assistant professor at Utah Valley University, where she teaches ethnography, oral history, and qualitative research methods. Her research focuses on exploring the cultural experiences of identity, power, politics, and gender.
"My dissertation research was about everyday performances of queer identity: How do LGBTQ folks project their sexual identities in more nonverbal or performative ways instead of just disclosing that information?" Rudnick told our audience. "…As soon as you open the door to give folks an opportunity to share about the kinds of experiences that oppress them, you've got to be ready to go on a journey. And it's not always the journey that you think you're on.…
"A couple of years ago, I tried publishing a piece somewhere and essentially what I was told is that the research findings as I presented them were not interesting or insightful from a theoretical perspective.… On the one hand, when I talk about my research findings with other LGBTQ folks, they're always fascinated by it. Because I think when you get your data back to the communities, they're like, 'Oh, you captured our experiences pretty well. I hadn't thought about it like that, but it makes so much sense.' But when you try to position those themes absent any kind of overly complex theoretical framework, academics just don't want anything to do with it."
Rudnick and Munz were discussing their research during the segment of our livestream broadcast that we call "Reviewer 2" — a sly allusion to the hypercritical fellow academic who reviews — and rejects — your journal submission.
"We've run into this a lot with the infamous Reviewer 2," Munz said. "…One of the pieces that I did eventually get published … about farmers' wives — the critique was that there was nothing interesting about the stories because the stories were everyday.… So, this everyday experience, whether it's in the queer community or indigenous women, it's not important. And it just gets washed out of the research."
"I think that that also speaks to the methods that we use and the kind of stories that we try to focus on," Rudnick said. "So, I know you and I over the years have developed this really intense interest in experiences of the everyday — like kinds of mundane moments that as you experience it don't seem to be very profound but actually have a lingering effect.…
"It's interesting to me to just reflect a little bit on how much research we see get published — particularly when it's research about vulnerable or marginalized communities — where the stories that get featured end up being so traumatic or so emotional. And it's almost like we're seeking out those really intense moments of exploitation, almost, or deliberate harm. And that's what we base our research findings on. And one of the things that I think you and I have both kind of struggled with, in trying to publish our work, is convincing people that it's those small moments that stick with people. And especially when you're thinking about marginalized or vulnerable communities.… What ends up coloring so many of our experiences as we move through the world is the accumulation of those small moments. The little cuts and stings that just kind of pile up over time really affect how we interact with each other."
"It's a real challenge," Munz replied, "because the perception I think also — in the mythological space that we tend to occupy — sometimes privileges the moments that are more violent, that are more harrowing or traumatic. And I do worry about sort of the re-violencing that happens when that occurs. And then the stories about an everyday discrimination or an everyday prejudice moment or an everyday moment of othering or brushing up against someone just gets treated as not important."
"And I can't help but think, too, that that's just one other mechanism in what prevents vulnerable communities from seeing themselves in the research," Rudnick said.
"'The everyday is unimportant' is the kind of key takeaway. It becomes just something that we're not concerned about." Munz said. "The flip side of what you're saying really is: We also have these areas of research in our area that depict particular populations in one way, and then that's the only way that people know them. And that's also really problematic and really troubling.… That's just such an issue with our couching of what's interesting, then, and what's worthy of being published. Because then it has to be this theoretical thing driven by an outside theoretical perspective.… The story itself isn't worthy of standing on its own.…"
Munz later continued: "The moment that, I think, you say you're a non-representational scholar or you're a scholar that doesn't use 'theory,' then I think your work is also looked at as 'less than.'"
"I think so much of the research that's generated about vulnerable communities wrestles with those kinds of things," Rudnick said. "And, so, the research, when it finally makes its way out there — and the articles and the essays that I find that I resonate the most with — are never in the mainstream journals.… In our discipline, if you attempt to be atheoretical — good luck!"
The end result? "Research about marginalized communities is marginalized in the discipline."
In the following segment, called "Check This Out," librarian Paris Whalon directed the audience to several library resources that can further a deeper understanding of life experiences that differ from our own. She recommended our Primary Sources research guide as a wonderful place to start searching for first-hand accounts (original sources such as diaries and images) from people with different viewpoints, in a moment in history. As a possibly less intimidating entry point, she suggested our video streaming collections, which include documentaries, interviews, news programs, and more.
In "Stories from the Stacks," librarian Sarah Johnson introduced two oral history projects that contain personal stories important to our region. The Voices Out Loud project collects, preserves, and shares firsthand accounts of LGBTQ+ people who live or have lived in East Tennessee. Interviews in the Rising from the Ashes project record the experiences of individuals who suffered from the devastating impacts of the 2016 Chimney Tops 2 wildfires that swept through Gatlinburg and the Great Smoky Mountains.