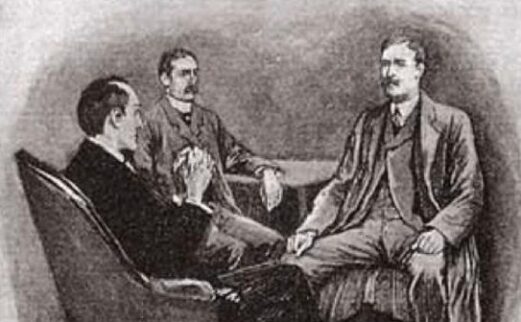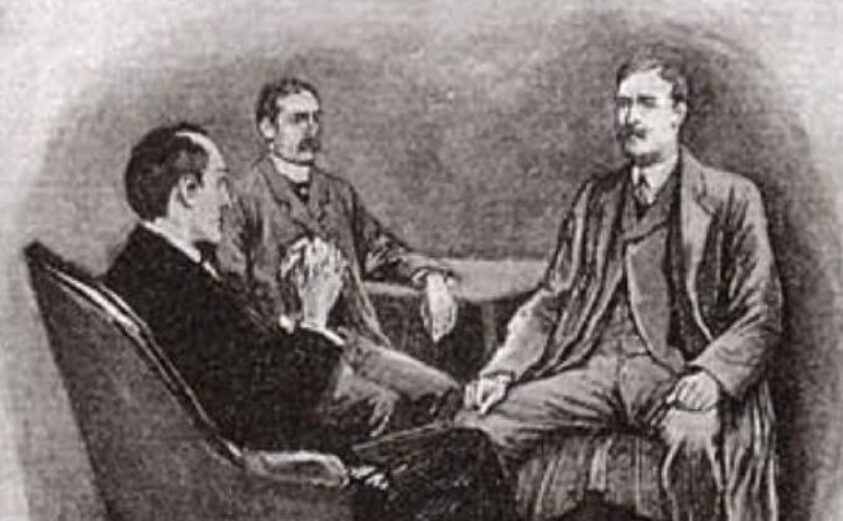 Sherlock Holmes and the Yale Treasurer
One of the pleasant things about a large manuscript archive is the many small items of interest that can be found hidden within the various collections. One such collection is that of MS.3688, the Autograph Collection, which includes 106 autographs from prominent individuals (1782 – 1947) such as George Washington, Daniel Webster, Cornelius Vanderbilt, and Helen Keller, to recognize a few. The autographs themselves are found on letters, portraits, and passports. For example, witness the below correspondence relating to Lee McClung's trip to London in 1908.

Lee McClung was a member of the famous McClung family that has stood so large in Knoxville history. In the 19th century, there was rarely a time that a member of the family was not on the university's Board of Trustees. Despite that, instead of going to the University of Tennessee, McClung went to Yale. The Yale that McClung attended was the Yale of the fictional Frank Merriwell, the Yale found in the prints and drawings of Charles Dana Gibson. Like Merriwell, McClung was a star on the football team — some sports writers refer to this time in collegiate football as the "McClung era" — and belonged to many of the school's student clubs, such as Skull and Bones. After graduating from Yale, McClung became the first football coach at the University of California. Staying only a single season, McClung left coaching to become a railroad executive and from there to become Treasurer of Yale late in 1904.

Perhaps his time as a railroad executive gave him a taste for travel. Over the course of his life, he went on a number of trips abroad, traveling to South America and Europe. As was common at the time, he took with him letters of introduction. When he went to South America, he took such letters written for him by his friends William Howard Taft, Secretary of War, and Elihu Root, Secretary of State. When he went to London in 1908, Lee McClung wanted to meet Sir Arthur Conan Doyle, the author of the Sherlock Holmes stories. Fortunately for McClung he shared a mutual friend with Doyle, the famous actor and playwright William Gillette. In consultation with Doyle, he had authored a very popular play about the detective, taking the starring role himself.
This brings us to the correspondence:
Letter 1
Dear Mr. McClung

I have sent Sir Arthur Conan Doyle a letter. Here is a line of introduction for you. Perhaps you had better write him yourself now, and ask if it is convenient for you to go down and see him — and if so, to tell you at what date and time.

Anyway — fix it up between you — there is no formality about him — I mean the troublesome kind.

Yours,

William Gillette
Letter 2
May 26, 1908

Dear Sir Arthur:

This will introduce Mr. Lee McClung, Treasurer of Yale University. He would very much like to have your views on certain matters which he will explain, and I hope it will not trouble you too much to let him have them.

Yours

William Gillette
Letter 3
Dear Mr. McClung

I shall be at the Metropole Hotel on Friday morning. Could you breakfast with me at nine, or would it be more convenient to you to call round after breakfast at ten.

Yours faithfully

Arthur Conan Doyle

Please send a line to the Metropole.
Unfortunately, we do not know what was discussed at that breakfast between Doyle and McClung. Both were sportsmen, so probably sport was touched on; Doyle had made Sherlock Holmes' friend Doctor Watson a rugby player, and McClung, as noted, was a football star. Perhaps they discussed the similarities and differences between the two games. No matter what was discussed, we can assume, since both men were what Dr. Samuel Johnson called "clubbable men," that Doyle and McClung enjoyed the meeting.

In the years following their meeting, Sir Arthur went on to write more Sherlock Holmes stories and a small library of other novels and stories. William Gillette also went on writing plays and acting. Eventually, he was to appear on stage as Sherlock Holmes over 1,300 times. Lee McClung, in the year after their meeting, was appointed Treasurer of the United States by his friend then-President William Howard Taft. In 1914, at the still young age of 44, McClung died in London from typhoid contracted in Germany. His remains were brought back to America. After a service held at his sister Ellen's house, McClung's body was buried in Old Gray Cemetery.

Years later his sister Ellen and her husband Judge John Green would donate money to the University of Tennessee to build the McClung Museum. In addition to the money, they donated the collection of McClung family papers that contained these letters connecting Sherlock Holmes to Knoxville.