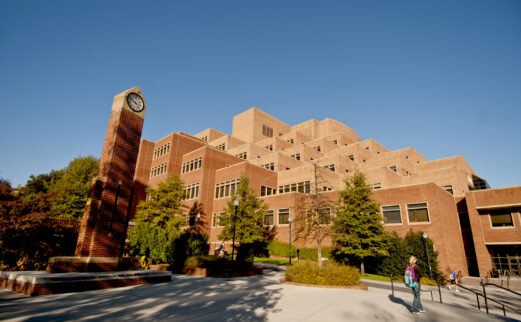 The University Library in an Era of Social Distancing
As part of our celebration of National Library Week, April 19–25, we would like to share how the University of Tennessee Libraries is providing remote support to students and instructors in an era of social distancing.
---
Just a few short months ago, none of us could have imagined that schools and universities would need to move their classes online to protect the health of their students. But, as reports of the COVID-19 pandemic intensified, students were sent home to complete their studies remotely. Public schools scrambled to put tablets into students' hands, and colleges and universities rushed to move classes online.
University libraries, however, were already well positioned to deliver collections and services in an online learning environment.
"In truth, the average academic library is the most online academic unit on campus, and has been so for decades," said Steve Smith, dean of libraries at the University of Tennessee.
Like most academic libraries, the UT Libraries has made a sustained investment in electronic resources and library automation, ensuring that every member of the university community can access library collections and services no matter where they are — on campus or halfway across the world.
The University of Tennessee began monitoring the COVID-19 outbreak in January and alerted instructors and staff to plan for a possible transition to online learning and working remotely. On March 11, just before classes were suspended for the annual spring break, Chancellor Donde Plowman announced that at the end of the holiday all instruction would move online. Students were asked to stay home after spring break and participate in online classes from their primary residence.
A few days later, physical access to library buildings was restricted to staff only, and most library staff members began telecommuting from home.
"Restricting access was an emotionally wrenching decision for us. But keeping members of our community safe is our top priority," Smith said. "Although physical access is restricted, the library is very much open!"
Research assistance has long been available remotely. And as soon as the university began limiting on-campus operations, the Libraries extended its AskUsNow service to 2 a.m., five days a week, and until midnight on Fridays and Saturdays. The AskUSNow service, which answers research and information queries by chat, text, email, and phone, is busier than ever. Librarian Brianne Dosch reports, "A lot of what I'm running into are undergraduates having to navigate off-campus access to library resources for the very first time."
Each academic discipline has a designated librarian who is available to provide one-on-one research assistance or library instruction in the classroom. Librarians now offer that instruction in the virtual classroom. Dosch, the Libraries' liaison to the Department of Psychology, said, "Faculty are having me Zoom in to their synchronous sessions and walk their students through off-campus access to the library."
The transition to online instruction involved far more than merely shifting classes from the lecture hall to a Zoom session. Each presentation, assignment, and exam had to be redesigned for the new online learning environment. The university worked feverishly over the spring break to shift all instruction online. It was a mammoth undertaking — but nimbly accomplished, thanks to pre-planning by instructors and university staff. On March 23, the first day after spring break, over 4,500 classes or meetings took place online with over 70,000 participants.
Online teaching and learning — although unfamiliar terrain to some students and instructors — does not alter the mission or practice of librarianship.
"It has been interesting that what I have been doing has not changed since the university has moved classes online," said engineering librarian Jeanine Williamson. "I am staying in touch with students from a civil engineering class that need help this time of year. I will be helping a [Min H. Kao Department of Electrical Engineering and Computer Sciences] graduate student with his literature review. The main differences are that I miss seeing my colleagues in person and that my cat keeps on trying to get my attention!"
That's one of the pitfalls (or benefits) of working from home. All UT Libraries faculty and staff are now working remotely. The few staff members who had remained on site were sent home shortly before Governor Bill Lee issued his "Safer at Home" order on March 30.
When the COVID-19 emergency arrived, the UT Libraries already had the infrastructure in place to support remote teaching and learning. The UT Libraries' highly sophisticated discovery and delivery system, OneSearch, is both a catalog of the libraries' local holdings and a gateway to a world of electronic resources. More than 80 percent of the Libraries' collections budget is used to acquire online resources. UT's subscriptions to electronic resources — databases, scholarly articles, e-books, data, digital collections, and multimedia — rival those available at Ivy League schools.
Behind the scenes, UT Libraries staff have spared no effort to ensure that students and faculty continue to enjoy unimpeded access to robust research collections in the new online teaching and learning environment. Library staff worked to identify publishers who are offering expanded access to electronic resources during the COVID-19 emergency and to make those e-resources accessible through the Libraries' OneSearch catalog.
The UT Libraries also has been able to expand remote delivery of the contents of books, journals, and other print resources by leveraging longstanding national resource-sharing partnerships, such as membership in HathiTrust, a repository of digitized books from academic libraries. During the current disruption to normal university operations, HathiTrust has granted UT users temporary online access to almost 1.5 million in-copyright titles that the UT Libraries holds in print. This unprecedented privilege is possible because UT's libraries are under restricted access status in response to the present crisis.
Another service the UT Libraries will provide in these extraordinary times is documenting the campus experience of the coronavirus pandemic. The University Archives, the library unit charged with preserving the institutional legacy of the university, is asking our campus community to record their personal experiences over the next year through journals, creative works, or simply by responding to a brief questionnaire. University Archivist Alesha Shumar told the campus, "Future historians need to hear from you and understand how the COVID-19 pandemic is affecting your life." Those personal narratives will be preserved in the Betsey B. Creekmore Special Collections and University Archives.
---
Revisit volumes.lib.utk.edu to read some of the personal narratives of UT Libraries staff members.