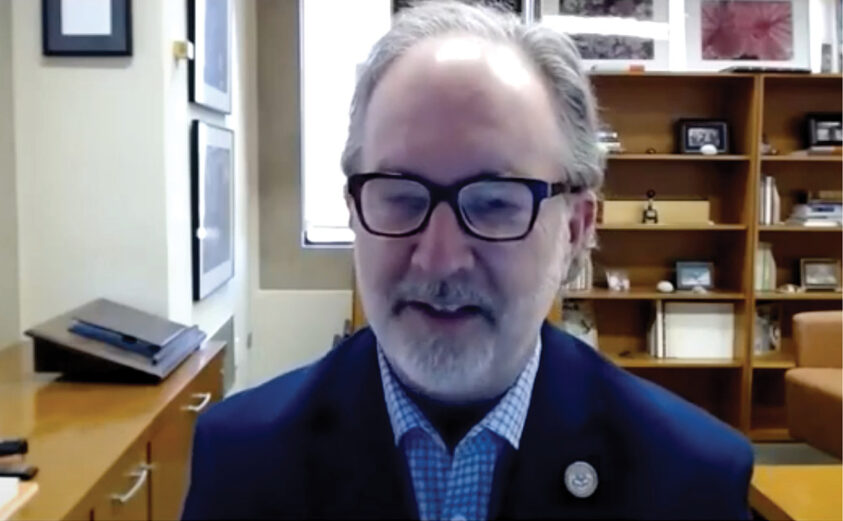 Town Hall with Dean of Libraries Steve Smith
The John C. Hodges Society of the University of Tennessee recently hosted a Town Hall to give Society members an update on the state of the library and the university. Steve Smith, who resumed his normal duties as Dean of Libraries on January 1st following an interim assignment at UT's Emergency Operations Center, was the featured speaker.
Casey Fox, the Libraries' director of advancement, opened the February 25th event by thanking Hodges Society members who contributed to UT's Student Emergency Fund this past year and to other funds that impact the lives of students. As a case in point, Fox introduced Will Eakin, a 2020 recipient of the Red and Theresa Howse and Jim and Betty Pappageorge Library Scholarship — a scholarship founded by Hodges Society member Beth Baldwin in honor of her parents, aunt, and uncle. The scholarship is awarded twice a year to a student library assistant attending UT.
Eakin, a student library assistant at the George F. DeVine Music Library, is a senior majoring in music composition. Eakin expressed gratitude for the financial assistance he received, noting that the award also affirmed his personal goals. "As a library worker, it validates the work that I do. And it's also given me a deeper interest in libraries and has pushed me to pursue graduate studies in library and information science.… Truly, from the bottom of my heart, I do want to say thank you to all the donors."
Eakin invited the audience to his senior recital. The recital, which took place a week after the Town Hall, featured Eakin's original compositions, including several songs performed by vocalist Katherine Shepas, another Music Library staff member. (Those who missed Eakin's recital can enjoy the recorded event here.)
In introducing Dean of Libraries Steve Smith, Fox explained that Smith had spent much of 2020 on the frontlines of UT's COVID-19 response. Fox thanked Senior Associate Dean Holly Mercer for serving as acting dean during this period.
"I want to echo Casey's thanks to all of you for all of your great support," Smith said, "And to the board especially, which through the tumult and uncertainty of the last year really found ways not only to stay engaged and supportive of the library but in many ways to take things to the next level.… I also want to thank the library leadership team." Smith pointed out that — in addition to Holly Mercer's exemplary stint as acting dean — many library staff members contributed to the campus-wide effort. "The library, I like to think, really led the way," Smith said. Associate Dean Teresa Walker, for instance, led a university task force that outfitted more than 300 classrooms with technology that gave faculty utmost flexibility in delivering instruction.
The first COVID case was reported on campus following the 2020 spring break, and the university made the decision to deliver instruction virtually. After working for decades to make the library not only a place of learning and study but a refuge and home away from home for UT students, it was a difficult decision to send staff home and restrict access to library buildings. "I think that was the right decision, as hard as it was at the time.… I can't tell you how proud I am of the library team," Smith said. "Everybody, every staff member, every librarian — they all put their shoulders to the wheel to make it work."
Smith soon received a request from Chancellor Donde Plowman to co-chair a task force that would make plans for bringing students back to campus in the fall of 2020. Smith and Ellen McIntyre, Dean of the College of Education, Health, and Human Sciences, led a task force of 80 people drawn from across the university. "What Ellen and I were asked to do wasn't to make a plan. Because, if you think about it, how can you make a plan for a campus of nearly 30,000 to respond to something as complicated as a pandemic? What we were asked to do was make a set of recommendations that then the rest of the campus could use — leaders at all levels — to make plans that made sense for their areas." The task force offered recommendations on everything from student life to academics to visitors to campus.
In May, after the task force completed its charge, the Chancellor asked Smith to serve as her Special Assistant to help campus leaders implement those recommendations in their own areas. "That's the story of the last year: to prepare the campus to deliver its mission in a COVID-positive world." Individuals across campus worked out logistics for campus life — right down to timely delivery of meals to students staying in spaces designated for on-campus quarantine. "We've got a great set of department heads and unit leaders at this university!"
The UT Libraries began investing many years ago in delivering library resources online. "None of us imagined how important that would be for responding to a pandemic," Smith said. "Because if we weren't virtual, if we hadn't invested in robust online services, we wouldn't have been able to send our staff home and restrict access to the building while still supporting the mission of the university."
Smith gave an update on important initiatives at the university. "This year we've faced two pandemics: one around diversity, equity and inclusion. This has been a priority of the university for a long, long time. But even more so now, especially with the events of the summer, with George Floyd's killing.… The library and the other colleges just finished up their new Diversity Action Plans. I hope to be able to share more with you about that soon."
The university is also moving to a new "responsibility-centered" budget allocation model that is "designed to give the colleges and support units both more responsibility but also more autonomy in deriving and using and accounting for their budgets." In addition, the university — and therefore the Libraries — is revisiting its strategic vision. "Very soon we'll start on a new strategic planning process for the library, linking our plan as closely as possible to supporting the priorities of the university."
One of the Libraries' current initiatives is "building a new framework around which we license electronic content.… Most of the content that we acquire and preserve is electronic now, but … we want to make sure that it's open and accessible to as many people as possible.… Most flagships and large institutions are very privileged to have the resources to have invested in the past in online resources. But there's still a digital and content divide out there.… Generally speaking, [online access] is restricted to those who have what we call a NetID, or some official connection to the university, that allows them to log into our resources. Well, we want to push the bounds of that for the good of society and all those in the state of Tennessee and beyond."
Responding to a question about enrollment at the university, Smith said, "I don't know the specific numbers, but I know the percentages. We had about three to five percent enrollment growth over the fall, and we had enrollment growth going into the spring as well. We've also had about a 95 percent retention rate from the fall to the spring — which is remarkable. I'm so proud to be at this university. We also are setting records for the number of applications for fall 2021."
The university is planning for a traditional campus experience for next fall, Smith told the audience. "But we will continue to monitor health situations and the nature of the pandemic, and we'll make the call in the best interest of the health and well-being of students and staff." Whether or not there are face-to-face classes next fall, "our faculty have developed a whole barrage of new skills that they can bring to bear… to deliver content virtually, to engage students virtually."
Casey Fox drew the evening to a close: "We look forward to the year ahead and to having on-campus events once it's safe to do so. and to seeing all of you back on Rocky Top."