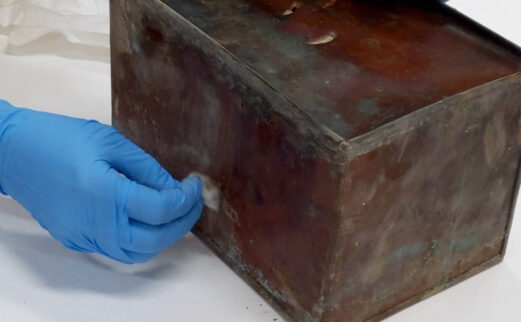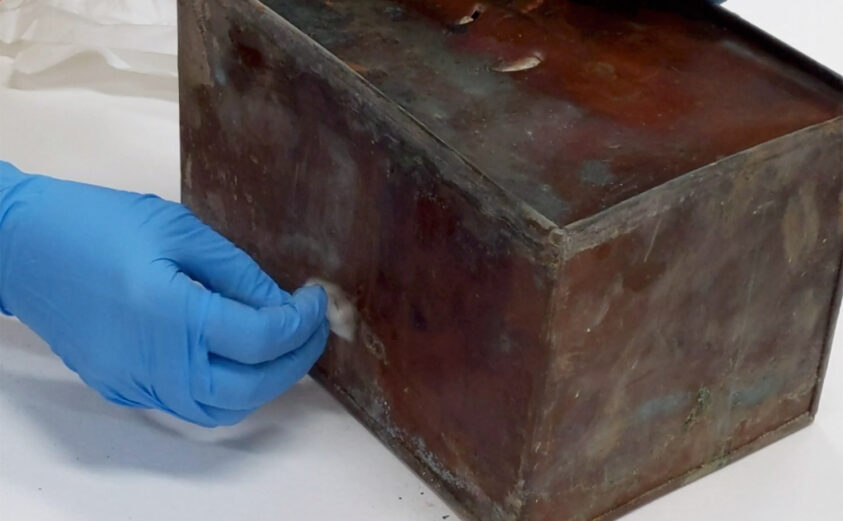 UT Archives Helps Morristown College Unearth Time Capsule Treasures
Recently, UT Libraries assisted the City of Morristown and the Morristown College Alumni Association in opening three time capsules which had been unearthed on the Morristown College campus. Founded in 1881, Morristown College played a significant role in the community and for each of its alumni, standing as not only a place of learning but also as a historical landmark for over a century. Along with Knoxville College, it served as one of only two higher-educational institutions for African Americans in East Tennessee prior to the civil rights movement. While it closed in 1994 and endured years of neglect afterward, the campus was part of a 2017 revitalization effort by the City, which stepped in to create a public park to commemorate the college. During the process, the time capsules were discovered inside cornerstones belonging to Crary Hall, Kenwood Refectory, and Wallace Hall.
Seeking expertise on how to open the copper boxes which had been soldered shut, City officials came across a 2018 YouTube video of University Archivist Alesha Shumar, Preservation Technician Amanda Richards, and senior lecturer with UT's Department of History Bob Hutton opening UT's own time capsule from Estabrook Hall. Soon after, officials contacted Shumar, who, along with Richards, met with the City Council to discuss how the capsules would be unsealed and what they might expect to find inside.
The boxes were transferred to the UT Libraries Preservation Lab in September and took Richards almost two months to open. Unfortunately, the capsule from the Crary building revealed only mush, as the seal had been broken and the contents exposed to the elements. Contents from the other two boxes were much better preserved, however. Both contained copies of a Bible and newspapers dating from April 1923. In addition, the Kenwood capsule included a map of Eastern Africa. The Wallace capsule contained a number of Morristown College brochures and pamphlets, a list of city officials, and a dedication program for the three buildings, dated April 13, 1923, and entitled "Laying the Cornerstones." Shumar and Richards, along with Assistant University Archivist Becky Becker, displayed the contents of the time capsules on Saturday, November 16, at the Grand Opening Celebration of Heritage Park, a day-long event featuring local vendors, food trucks, art, fireworks, and musical performances by former Voice contestants Chris Blue and Emily Ann Roberts, among others. The 52-acre public park will serve as a remembrance of the college and a recreational space for generations to come.