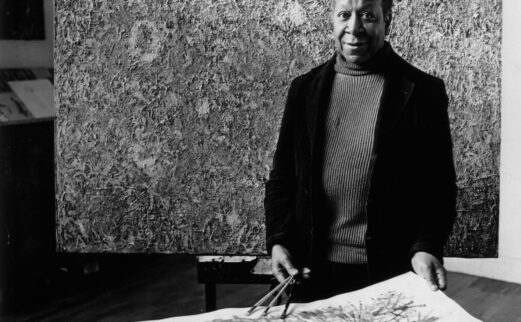 UT Libraries Acquires Beauford Delaney Collection
The University of Tennessee Libraries has acquired the complete personal archive of internationally renowned modernist painter Beauford Delaney (1901–1979). Delaney, a member of the Harlem Renaissance and one of the leading modernist painters of his time, helped revolutionize art of the 20th century through abstract and expressionist painting — all despite battling poverty, prejudice, and mental illness. He achieved an international reputation for his portraits, scenes of city life, and free-form abstractions marked by intense colors, bold contours, and expressive surfaces.
"I am thrilled that Beauford Delaney's legacy will continue here at UTK, as well as the Knoxville Museum of Art and the Beck Cultural Exchange Center," said Chancellor Donde Plowman. "This acquisition will allow for new opportunities for learning, research, and creative engagement throughout our community and the world."
Beauford Delaney and his brother Joseph (1904–1991) — also a well-known painter — were born in Knoxville. UT's Ewing Gallery of Art holds a large bequest of sketchbooks, drawings, paintings, and archival material from Joseph Delaney. And two other local institutions — the Beck Cultural Exchange Center and the Knoxville Museum of Art — are rich repositories of Beauford Delaney's legacy. The Beck Center has purchased the Delaney family home and is developing the property into a Beauford Delaney museum and study center. The KMA holds the world's largest public collection of work by Beauford Delaney.
UT Libraries will now join the Beck Center and the KMA in representing the life and work of Beauford Delaney. These three institutions will leverage their collective holdings through programs, exhibitions, digital projects, and other initiatives to offer cultural enrichment and education to the wider Knoxville community. Their cooperative efforts will also attract national and international students and scholars working in a wide and diverse array of subject areas.
The Reverend Reneé Kesler, president of the Beck Cultural Exchange Center, regards Beauford Delaney as by far the most important artist of the 20th century. "The Delaney archive is a treasure chest; its brilliant light cannot be extinguished. The world and future generations will benefit from its enduring value," she said.
Drawn from the artist's estate, this collection eclipses in size and importance Beauford Delaney archival collections held by other leading national libraries. Richly documenting Delaney's work and life, the archive contains correspondence with about 140 individuals, including leading artistic and literary greats such as James Baldwin, Georgia O'Keeffe, Henry Miller, and Al Hirschfeld, among others. There are also loose sketches, family and childhood photographs, photographs of Baldwin and other friends, and sketchbooks containing drawings, daily musings, and preliminary studies for some of Delaney's major paintings.
"The acquisition of Beauford's archive will make Knoxville a global destination for scholars, collectors, and the like; the significant financial and community investment made by UT Libraries will benefit Knoxville and the State of Tennessee, as a whole, for many years to come," said Derek Spratley, court-appointed administrator of the estate of Beauford Delaney.
Following archival processing to inventory, arrange, and describe Delaney's papers, the collection will be available to scholars and researchers in the Betsey B. Creekmore Special Collections and University Archives.
"With the academic and intellectual assets the university can bring to bear, and joining forces with the rich resources of the Beck Cultural Exchange Center and the Knoxville Museum of Art, Knoxville will assume the status — along with New York and Paris — of a world center for the study of Beauford Delaney and African American culture and art," said David Butler, executive director of the Knoxville Museum of Art.
Funding for this acquisition was made possible through the generous support of Natalie and Jim Haslam, Ann and Steve Bailey, UT's Office of the Chancellor and Office of the Provost, and endowments provided by donors to the UT Libraries.
"While long underappreciated, Delaney's work is being collected by and exhibited in some of the finest museums in the world, and his stature as one of America's leading modernist painters is secure," said Stephen Wicks, the Barbara W. and Bernard E. Bernstein Curator at the Knoxville Museum of Art.
"Keeping this collection in Knoxville would not have been possible without our many partners, the Estate of Beauford Delaney, the Beck Cultural Exchange Center, and the Knoxville Museum of Art, as well as our donors and supporters. We are grateful and honored to work with our partners and donors to ensure that the legacy of Beauford Delaney is promoted and shared as widely as possible," said Steve Smith, dean of UT Libraries.
A celebration and exhibit in partnership with the Beck Center and the KMA is planned for fall.