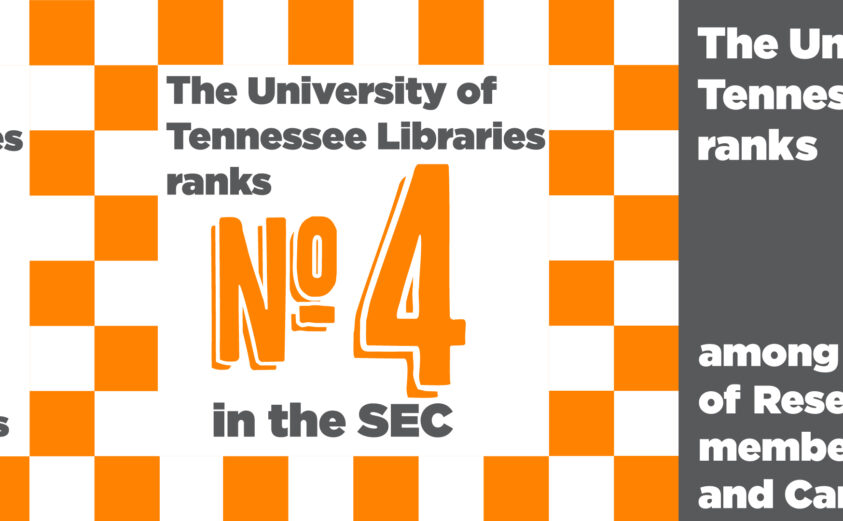 UT Libraries Ranked 22nd Among US Public Research Libraries, 4th in SEC

The University of Tennessee Libraries is ranked 22nd overall among the nation's best public university libraries, according to recently released statistics and rankings.
UT Libraries is also 4th in the Southeastern Conference, behind the University of Florida, Texas A&M University, and Vanderbilt University, the Association of Research Libraries statistics show.
UT Libraries has risen to 40th overall — its highest ranking in two decades — among all Association of Research Libraries members in the United States and Canada. It ranks above George Washington University and the University of Georgia and just below the University of Arizona.
The recent rankings are an indication of UT's commitment to providing the very best for students, faculty, and staff, as well as the larger community UT Libraries serves throughout the state and nation, according to Dean of Libraries Steve Smith.
"Though rankings by themselves do not present the complete picture of a library's true impact, they do serve as one important measure of an institution's investment in and commitment to providing the essential resources necessary for high quality learning, life-changing and sometimes life-saving research, and transformational service," he said.
The report shows UT Libraries is investing and spending more on its students than its peer institutions. When it comes to library holdings, UT Libraries' spending is more in line with its aspirational institutions — having built large electronic collections to support teaching and research. Smith noted that UT Libraries' electronic collections are on par with many Ivy League libraries. Furthermore, unlike many university libraries, UT Libraries has maintained its staffing levels over the years.
Smith added: "Our spaces are welcoming, safe, popular, and even inspiring; and our programs are engaging and impactful. The support we receive from the university and our donors supports our hardworking and talented staff in delivering an essential part of the Volunteer Difference."
The Association of Research Libraries is an organization of research libraries and archives in major public and private universities, federal government agencies, and large public institutions in Canada and the United States.
—
CONTACT:
Lola Alapo (865-974-0012, lalapo@utk.edu)