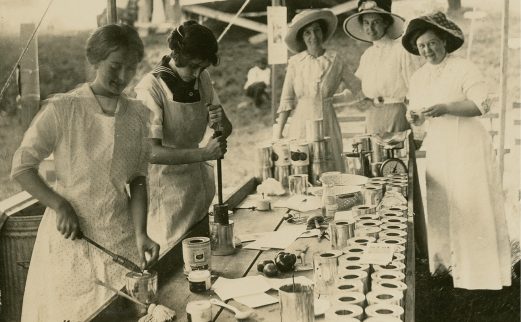 Virginia P. Moore: Home Economics Pioneer
Virginia Pearl Moore touched the lives of many young girls living in Tennessee in the early 20th century, first as a rural teacher, then as an organizer of school improvement associations, and later as UT Extension's first home demonstration agent. Moore helped change the agricultural and educational landscape of the state, and her career and the early history of the discipline that later became known as home economics are documented in the Virginia P. Moore Collection. This past year, the libraries digitized a selection of documents and photographs from that collection and made them available online.
Documenting Moore's life and career, the collection was generously donated to UT Libraries' Special Collections by her great-niece. It includes Moore's own writings, notes, letters, and publications, as well as recipes and club reports from the canning clubs with which she worked. The collection also contains many wonderful photographs of her time in Tennessee and Florida working with club girls on their farms, at parades and fairs, and with many of her fellow home demonstration agents. The collection highlights the life-changing work Virginia Moore and other pioneering home economists undertook across the nation.
Moore's Tennessee Beginnings
Virginia Moore was born in 1880 in Gallatin, Tennessee, to Armstead and Louisa Crenshaw Moore. She studied at Peabody Normal School in Nashville with the hopes of becoming a schoolteacher. In addition to her studies in education at Peabody, Moore also spent time at the Chautauqua Institution in New York for further educational training.
Located along New York's Chautauqua Lake, the Chautauqua Institution began in 1874 as a training camp for Sunday school teachers. Within a few years, the curriculum expanded to include music, arts, and education. The institution quickly became a fashionable spot for mostly affluent intellectuals to continue their learning outside of the classroom during the summer months. In her youth, Moore spent 10 summers studying education, attending lectures, and networking with like-minded individuals at the Chautauqua Institution.
Upon graduating from Peabody, Moore turned down a teaching position at an all-girls school in Mississippi in order to teach in Sumner County near her hometown. While her wages were only a third of what she could have made in Mississippi, Moore felt a call to work with the rural population of Tennessee.
The Progressive Education Crusade
The timing of Moore's educational training and first teaching position paralleled the progressive education crusade unfolding in the South. As a response to rapid modernization in the years following the Civil War, supporters of the Progressive movement sought broad economic, political, and social reforms throughout the country. Progressive advocates believed that education was the cornerstone of a stable society. The South—where many children, particularly in rural areas, typically received only an elementary education in a dilapidated one-room schoolhouse—became a prime candidate for education reforms. At both Peabody and Chautauqua, Moore was surrounded by progressive activists; the movement inevitably shaped her educational philosophy.
In the fall of 1908, Moore accepted a position with the State Department of Education and the Southern Education Board, headed by Philander P. Claxton, to lead school improvement work across the state. In this position, she traveled the state visiting rural schools and school districts. After assessing the condition of the area's public schools, many of which were declining from the already shabby state in which they started, Moore worked to draw attention to their needs and to organize school improvement associations in the surrounding communities. Moore's goal was to galvanize the community, gaining support and stirring enthusiasm among teachers, parents, and neighbors in order to revitalize the school systems.
With minimal funding, Moore worked with the school improvement associations to upgrade school buildings and their surroundings, arguing that simply having an attractive school atmosphere would help improve the overall educational environment. These efforts included painting the school exteriors, creating playground areas, and even adding art to the interior walls. In addition to modifying facilities aesthetically, the associations upgraded the sanitary conditions of the schools, many of which did not have running water. Other enhancements taken on by Moore and the school improvement associations included establishing school libraries (some with no more than 10 books) and extending the school year.
Tennessee's First Canning Club
In December 1910, Moore's title changed to state collaborator for Tennessee as her position expanded to include not just rural school improvement but also organization of canning clubs (also called tomato clubs) among the school-age girls. Based on a model already in practice with rural boys across the South, girls' canning clubs were extracurricular activities where young girls learned to grow and can their own produce. The first canning club in Tennessee was formed by Moore in September 1910 in Shelby County.
Moore gave up the school improvement aspect of her job in 1912 to dedicate her time solely to promoting canning clubs across the state. Her stint with school improvement had laid the groundwork for her canning club work, and a strong emphasis on education pervaded her work with the young rural girls of Tennessee.
Moore traveled the state, working with local schools and organizations to form canning clubs (which eventually received the more official and germane title "home demonstration work"). The clubs offered girls a setting in which to learn how to farm and cultivate their own produce. Girls grew their own crops, beginning with tomatoes, and then learned how to can and preserve them, maximizing their crops' potential to feed the family year-round. As club girls matured through the program, they added other produce to their repertoire including beans, onions, corn, and, later, fruits. In addition to farming and canning, club girls were required to record their work throughout the year, thereby learning the importance of good and accurate record keeping.
Canning clubs often hosted demonstrations for friends, family, and interested neighbors to show off the girls' newly formed skills and introduce the concept of canning. Clubs also took part in events like county and state fairs to display their hard work. Girls proudly created exhibits of their produce and canned goods for community members to see. Awards were often given to those who had harvested or canned the most produce in the previous year, and entertaining contests were held to test skills such as who could seal cans the fastest.
Moore Becomes State Home Demonstration Agent
By the end of 1914, Moore had moved to the University of Tennessee's newly created Division of Extension within the College of Agriculture, becoming assistant director and state home demonstration agent. Moore's work with canning clubs continued to expand. With more support, her home demonstration curriculum now lasted year-round and consisted of broader home management work. Growing and canning produce remained the foundation of the program, but in the winter, when previously little work could be done, new activities were added such as cooking, sewing, cleaning, learning about home conveniences and financial management, and more. By 1916, Moore had 32 home demonstration agents reporting to her at the county level, as well as two district-level agents in East and West Tennessee.
Moore considered home demonstration work to be on the same level as classroom work. While the importance of learning new domestic skills was stressed to the club girls, it was never to overshadow schoolwork but instead to complement it. Home demonstration agents framed club activities for the girls within the context of lessons taught in school: measuring out a garden plot (a tenth of an acre) and spacing plants required arithmetic; learning the origin of the tomato called for an understanding of history, language, and geography; caring for the tomato plant and studying its life cycle involved knowledge of science. Moore strived to connect home and school life in a meaningful way for the girls, illustrating that lessons taught in the classroom could be used to address real-life problems on their farms and in their communities.
A Pioneering Home Economist
Moore's home demonstration work reached beyond Tennessee: she played a significant role in the state's civilian defense effort during World War I. When the United States entered the war in 1917, the nation's focus shifted toward mobilizing both military personnel and civilian support. The tenets of home demonstration work already included many of the ideals needed on the home front: food conservation, frugality, and resourcefulness. Moore played a crucial role in organizing Tennessee's food preparedness efforts in support of the war effort.
In 1919, Moore resigned from her position to return home to Gallatin and take care of her ailing mother. But she was far from idle. While staying with her mother, Moore ran the family farm, took care of the home, and operated a tearoom, antique shop, and gift shop. She also spent time working with the young boys and girls of her community. Thinking back to her brief time out of work, Moore said, "All the time I was out of the service I was putting into thought and practice the things I advocated to our people in extension work."
After her mother passed away, Moore was eager to return to home demonstration work. In 1923, she moved to Florida to become the assistant home demonstration agent for the state, where she remained until her retirement in 1946. During her time in Florida, she continued to dedicate her time to working with rural girls and women, educating them about better domestic practices. We are honored to have Moore's significant life and and her impact on the history of home economics documented as part of our collections.
Learn More
To explore the Virginia P. Moore digital collection, visit digital.lib.utk.edu/vpmoore.
__
Adapted from Laura Romans, from the Library Development Review 2016–2017
Laura Romans is the manuscripts archivist for Betsey B. Creekmore Special Collections and University Archives.