Writers in the Library: Brenda Hillman, April 16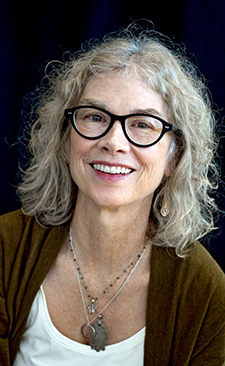 On Monday, April 16, poet and editor Brenda Hillman will read as part of the University of Tennessee's Writers in the Library reading series. Brenda Hillman is the author of ten collections of poetry: White Dress, Fortress, Death Tractates, Bright Existence, Loose Sugar, Cascadia, Pieces of Air in the Epic, Practical Water, for which she won the LA Times Book Award for Poetry, Seasonal Works with Letters on Fire, which received the 2014 Griffin Poetry Prize and the Northern California Book Award for Poetry, and her most recent Extra Hidden Life, Among the Days.
In 2016 Brenda Hillman was named Academy of American Poets Chancellor. Among other awards Hillman has received are the 2012 Academy of American Poets Fellowship, the 2005 William Carlos Williams Prize for poetry, and fellowships from the National Endowment for the Arts and the Guggenheim Foundation. Included in their list of "50 of the Most Inspiring Authors in the World," Poets & Writers states, "[Hillman] reminds us that the language we use when ordering a sandwich is also the language we use to make art. Her environmental concerns prove writers can offer more than just aesthetic pleasure."
The reading begins at 7 p.m. in the Lindsay Young Auditorium of the John C. Hodges Library. The event is free and open to the public; all are encouraged to attend.
The mission of Writers in the Library is to "showcase the work of novelists, poets, and other literary craftsmen." Some of the best voices in contemporary literature are invited to read. The series is sponsored by the UT Libraries and the Creative Writing Program in association with the John C. Hodges Better English Fund.
For more information, contact Erin Elizabeth Smith, Jack E. Reese Writer-in-Residence at the UT Libraries, at esmith83@utk.edu or visit http://library.utk.edu/writers for a complete schedule of Writers in the Library readings for the 2017-2018 academic year.
###
Facebook: Writers.in.the.Library
Twitter: utklibwriters