De-Stress for Success & Study Day Resources
We miss seeing you on campus. And, regrettably, there will be no HABIT dogs at the library this semester to help us all de-stress during final exams.
But we're providing an online Stay Home Self Care & Wellness guide to help you manage stress in fun and active ways — libguides.utk.edu/stayhome.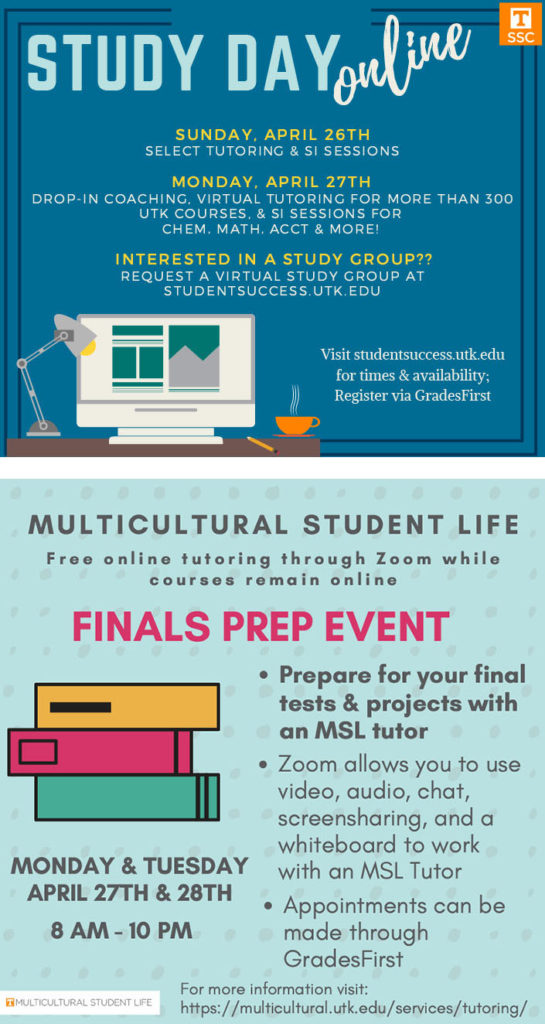 Here are other campus resources to help you prepare for final exams:

The Herbert Writing Center will be open for online appointments Monday, April 27, through Monday, May 4. The hours are limited, so make appointments soon! See writingcenter.utk.edu/online-appointments-during-exam-week for details.

Student Success Center Study Day Tutoring: 
studentsuccess.utk.edu/study-day
Offering drop-in coaching and virtual tutoring for more than 300 courses.

Multicultural Student Life: 
multicultural.utk.edu/services/tutoring 
Offering tutoring via Zoom — by appointment 8 a.m. to 10 p.m., Monday, April 27, and Tuesday, April 28.

Manage your stress. And stay well !