Douglass Day — Join us for a Lecture and Transcribe-a-thon
Douglass Day, celebrated on February 14th, honors America's great abolitionist, educator, and statesman Frederick Douglass (c. 1817–1895) and encourages us to delve deeper into our country's complex history of slavery and racism.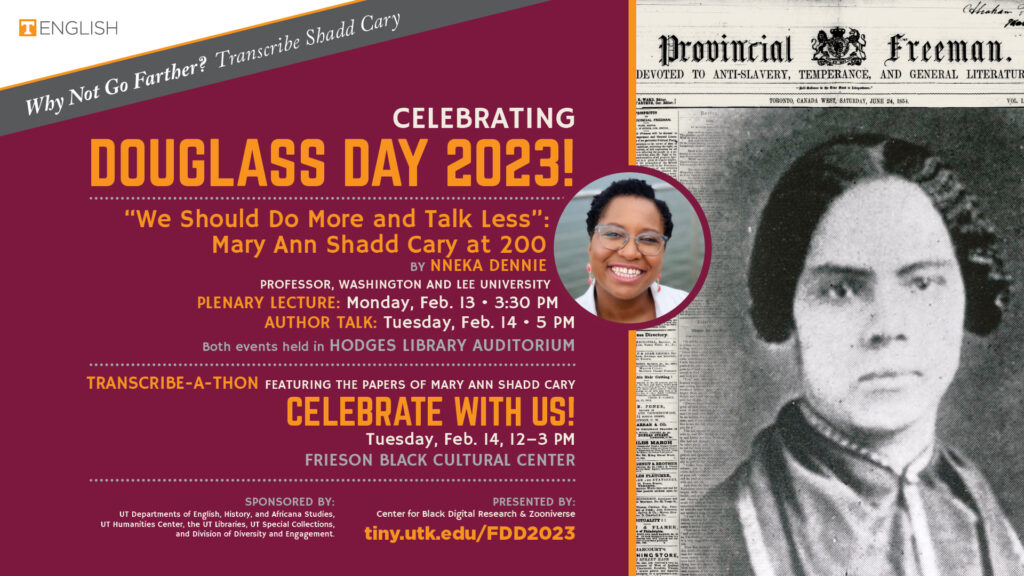 The University of Tennessee participates in a nationwide Douglass Day initiative that each year focuses on an important figure in Black history. This year's celebration will spotlight Mary Ann Shadd Cary (1823–1893), North America's first Black woman newspaper editor.
Black feminist scholar Nneka Dennie will deliver a Douglass Day address about Mary Ann Shadd Cary, whose editing and writing, Dennie says, "prefigured modern Black nationalist and Black feminist thought."* Dennie is an assistant professor of history at Washington and Lee University whose research specialties include 19th- and 20th-century African American history, Black intellectual history, and Black feminist thought.
Members of the campus community are also encouraged to take part in a transcribe-a-thon. Participants from across the US and Canada will come together online to assist with the transcription of recently digitized writings by Mary Ann Shadd Cary from the Archives of Ontario and Libraries and Archives Canada. The crowdsourcing transcription project will create new, freely available digital resources for the study and celebration of Shadd Cary. No experience necessary! Just join fellow transcribers at the Frieson Black Cultural Center at 1800 Melrose Avenue.
---
Please join the celebration:
"We Should Do More and Talk Less": Mary Ann Shadd Cary at 200
by Nneka Dennie, Washington and Lee University
Plenary Address: Monday, February 13, 3:30 p.m., Hodges Library Auditorium
Author Talk: Tuesday, February 14, 5 p.m, Hodges Library Auditorium
—
Transcribe-a-thon featuring the papers of Mary Ann Shadd Cary
Tuesday, February 14, noon – 3 p.m., Frieson Black Cultural Center
---
Mary Ann Shadd Cary moved to Canada when the Fugitive Slave Act of 1850 posed a threat to those — like her family — who offered refuge to runaway slaves. She established the weekly paper The Provincial Freeman in Toronto in 1853. Appalled by the Dred Scott Supreme Court decision of 1857, which ruled that African Americans could not enjoy the rights and privileges of citizenship, Shadd Cary published an article calling for emigration to Canada or Britain — in her words: "Leave that slavery-cursed republic." In The Provincial Freeman and other writings, Shadd Cary spoke out for abolition, economic self-determination for Black people, and a greater role for women in public affairs. In 1874, speaking before the Judiciary Committee of the US House of Representatives, she argued for Black women's suffrage.
Douglass Day celebrations actually predate Black History Month, although both events hark back to the late 19th-century when Black communities across America began celebrating the birthdays of Abraham Lincoln and Frederick Douglass. In 1897, Mary Church Terrell, the daughter of former slaves and the first African American woman in the US to be appointed to the school board of a major city, persuaded the Washington, DC, school board to set aside the afternoon of Douglass's birthday to teach about his life and work
When historian Carter G. Woodson and the Association for the Study of Negro Life and History (ASNLH) announced the first Negro History Week in February, 1926, they too were building on the tradition of celebrating the Lincoln and Douglass birthdays — both of which occur in February. But rather than honoring two great Americans who helped shape Black history, Woodson believed that the week-long celebration should be an occasion to study the accomplishments of Black men and women throughout American history. Woodson and the ASNLH set a theme for each annual celebration and provided lesson plans and teaching materials for schools — not unlike the present-day Black History Month that grew out of his efforts.**
Join the Douglass Day festivities on February 13 and 14 to continue the hundred-year-long tradition of studying and creating Black history.
UT's Douglass Day celebration is sponsored by the Departments of English, History, and Africana Studies; UT Humanities Center; UT Libraries and the Betsey B. Creekmore Special Collections and University Archives; and the Division of Diversity and Engagement.
—
* Nneka D. Dennie. 2021. "'Leave that Slavery-Cursed Republic': Mary Ann Shadd Cary and Black Feminist Nationalism, 1852–1874." Atlantic Studies 18, no. 4: 478–493.
** Daryl Michael Scott. 2011. "The Origins of Black History Month." Association for the Study of African American Life and History. Archived February 14, 2013.