Writers in the Library: Erin Elizabeth Smith, March 5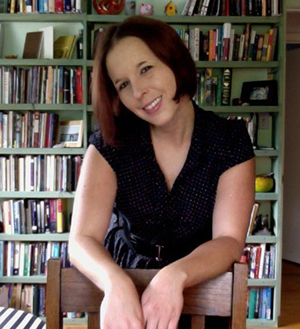 On Monday, March 5, poet Erin Elizabeth Smith will read as part of UT's Writers in the Library reading series. Erin Elizabeth Smith is the Creative Director at the Sundress Academy for the Arts and the Managing Editor of Sundress Publications and The Wardrobe. She is the author of two full-length collections, The Naming of Strays (Gold Wake, 2011) and The Fear of Being Found (Three Candles, 2007). Her third collection, Down: The Alice Poems, will be released by Agape Editions in 2019.
Smith is the editor of two anthologies, Political Punch: Contemporary Poems on the Politics of Identity and Not Somewhere Else But Here: Contemporary Poems on Women and Place, and her poems have appeared in numerous journals, including Ecotone, Mid-American, Crab Orchard Review, Cimarron Review, and Willow Springs, among others. She holds a PhD in Creative Writing from the Center for Writers at the University of Southern Mississippi and teaches in the English Department at the University of Tennessee, where she is also the UT Libraries' Jack E. Reese Writer-in-Residence. In 2017, Erin Elizabeth Smith was inducted into the East Tennessee Writers Hall of Fame.
The reading begins at 7 p.m. in the Lindsay Young Auditorium of the John C. Hodges Library. The event is free and open to the public; all are encouraged to attend.
The mission of Writers in the Library is to "showcase the work of novelists, poets, and other literary craftsmen." Some of the best voices in contemporary literature are invited to read. The series is sponsored by the UT Libraries and the Creative Writing Program in association with the John C. Hodges Better English Fund.  
For more information, contact Erin Elizabeth Smith, Jack E. Reese Writer-in-Residence at the UT Libraries, at esmith83@utk.edu or visit http://library.utk.edu/writers for a complete schedule of Writers in the Library readings for the 2017-2018 academic year.
###
Facebook: Writers.in.the.Library
Twitter: utklibwriters