Film Screening 3/6: Breathe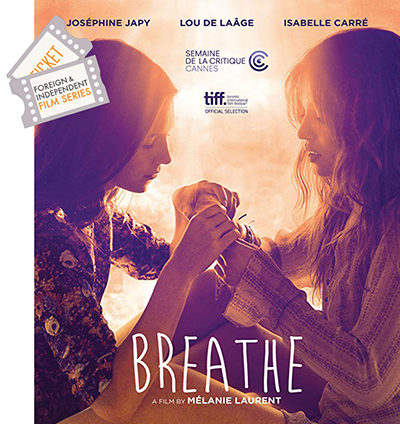 Join us for free screenings of independent and foreign films.

Breathe
Wed., March 6
7-9 p.m.
Hodges Library
auditorium
Runtime: 91 minutes
Director: Mélanie Laurent
Supplier: Film Movement
Languages: French

Synopsis:
Mélanie Laurent (Inglourious Basterds, Beginners) directs this taut, nuanced story about the depths of female friendships and the dark side of teenage infatuations, based on the best-selling young adult novel by Anne-Sophie Brasme. Seventeen-year-old Charlie (Joséphine Japy) is frustrated by her parents and bored with her life. Enter Sarah (Lou de Laâge), a confident and charismatic new transfer student who exudes an intoxicating air of boldness and danger. The two form an instant connection, but their intimacy also triggers feelings of jealousy and anger, setting them on a dangerous trajectory toward an inevitable yet unforeseen collapse.
__
For more information, feel free to contact Michael Deike (mdeike@utk.edu) or just drop by the Public Services Desk on the second floor of Hodges Library and ask to talk to Michael about movies!