From the Crypt: Rare Editions of Frankenstein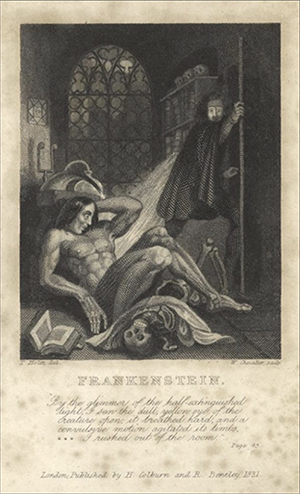 Mary Shelley's novel Frankenstein, or the Modern Prometheus was published in 1818. As part of the international celebration of the 200th anniversary of Frankenstein, the UT Libraries has assembled an exhibition of rare editions of the novel and other ghoulish materials from our Special Collections. Items From the Crypt will be on display in the Betsey B. Creekmore Special Collections and University Archives, 121 Hodges Library, throughout the fall semester.
Among the rare books on display are the first American edition of Frankenstein (1833) and the third, revised British edition (1831) notable for the first printed image of the Creature created by Frankenstein and Mary Shelley's introduction recounting the composition of the novel.
Mary Wollstonecraft Godwin (1797-1851), later Mary Shelley, conceived of her classic Gothic novel in 1816 while visiting Lake Geneva with Lord Byron, John William Polidori, her stepsister, Claire Clairmont, and Mary's future husband, Percy Bysshe Shelley. Lord Byron proposed that the group compose ghost stories for fireside amusement. Over time, Mary's tale evolved into the tragic story of a young scientist, Victor Frankenstein, who reanimates a corpse. The library's exhibit includes books written by several of Mary's fellow travelers, including John Polidori's seminal work The Vampyre: A Tale.
The early 19th century was a time of dynamic shifts in medical science — developments that no doubt informed the Gothic horror novel. The exhibit includes contemporaneous medical works from the late 18th and early 19th century, such as engravings by two famous anatomists, the brothers John Bell and Sir Charles Bell.
Mary Shelley was born to dynamic and iconoclastic parents. Her mother, Mary Wollstonecraft, is still regarded as an extremely significant early feminist, and her father William Godwin was an important social philosopher and early proponent of anarchism. The library exhibit includes copies of Mary Wollstonecraft's landmark Vindication of the Rights of Woman (1792) and William Godwin's novel Caleb Williams (1795), a radical political critique.
The UT Libraries created this exhibition to help the UT Humanities Center celebrate Frankenreads, a National Endowment for the Humanities-funded initiative honoring the 200th anniversary of Frankenstein.