The Harvard Scholar Whose Grammar Book Built the Library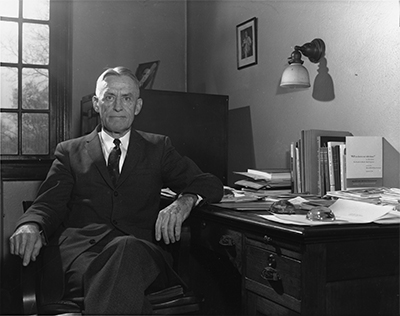 John C. Hodges

THE HARVARD SCHOLAR WHOSE GRAMMAR BOOK BUILT THE LIBRARY
Back in the 1920s a college professor devised a system for marking essays to help his students identify their grammatical mistakes. Seventy-six years after he first published his scheme in a handbook for English instructors, his text is still an academic and commercial success. The John C. Hodges Library is named in his honor.
John Cunyus Hodges was born March 15, 1892, in tiny Cotton Valley in northwestern Louisiana, between Shreveport and the Arkansas state line. It was a rural but comfortable childhood. At the age of nineteen, Hodges graduated with a BA from Meridian College in Mississippi, and he got his master's in English from Tulane a year later.
In 1913 Hodges became an instructor at Northwestern University, where he met Alwin Thaler, a Shakespeare scholar from Brooklyn. The genteel southerner and the German immigrant from New York became lifelong friends. At a summer program at the University of Wisconsin, Hodges met Lillian Nelson. They married in 1914.
Thaler and Hodges started at Harvard in 1916. Hodges earned his PhD in 1918 and got a job at Ohio Wesleyan, just north of Columbus, where he taught for three years. Thaler ended up at the University of California at Berkeley.
In 1921 Hodges was recruited to the Tennessee English department by James Douglas Bruce, a noted Celticist and Arthurian scholar, who later helped steer Hodges into his chief scholarly concern, the life and work of the Restoration playwright William Congreve. On his arrival, Hodges took over the direction and coordination of "a moribund program of Freshman English," according to Kenneth Curry's history of the department, English at Tennessee. Within a year, Hodges developed the beginnings of a systematic approach to teaching freshman English. Curry writes that Hodges had students keep their papers and revisions in folders, which they would discuss in regular conferences with their instructors. The folders were then archived by the department. "Over time, Hodges analyzed and tabulated the contents of these folders," Curry explains. With so many stacks of papers and so many sets of corrections, Hodges was able to systematically determine which errors his students were most likely to make.
In 1923 Hodges persuaded his colleagues to lure Thaler away from Berkeley. John and Lillian met Alwin and Harriett at the train station and hosted them at their house at 1908 White Avenue while Alwin looked for a house to rent. For the next four decades, Hodges and Thaler were "the Harvard guys," as English Professor Bain Stewart put it — respected scholars and teachers who brought gravitas to the department.
"All Matters Needed by Freshmen"
Starting in 1922, Hodges published his own "Manual of Instruction for Freshman English," which he expanded each year. By 1937, the manual was twenty-nine pages long and included a map of the library and instructions on how to write papers.
Hodges became assistant head of the department in 1937 and acting head between 1938 and '41, when he formally succeeded Burke.
Sometime in the late 1930s, a Harcourt Brace traveling textbook salesman named Sidney Stanley visited UT. He met Hodges, and after he heard about Hodges's system of correcting papers, he passed on the lead to the Harcourt Brace editorial department. Intrigued, the publishing company offered Hodges a contract. What Hodges called his handbook of "all matters needed by freshmen" was published in 1941. ("Harbrace" is a conflation of Harcourt Brace.)
"The rest is history," says Michael Rosenberg, a publisher at Wadsworth/Cengage Learning, which owns the rights to the now-defunct Harcourt Brace's college textbooks. "The company was hoping to make only a small dent in the freshman handbook market with the unknown author from Tennessee. However, the clever organizational plan, the compact, trim size, and the book's ability to explain difficult issues of language cogently and concisely created a demand that catapulted the handbook to best-seller status quickly."
Hodges had two stated objectives when he composed his textbook. The first read: "To make correction of written work as clear and easy as possible for the student." The second was: "To make marking of student papers as easy as possible for the instructor." The latter point—making teachers' lives easier — has been the secret to its continuing success.
Each broad, numbered section was subdivided in an alphanumeric scheme that aided citation. Hodges's unique numbering of each rule enabled teachers coming upon a sentence such as "While riding a bus, the tornado ripped through town" to simply write in the margin "25f(4)," sending students to the rule "Avoid dangling elliptical phrases or clauses" and its explanation.
The first edition of Harbrace came out at the beginning of World War II. After it was published, Hodges embarked on a program of identifying best practices among English teachers across the state and spreading their gospel. "By collecting the scores of freshmen entering the colleges in the state of Tennessee," wrote Kenneth Curry in English at Tennessee, "it was possible to identify the high schools with superior programs in English as well as the superior teachers of high school English. Dr. Hodges himself visited many schools and began a program that was to be expanded after the war."
So, too, did Hodges expand the UT English department, which had six staff members at the end of World War II. "Hodges was a catalyst for the amazing transformation of a small, sleepy department into a lively, expanding department," wrote Curry. "Where others in the University had been pessimistic and defeatist, Dr. Hodges was positive and hopeful and confident that, given the opportunity, the department would justify his faith."
A second edition of Harbrace appeared in 1946. A third followed five years later, and a fourth edition five years after that.


An Expert on the Bawdy Bard
In his own academic research, Hodges was a leading authority on the seventeenth-century English playwright William Congreve, who hit it big with five high-brow, sexual comedies of manners written between 1693 and 1700. This was during the roaring Restoration Period, when the rakish Charles II had replaced the stick-in-the-mud Puritans, reinstated the Anglican Church, reopened the theatres, and allowed women (including his own mistress, Nell Gwyn) to perform on stage.
Congreve's plays included memorable lines such as, "Heaven has no rage like love to hatred turned, nor hell a fury like a woman scorned," "Music has charms to sooth a savage breast, to soften rocks, or bend a knotted oak," and "Say what you will, 'tis better to be left than never to have been loved."
The dawn of the 1700s brought a conservative reaction to the Roaring 1690s. A wave of button-down mores swept England, Congreve's bawdy style fell out of fashion, and Congreve turned thereafter to politics of the Whig party.
Over the years, Hodges amassed one of the world's largest collections of Congreve's plays, which are now housed in UT's Special Collections. In the late '40s, Lillian accompanied Hodges to England and Ireland to help him collect material for his book The Life of Congreve.
In the late spring of 1951, Lillian grew ill. Still, she accompanied Hodges on a trip to the Huntington Library in Pasadena, California, to gather material for the book The Library of William Congreve. Unfortunately, Lillian's condition worsened. She entered a Pasadena hospital and died a month later.
They had one son, Nelson.
Hodges met Cornelia Smartt Hendley when she served as executrix of the estate of Hodges's former colleague John B. Emperor, who had set up a fund for the English department in his will, much as Hodges did later on. "My sister had an uncanny ability to handle details and amounts," says John Smartt, Hodges's brother-in-law. "She had a good business head on her."
Cornelia and John married in 1952 and spent six months together in Europe doing Congreve research. One of their key findings resolved confusion about the authorship of the play that begins with the line, "Music has charms to soothe a savage breast." Some manuscripts of the day attributed the play to the Duke of Leeds in Yorkshire, England, but Hodges located Congreve's private library catalog and verified that the lines were, in fact, his. In all, Hodges's search for duplicates of books owned by Congreve was a four-year project that took him to libraries in five countries.
John and Cornelia lived for fifteen years at 8 Hillvale Circle in Sequoyah Hills, where she threw elegant English department parties and displayed her lively wit. "She was whip-smart and hilariously funny, while always the genteel southern lady," says Ginna Mashburn, a faculty spouse and instructor.
A Gift that Keeps on Giving
In its various editions, co-authors and collaborators worked with Hodges on Harbrace, but the format stayed the same. One of the biggest changes came in the 1962 fifth edition, when Hodges's name was added to the title, just as he retired from teaching in the English department. In July of 1967, Hodges died at seventy-five following a heart attack. His will left half his Harbrace royalties to the UT Libraries and the English department. Now in its eighteenth edition, Harbrace — the most successful college textbook on record — is a gift to UT that keeps on giving.
When the John C. Hodges Library was dedicated two years later, Cornelia helped put in place a cornerstone that to this day contains a 1969 UT yearbook, a '69-'70 catalog, library development annual reports for 1966 to '68, and Hodges's three books — the sixth edition of Harbrace, The Life of Congreve, and The Library of Congreve.
"He was an imposing presence," said David Burns of Knoxville, who took freshman English under Hodges in 1950 and still has his inscribed copy of the 1946 edition of Harbrace. "He wore tweed jackets most of the time, as you'd expect, and he was a grammarian through and through. I think of him when I read even magazines that have good writers and see one grammatical error after another. He was simply one of the finest gentlemen I ever knew."
__
Brooks Clark
Project Manager, Alumni Communications
University of Tennessee Creative Communications