Tawnysha Greene and Kristi Maxwell at Writers in the Library on October 3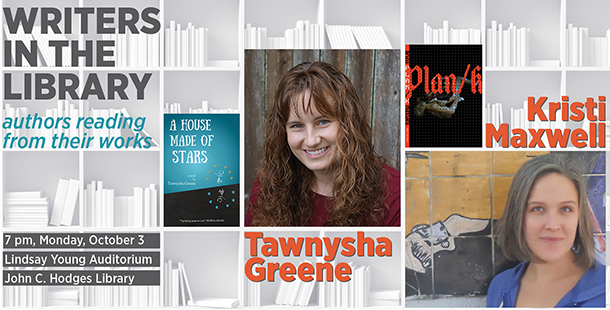 Novelist Tawnysha Greene and poet Kristi Maxwell will read from their work at the University of Tennessee on Monday, October 3, 2016. The event is part of the university's Writers in the Library reading series. The public is invited to this free reading at 7 p.m. in the Lindsay Young Auditorium of UT's John C. Hodges Library.
Tawnysha Greene received her PhD from the University of Tennessee where she currently teaches fiction and poetry writing. Her work has appeared in PANK, Bellingham Review, and Weave Magazine. Her first novel, A House Made of Stars, was released from Burlesque Press in 2015.
Also an alumna of the University of Tennessee, Kristi Maxwell's most recent books of poems include That Our Eyes Be Rigged and PLAN/K. She is an Assistant Professor of English at the University of Louisville. 
Visit http://library.utk.edu/writers for a complete schedule of Writers in the Library readings for the 2016-2017 academic year.
###
Writers in the Library is sponsored by the UT Libraries and the Creative Writing Program in association with the John C. Hodges Better English Fund. For more information contact Erin Elizabeth Smith, Jack E. Reese Writer-in-Residence at the UT Libraries, at esmith83@utk.edu.
Website: http://library.utk.edu/writers
Facebook: Writers.in.the.Library
Twitter: utklibwriters
Email: esmith83@utk.edu