Happy Valentine's Day from Charlie Daniel
We just got a Valentine from Charlie Daniel, and we wanted to share it with you.
Every year, when Valentine's Day rolls around, we use the occasion as an opportunity to thank members of our Library Society for their support. For several years, we have chosen the artwork for our Valentine's Day cards from the Charlie Daniel cartoons preserved in our Special Collections.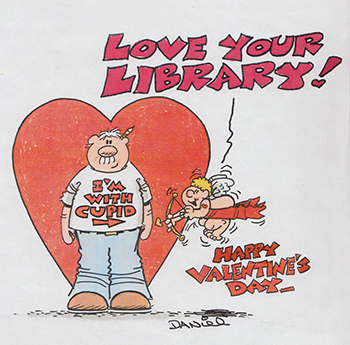 We finally ran out of Valentine's-themed cartoons, and, lo-and-behold . . . Charlie Daniel offered to create a new Valentine just for us! The drawing with the "Love Your Library!" message, seen here, is Charlie's new creation.
Thank you, Charlie Daniel!
And, Happy Valentine's Day, everyone.
Charlie Daniel has been a professional editorial cartoonist for 60 years. He recently retired from the Knoxville News Sentinel where he's been the editorial cartoonist since 1992.
Several years ago, Daniel donated his entire life's work of hand-drawn, original cartoons to the UT Libraries. We selected some 1,500 cartoons from the more than 20,000 drawings in Special Collections to create a digital version of the Charlie Daniel Editorial Cartoon Collection. Enjoy those cartoons online at digital.lib.utk.edu/charliedaniel.