Newfound Press Publishes Joseph Bensman Essays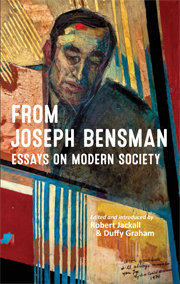 The latest book from the UT Libraries' Newfound Press will be feted Thursday, February 5, at the City University of New York (CUNY) Graduate Center Program in Sociology.
From Joseph Bensman: Essays on Modern Society collects the essays of the renowned humanistic sociologist and includes a new, analytical introduction by the editors, Robert Jackall and Duffy Graham.
Joseph Bensman (1922-1986) was Distinguished Professor of Sociology at CUNY and a founding member of the CUNY Graduate Center's doctoral program in sociology. The editors of From Joseph Bensman will be on hand at CUNY's reception to deliver a brief remembrance of professor Bensman and to sign books.
Bensman was an observer of modern institutions, professions, and culture. From Joseph Bensman: Essays on Modern Society brings together some of his finest work, often done in collaboration with colleagues such as Arthur J. Vidich, Robert Lilienfeld, Bernard Rosenberg, and Israel Gerver.
In the introduction to the collection, Jackall and Graham identify Bensman's trademark habits of mind: an analytical stance, fundamentally objective and dispassionate; a vigilant awareness of the reach and vitality of bureaucracy; an ability to discern intellectual problems in superficially unremarkable phenomena; attention to empirical detail and suspicion of theoretical abstractions; and appreciation of irony and unintended consequences.
Newfound Press, a digital imprint of the University of Tennessee Libraries, publishes peer-reviewed books and multimedia works. Newfound Press titles can be read online and are available for print-on-demand through UT Press.