Writers in the Library: Kevin Young, April 12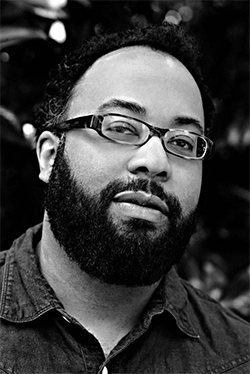 On Thursday, April 12, poet and critic Kevin Young will read as part of an event sponsored by the Department of English Creative Writing Program. Kevin Young is the Director of the Schomburg Center for Research in Black Culture, the Poetry Editor of the New Yorker, and the author of eleven books of poetry and prose.
Young's newest nonfiction book, Bunk: The Rise of Hoaxes, Humbug, Plagiarists, Phonies, Post-Facts, and Fake News was a finalist for the National Book Critics Circle Award and was long-listed for the National Book Award.
His most recent book of poetry, Blue Laws: Selected & Uncollected Poems 1995-2015, was long-listed for the National Book Award. Book of Hours was a finalist for the Kingsley Tufts Poetry Award and winner of the Lenore Marshall Prize for Poetry from the Academy of American Poets. His previous nonfiction book, The Grey Album: On the Blackness of Blackness, won the Graywolf Press Nonfiction Prize and the PEN Open Book Award; it was also a Book Critics Circle Award for criticism. Young was inducted into the American Academy of Arts and Sciences in 2016.
The reading begins at 7 p.m. in the Lindsay Young Auditorium of the John C. Hodges Library. The event is free and open to the public; all are encouraged to attend.
The event is sponsored by the UT Libraries and the Creative Writing Program in association with the John C. Hodges Better English Fund.  
For more information, contact Erin Elizabeth Smith, Jack E. Reese Writer-in-Residence at the UT Libraries, at esmith83@utk.edu or visit http://library.utk.edu/writers for a complete schedule of Writers in the Library readings for the 2017-2018 academic year.
###
Facebook: Writers.in.the.Library
Twitter: utklibwriters