Libraries' Newfound Press publishes study of Cormac McCarthy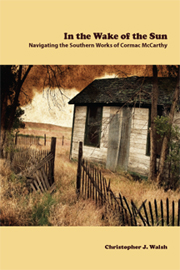 Newfound Press has just published a new study on one of America's leading authors. In In the Wake of the Sun: Navigating the Southern Works of Cormac McCarthy, Christopher J. Walsh offers close textual analysis of all McCarthy's Southern works along with an overview of the notable critical responses to them. The book introduces readers, scholars, and students to the pertinent themes in each work, guiding readers through the most significant critical dialogues surrounding the texts.
McCarthy's works set in the desert Southwest have received substantial critical and commercial acclaim. However, his Appalachian texts — which include two short stories written as an undergraduate at the University of Tennessee, five novels (including the Pulitzer Prize winner The Road), a play, and a screenplay — rival the Southwestern works in terms of their aesthetic achievement and complexity.
Jay Ellis, McCarthy scholar and author of No Place for Home: Spatial Constraint and Character Flight in the Novels of Cormac McCarthy (Routledge, 2006) has written an insightful foreword for Walsh's work. Ellis predicts, "Those programs that … teach literature by period and place will benefit enormously from inclusion of this book on reading lists for undergraduate and graduate work." He also highlights the book's specific value to scholars of Southern literature.
Dr. Walsh obtained a Ph.D. in American Studies from the University of Wales, Swansea in 2004. He discussed McCarthy's Southern works in his thesis and has published extensively on McCarthy. Walsh has presented his research at conferences in the United States and Europe and hosted a conference on McCarthy's writings in 2007. The author has taught at Hull University and the University of Tennessee, and currently works in academic administration in East London.
Newfound Press, a peer-reviewed digital imprint of the University of Tennessee Libraries, demonstrates innovative approaches to the creation and dissemination of scholarly and specialized work. In the Wake of the Sun: Navigating the Southern Works of Cormac McCarthy and other Newfound Press publications are freely available online at www.newfoundpress.utk.edu. Printed copies may be purchased from University of Tennessee Press via the website.