Writers in the Library: Meagan Cass, March 19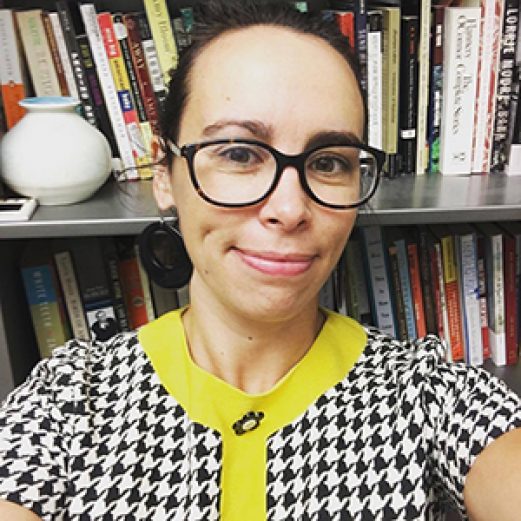 On Monday, March 19, fiction writer Meagan Cass will read as part of UT's Writers in the Library reading series. Meagan Cass's first full-length collection, ActivAmerica, published by University of North Texas Press in 2017, won the Katherine Anne Porter Prize in Short Fiction. She is also author of the chapbook Range of Motion (Magic Helicopter Press, 2014), and her stories have appeared in Hayden's Ferry Review, The Pinch, DIAGRAM, PANK, Joyland, and Puerto del Sol, among many others. Dan Chaon selected her fiction for the Wigleaf Top 50 Short Fictions of 2012, and Smokelong Quarterly republished her story "Egg Toss, August 1989" in its Best of the First Ten Years anthology.
Cass is an Assistant Editor at Sundress Publications and has served as fiction coordinator for the Best of the Net Anthology and fiction editor for Rougarou and for Stirring. An associate professor of English at the University of Illinois Springfield, she teaches courses in creative writing, publishing, and 20th/21st-century American literature and curates the Shelterbelt Reading Series. Her degrees include an MFA in fiction from Sarah Lawrence College and a doctorate in English from the University of Louisiana Lafayette. She lives in St. Louis, Missouri.
The reading begins at 7 p.m. in the Lindsay Young Auditorium of the John C. Hodges Library. The event is free and open to the public; all are encouraged to attend.
There will be a brown bag Q&A for students and faculty at noon in 1210 McClung Tower.
The mission of Writers in the Library is to "showcase the work of novelists, poets, and other literary craftsmen." Some of the best voices in contemporary literature are invited to read. The series is sponsored by the UT Libraries and the Creative Writing Program in association with the John C. Hodges Better English Fund.  
For more information, contact Erin Elizabeth Smith, Jack E. Reese Writer-in-Residence at the UT Libraries, at esmith83@utk.edu or visit http://library.utk.edu/writers for a complete schedule of Writers in the Library readings for the 2017-2018 academic year.
###
Facebook: Writers.in.the.Library
Twitter: utklibwriters