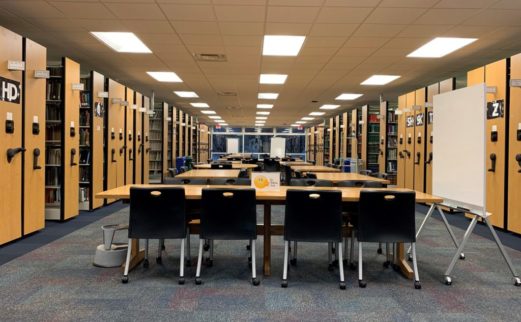 Pendergrass Library Closed Beginning May 23
Beginning May 23, Pendergrass Library will be closed for installation of new flooring in the library foyer. The reopening date is unknown at this time. While the project is underway, library staff will be available to support your teaching, research, and learning—both online and at other UT Libraries locations.
Key Dates
Tuesday, May 17: The last day to place a request for specialty printing services that require a pickup at Pendergrass Library, such as large-format printing and 3D printing.
Thursday, May 19: The last day to place Physical Item and PDF Scan requests for items in the Pendergrass collection.
Friday, May 20: The last day to access Pendergrass's collection and spaces.
For updates regarding the project, visit Pendergrass's Teaching and Learning Center guide.
Available Services
Research Assistance
Pendergrass staff are available Monday – Friday, 8 am – 6 pm via our online chat. We are here to answer your questions, find online resources, and more!
Not near your computer? You can also text us at 865-320-9885 to connect with a Pendergrass staff member.
Staffed throughout the day, email is just a click away. Email us at agvetlib@utk.edu to get started today.
Got an in-depth project? Set up a consultation with Pendergrass staff today through our online scheduling portal.
Specialty Printing
The Studio at Hodges is available to assist with your next poster print. Submit your design on the Libraries' Printing Services page and click on Hodges Library as your pickup location.
Collections
Did you know that the UT Libraries has thousands of online resources and physical items at our other locations? Explore collections at Hodges Library, DeVine Music Library, or the Hoskins Library Storage and Reading Room.
Request physical items from DeVine, Hodges, or Hoskins through our OneSearch system. Choose the location closest to you for pickup.
Want an electronic version instead? Use our Scan on Demand service to request scans of book chapters, journal articles, and more.
For those must-have items that are located at Pendergrass, place a request through interlibrary loan. We'll borrow from another library!
---