Petals on Paper: Selections from Special Collections and the UT Herbarium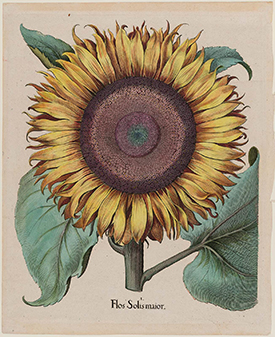 A small exhibition in Hodges Library features books on gardens and plant identification, as well as historical examples of botanical illustration from the UT Libraries' special collections.
Chris Caldwell, rare books and humanities librarian, says, "This is not meant to be a comprehensive overview of 'plants in print,' nor is it focused on one region or time period. We offer a nice, late-summer glimpse of some of the ways that botanical life has been chronicled and discussed for the last 400 years." The exhibit was curated by Caldwell and manuscripts librarian Laura Romans.
The display includes lots of botanical illustrations, as well as books on gardens, garden clubs, wildflower walks in the Smokies, and more.

Visitors can see a facsimile edition of a groundbreaking 1613 work of botanical illustration, the Hortus Eystettensis (Garden at Eichstätt) of Basilius Besler (1561-1629). Besler was given the task of recording the botanical treasures of the garden belonging to Johann Konrad von Gemmingen, Prince Bishop of Eichstätt in Bavaria. Botanical illustration in previous centuries was crude in comparison. Hortus Eystettensis changed botanical art overnight with over 350 illustrations printed from copper plates and hand-colored. The work took sixteen years to complete with the assistance of Besler's brother and a group of skilled German draughtsmen and engravers.
Some of the "petals" are literally on paper. Among several items on loan to the exhibit from the UT Herbarium is an 1870 book of preserved and mounted moss specimens, Musci Appalachiani: Tickets of Specimens of Mosses Collected Mostly in the Eastern Part of North America. Botanists have collected and mounted dried plants for scientific study for centuries. The word herbarium refers to both the mounted specimen and to the institution where such collections are stored and made available for research. UT's Herbarium houses over 600,000 specimens of vascular plants, mosses, and fungi.
The UT Herbarium, now part of Ecology and Evolutionary Biology, formerly reported to the Botany Department (dissolved in 2005). The department was home to several world-renowned botanists, including mycology expert Lexemuel Ray Hesler (1888-1977) and bryologist Aaron J. Sharp (1904-1997), both of whom are pictured in Botany Department mementos in the display.
The Betsey B. Creekmore Special Collections and University Archives, 121 John C. Hodges Library, is open Monday through Friday, 9 a.m. to 5:30 p.m. Petals on Paper will be on display through mid-October.
__
For more information, contact Allison McKittrick, Assistant Librarian for Special Collections Outreach, at 865-974-0017 or amckittrick@utk.edu.